5 Inexpensive, Easy & Cute Boo Bag Ideas
It's October, and that means it's time for boo bags. We've been booing friends for years, but just recently I realized not everyone knows about it.
Here's the basic idea. We put together a small treat and activity, bag it up cute, sneak up to a neighbor's porch, leave it on their steps, ring the bell and run. This is easily my kids favorite part. They are 100% spies on a mission, complete stealth-mode. Watching them is my favorite part. It fills my heart every single time.
(Sometimes, if I know it's going to rain at night or the kids are really young and I don't want to interrupt bedtime, I ask the parents ahead of time if it's okay to boo them, and when would work best.)
Boo bags don't have to be expensive or complicated. In general, my formula is some sort of paper bag (I really don't like single-use plastic), something fun (stickers, bracelet) and a treat.
Here are 5 of our favorite boo bags:
1. Hot Cocoa & Hair Bow
Trader Joe's is the best, guys. But we already know that. On my last trip I grabbed two of these wood spoons dipped in chocolate for boo bags. I paired them with a hair bow and put them in a paper bag I found at Target.
Total cost – less than $2 each. The stirring spoons were $.99, I made the hair bows with supplies I already had, and the bag was $.33 (part of a ten pack).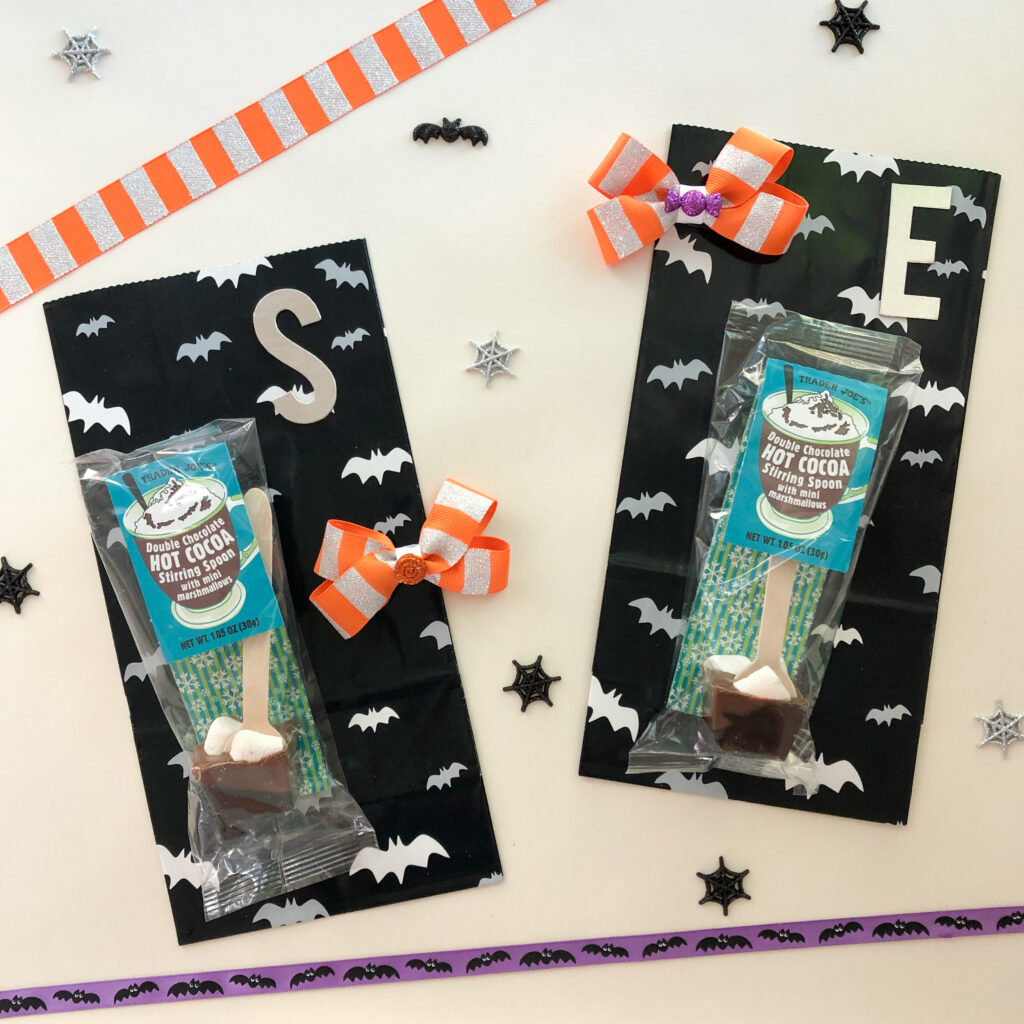 2. Balloon & Candy
We booed a neighbor the other day with a balloon from Dollar Tree (impulse purchase, so cute) and a small bag of candy. I wish I had grabbed a picture but I was trying to live in the moment. My kids get tired of all my pics. Trust me, it was cute.
Total cost – $2.00. One dollar for the balloon and one dollar for the bag of candy.
3. Activity & Candy
I found these little book boxes in the dollar aisle at Target and had to have them. I knew they'd be perfect for boo bags. The dollar aisle is my favorite spot for boo materials. There's a great selection and it's easy to find things that aren't plastic. Don't get me wrong, plastic is great in some instances, but if I can avoid it I can.
The Franken-Cup and gummies are from Ada Village General Store, though I've seen the Franken-Cup in other places. The word search is from The Printables Fairy and the pencil is leftover from past boo bags and class parties.
Total cost – less than $3 each. This is an estimate. I know the book boxes were a dollar, but I'm not sure how much the candy was so I'm estimating under $2. The printable was free. (Thank you, The Printables Fairy!)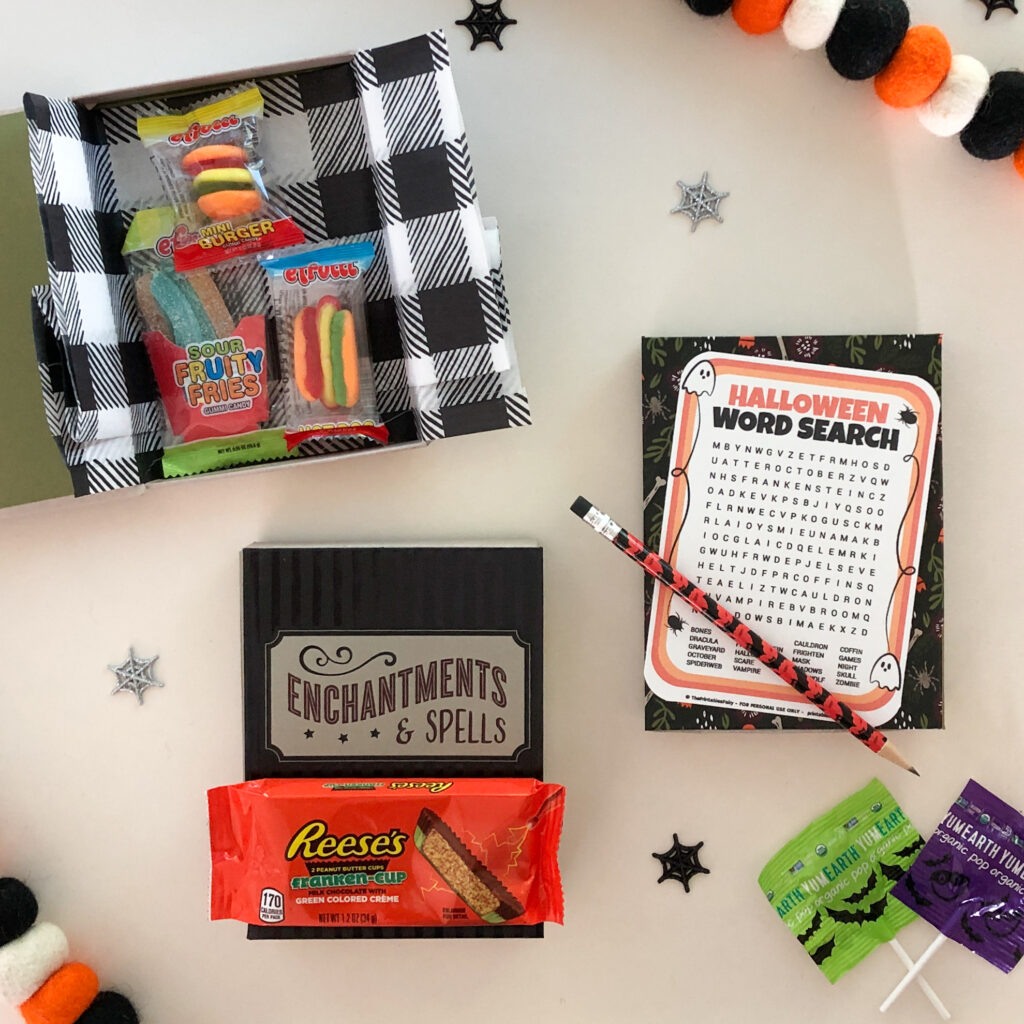 4. Stickers & Gummies
Target Dollar Spot usually has great books of seasonal stickers for $1. I love to stock up on these. Historically they were great for class parties, but this year … you know. Covid. So now I use them for boo bags. Pair them with a small bag of gummies (I like YumEarth) and you're good to go. You can put it all in a Halloween themed paper bag or decorate a brown lunch bag. Easy.
Total cost – less than $2.
5. Craft & Candy
For these boo bags I used leftover Halloween pouches (so cute, reusable, not plastic) from last year. I found them in the Target dollar aisle. I paired them with a small bag of candy (also Target dollar aisle) and a puffy paint bracelet.
Total cost – less than $3 each. The pouches were $1 (last year), the bag of candy $1 (this year) and we made the puffy paint bracelets. (Read our tutorial here!)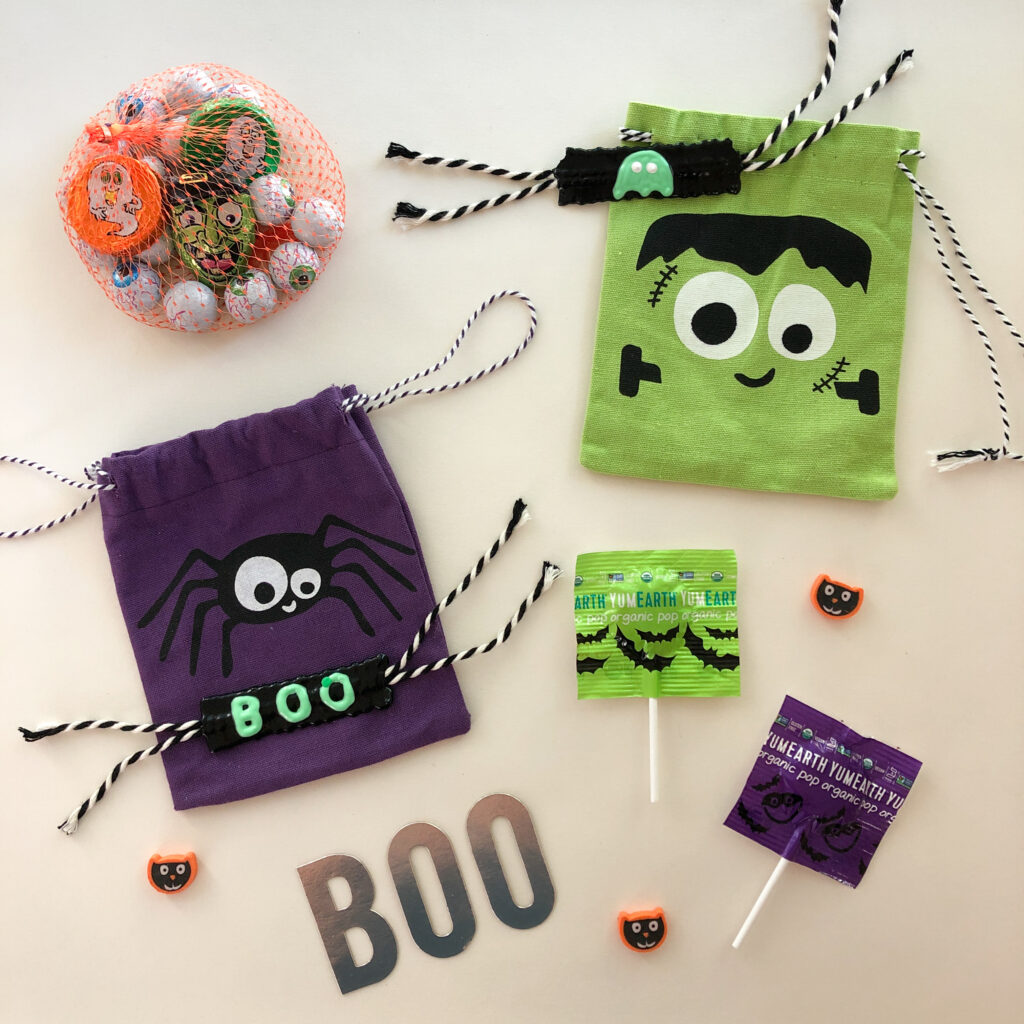 Anything goes here, friends. A bag of candy, a box of donuts, or a bottle of wine all work, too. (I guess right now, because of Covid, I'd probably leave a note with any edibles.) I hope you give it a try. It's so much fun.
---
---