Skiing for Beginners at Crystal Mountain
We are a mixed bunch of beginner skiers, friends. The kids have skied twice, my husband skied a little bit in high school, and I kind of skied once. True story – my kids were in the middle of a ski lesson two years ago and I followed them and their instructor up the chair lift for a few pictures. I thought I could ride the chair lift back down. Nope. The ski instructor took my big camera, put it around his neck, and skied me down the hill. There. That's my one time on skis. Oh, and I fell.
Anyway, my husband and I are determined to give our kids at least a little bit of experience in winter sports, especially downhill skiing. I always imagine the day we send our kids off to college – what life skills will they have, what experiences? I want them to at least have a general knowledge of skiing – what equipment you need, the ability to ski down a few hills, and the basics on safety. Oh, and maybe understand you can't ride the chair lift up and down. That would be good.
This winter, we booked a last minute trip to Crystal Mountain. We've visited Crystal before in the summer (read our last post here) and we loved it. We know they're doing a great job with cleaning and social distancing, so we felt comfortable going.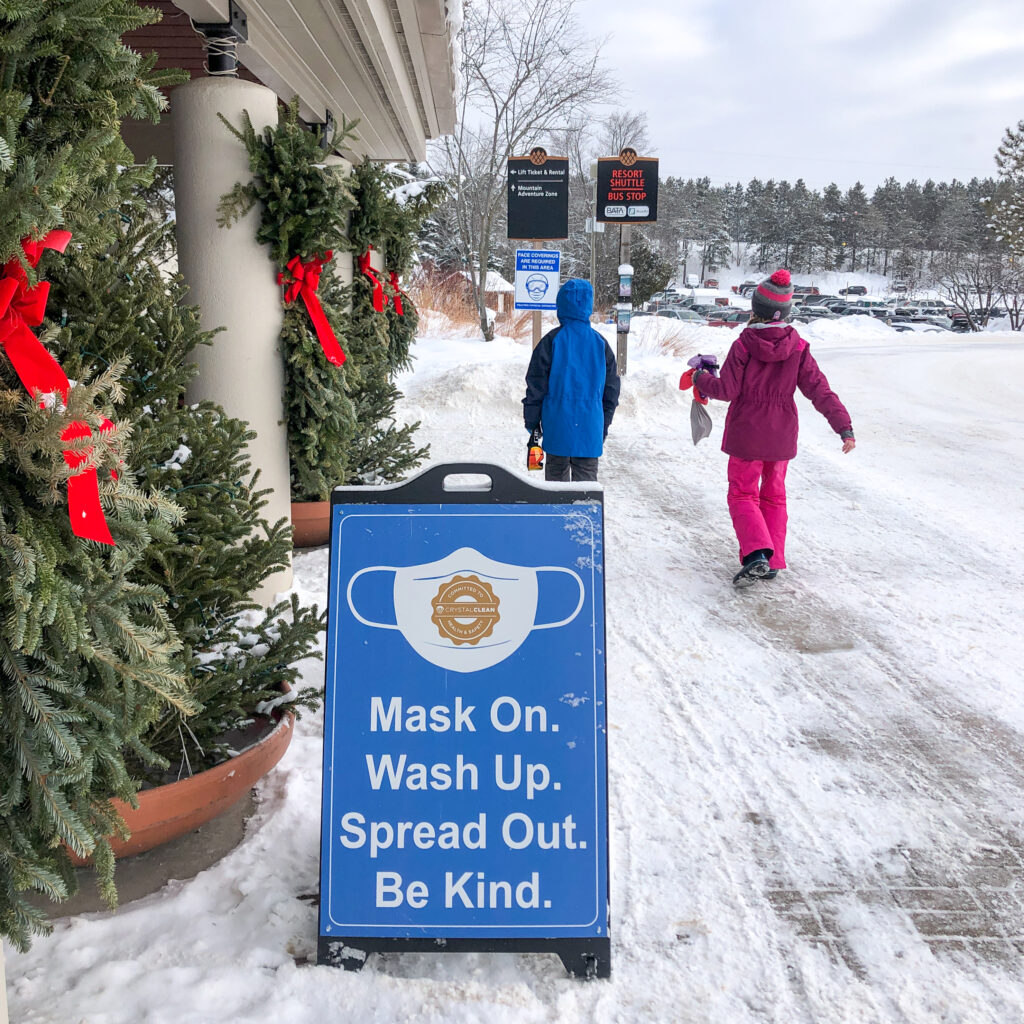 Last summer we stayed at the Inn at the Mountain, and it was a perfect fit for our family. The Inn is at the center of it all, within easy walking distance of the slopes, ice skating rink, indoor pool, and shops. The real pro for us is the courtyard. Our kids are 11 and 13, and after spending ten months at home with their mom and dad, they're ready for some space. I requested a room overlooking the courtyard and felt comfortable letting them go outside to walk around. Mountain Market is also in the same building, and the kids enjoyed going downstairs, on their own, to pick out snacks.
Our room at the Inn was a one bedroom suite, outfitted with a bathroom, kitchenette, small table, sofa, queen-size Murphy bed, and a king bed in a separate bedroom. This setup worked well for us.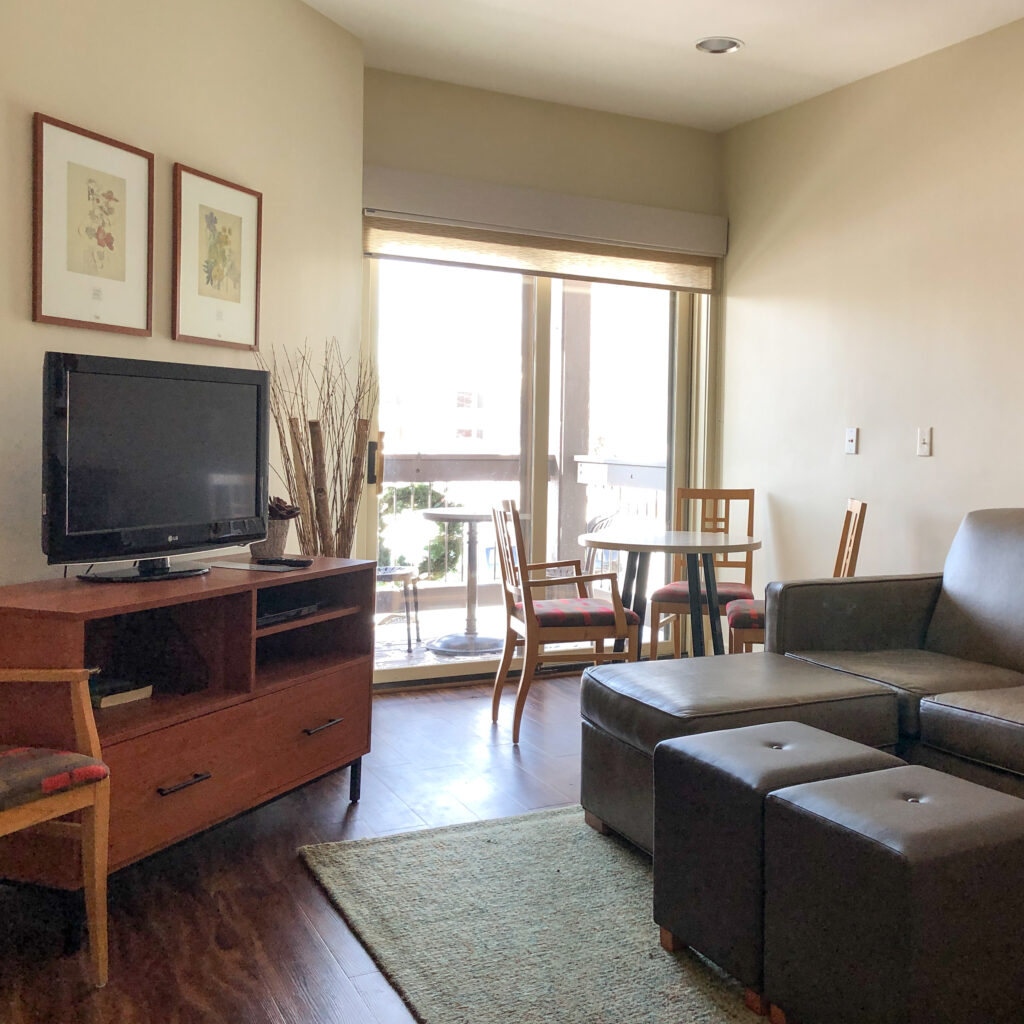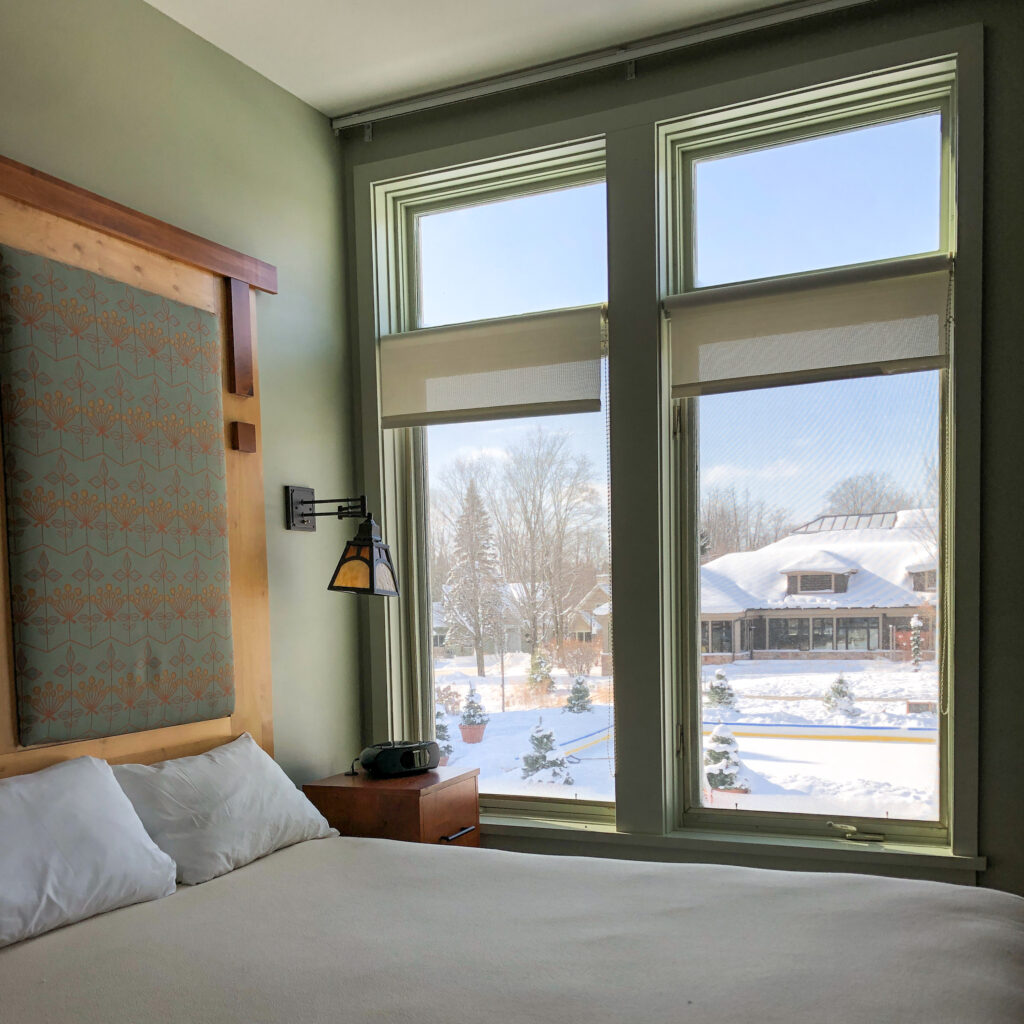 Since we're beginners and don't ski a lot, we rely on rentals. Crystal does a great job with this process. I don't know anything about proper fit, and I'm grateful for their help mixing and matching until we get things right.
Ladies, you do have to reveal your weight as part of the rental process. It's part of ensuring the proper fit. My husband was in charge of the rental process (you can do it online ahead of time). He was a champ and recorded my weight as 0. I went into the rental lodge myself to square things away. The staff applauded his efforts.
Eventually I'd like to build up our own stash of ski equipment, but we're not there yet. In the meantime, here are a few things small things I've purchased that help a lot.
Good quality, merino wool socks for the family. I bought Smartwool Ski Socks because they go over the calf and provide a little bit of protection between your shins and ski boots.
Long underwear for everyone. Ours are from Lands' End.
Ski goggles. If it's going to be really cold, or if you live in a climate where shoveling, snowplowing or sledding is a regular thing, consider buying snow goggles for the family. This is one item you can't rent and it really makes all the difference in your overall comfort. Look for ski goggles year round. I tried to find them a few days before our trip and they were sold out everywhere. I ended up buying two pair from Mountain Sports at Crystal Mountain. They had a wide selection and were very knowledgeable about what we needed and what we didn't.
Hand and toe warmers are really helpful. Buy them.
Needless to say, we spent most of our time on the bunny hill. My kids were amazing and zipped up and down the hill with ease. They're such fast learners. They had one lesson two years ago and have only skied once since. I am so proud of them!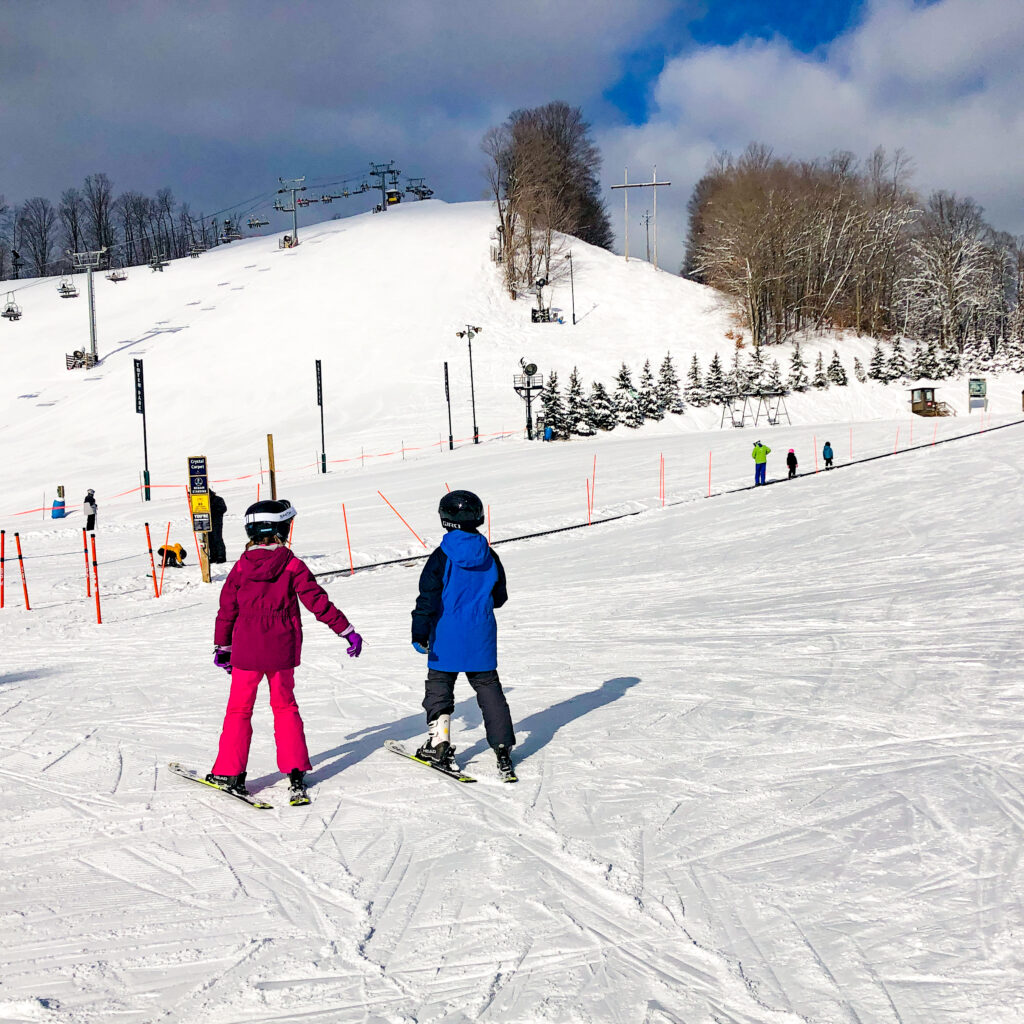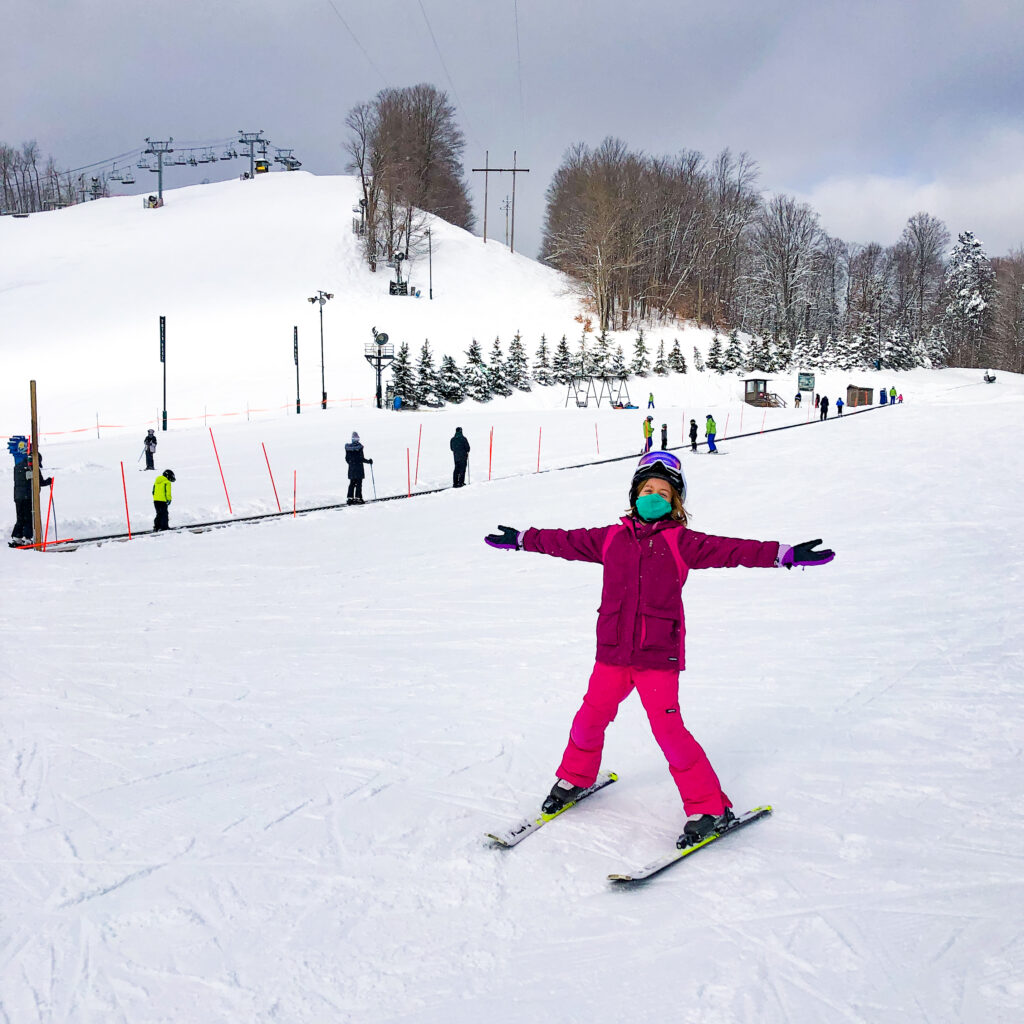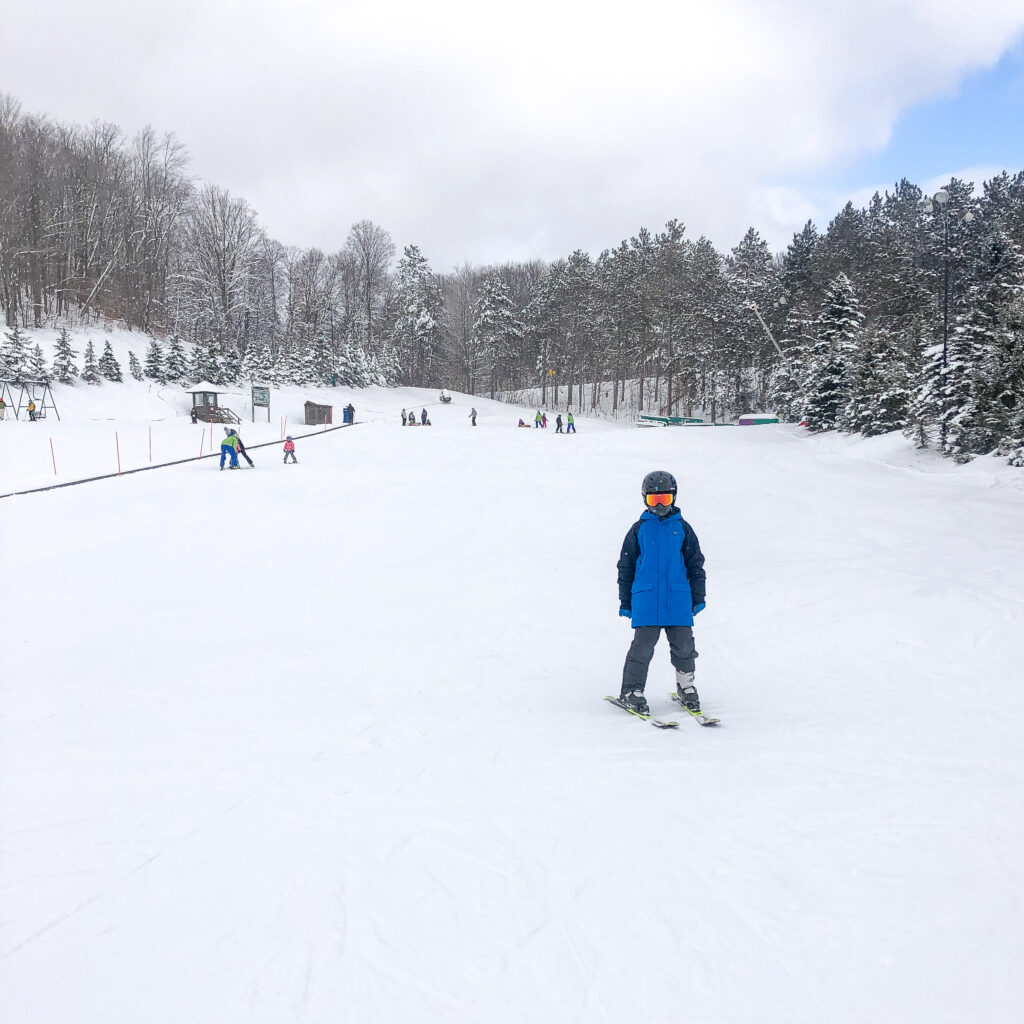 Let's talk about this picture for a minute. It's the only evidence I spent any time on skis. I was on the magic carpet, bravely heading for my first run down the bunny hill. My son was just ahead of me. Did you know there is a hill at the end of the magic carpet? I did not, and I fell getting off. They had to stop the magic carpet to avoid a pile-up. I was so tangled in my own skis I couldn't get up. A kind older lady popped off my skis for me. I found my way to standing, walked to the top of the hill, put my skis on again, skied maybe two feet, and fell again. Took my skis off, stood up, skied, fell again. The bunny hill is fast, you guys. I tried again and fell. Toddlers whizzed by me. This time I took my skis off and walked the rest of the way down. And thus my time on skis was over.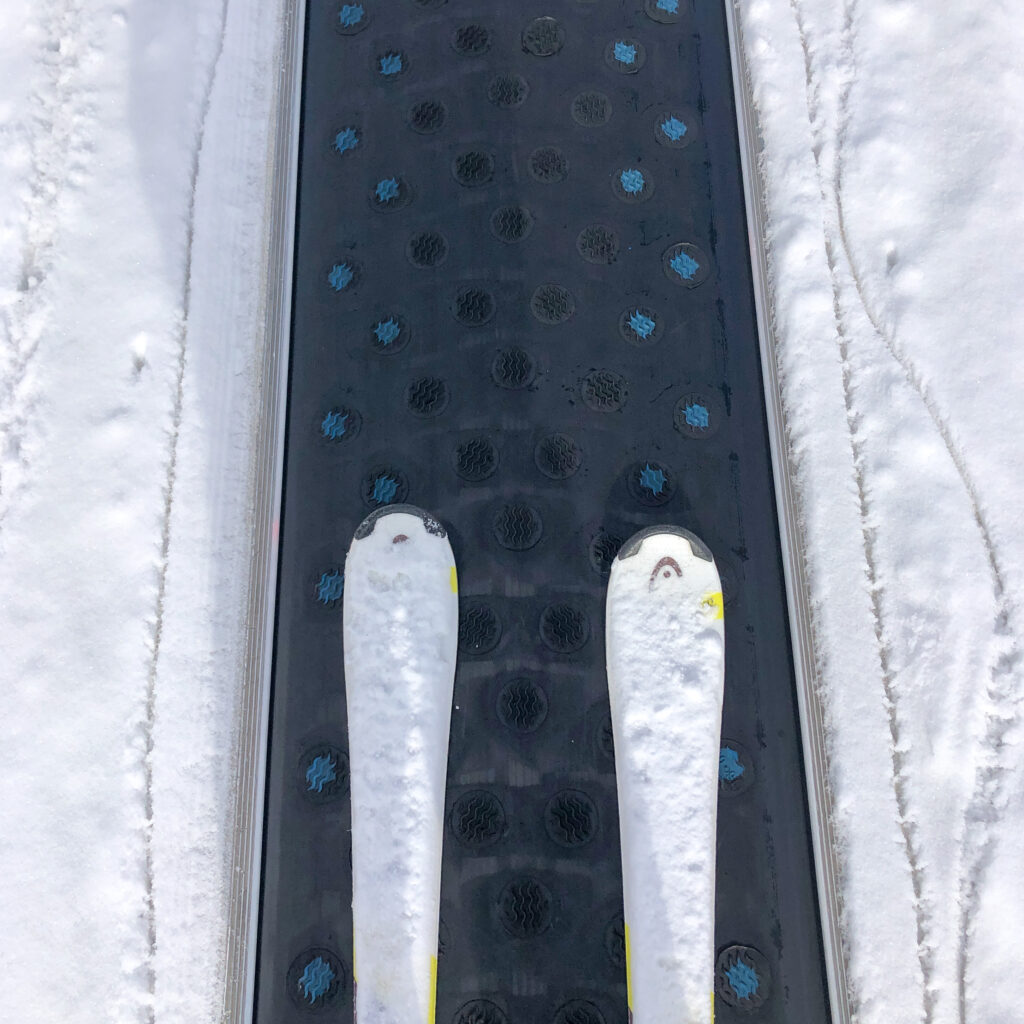 After skiing in the morning, we took a break and went back to our room for lunch. The Clipper Cafe is located near the slopes and our room, and was an easy stop for burgers, fries, individual pizzas and salads.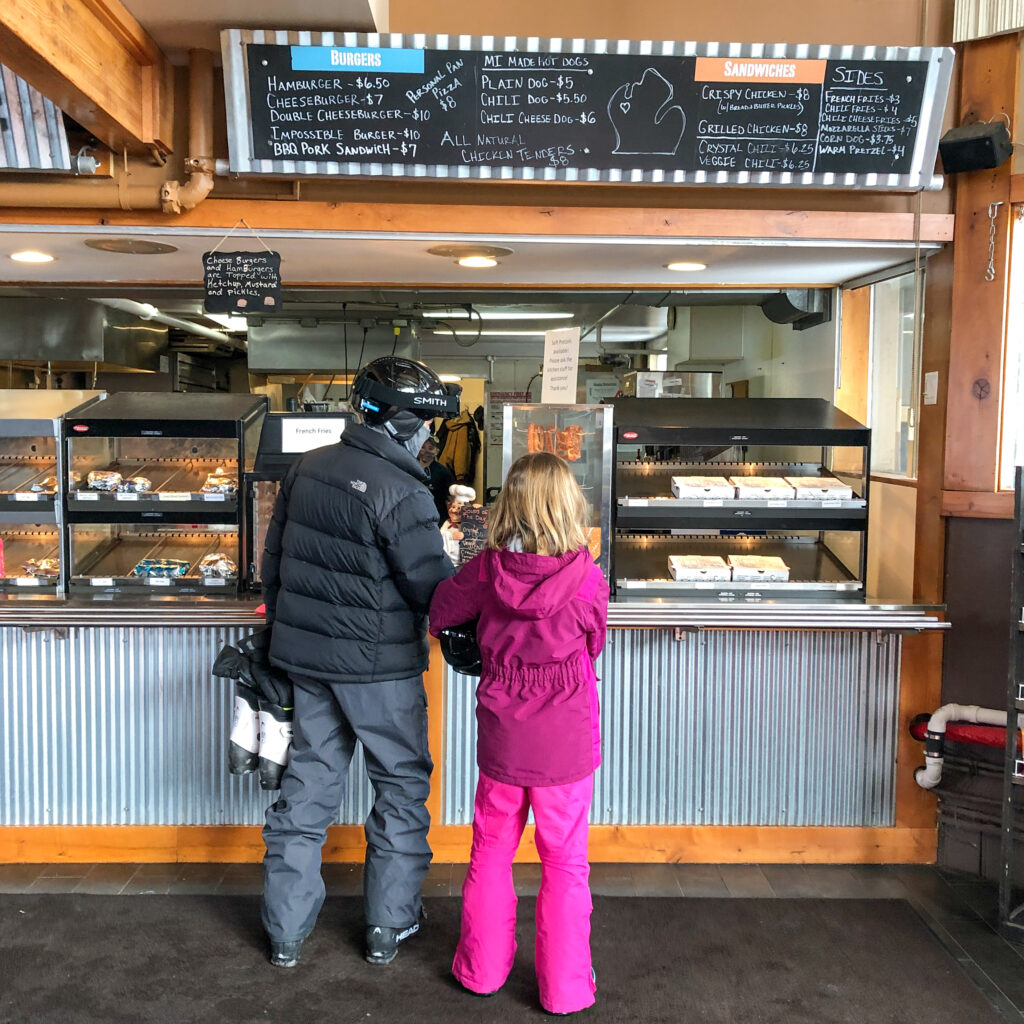 A little later we went outside to try ice skating. Rentals are available for $9 per person for one hour. Some of us were better than others. Three of us stayed mostly vertical and one didn't. I'll let you guess who that was.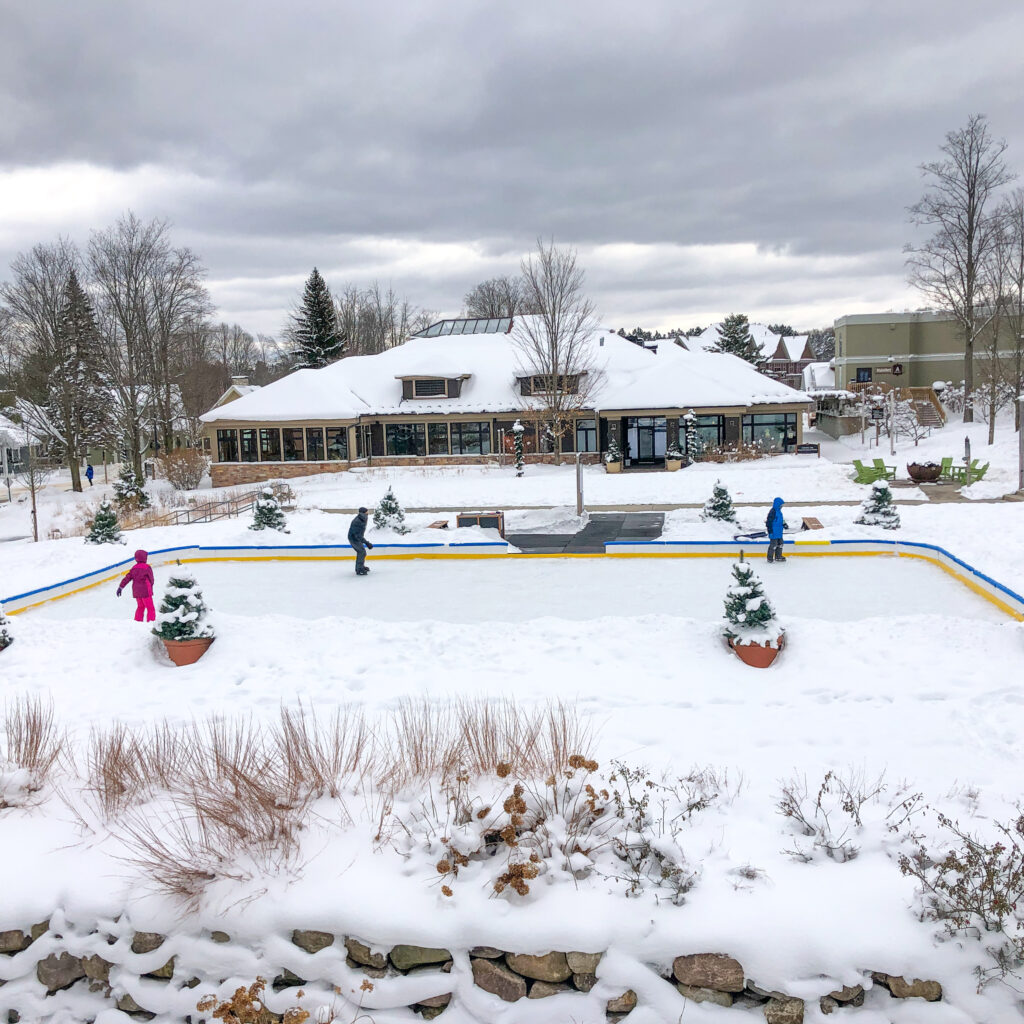 Snow shoes are also available to rent. This feels more my speed.
Fire pits are also scattered around the property. We sat near one for a few minutes while the kids relaxed in our room. We could see our room from the fire pit, and the kids would wave to us now and then. It was the closest we've been to a date in months.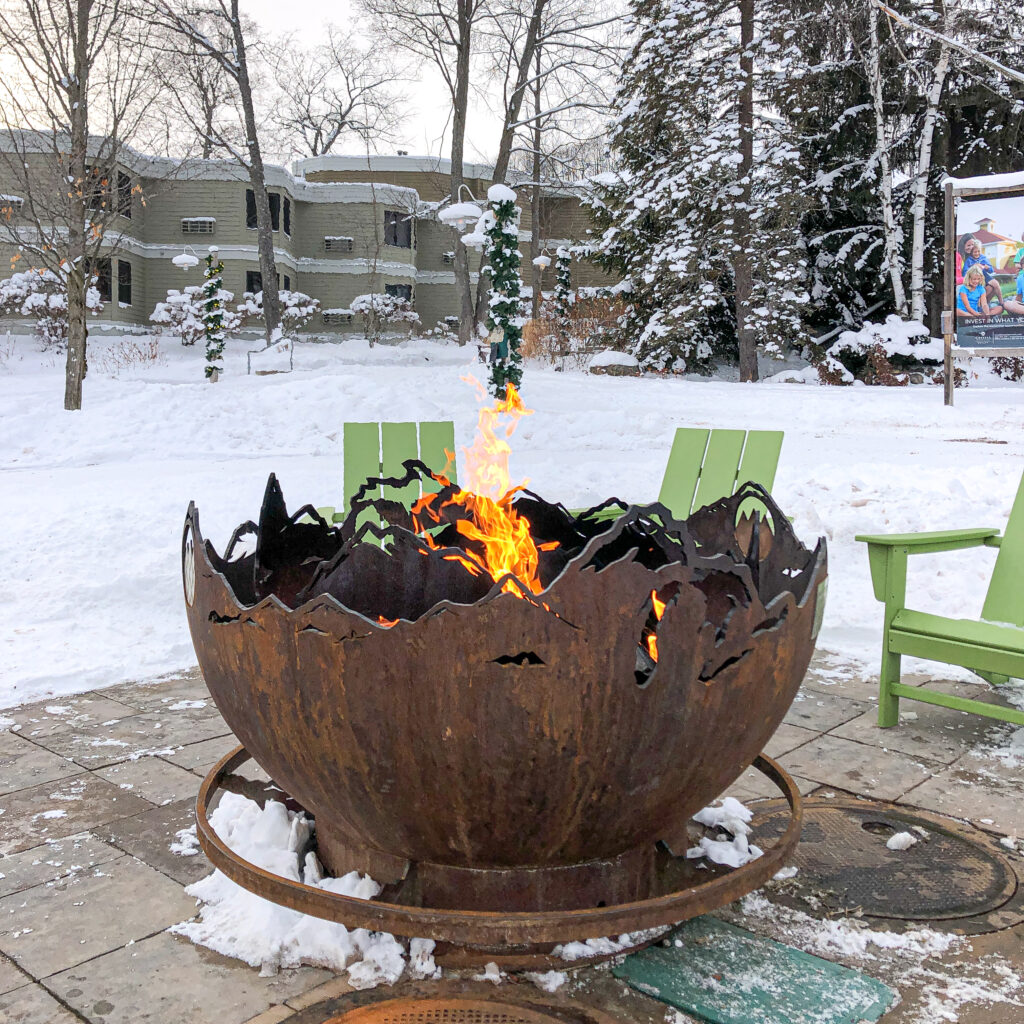 We ended our day with one more trip to the slopes. We only had lift tickets and rentals for the day and wanted to make the most of our time. The kids skied on the bunny hill for an hour or so, while my husband tried a few of the other hills.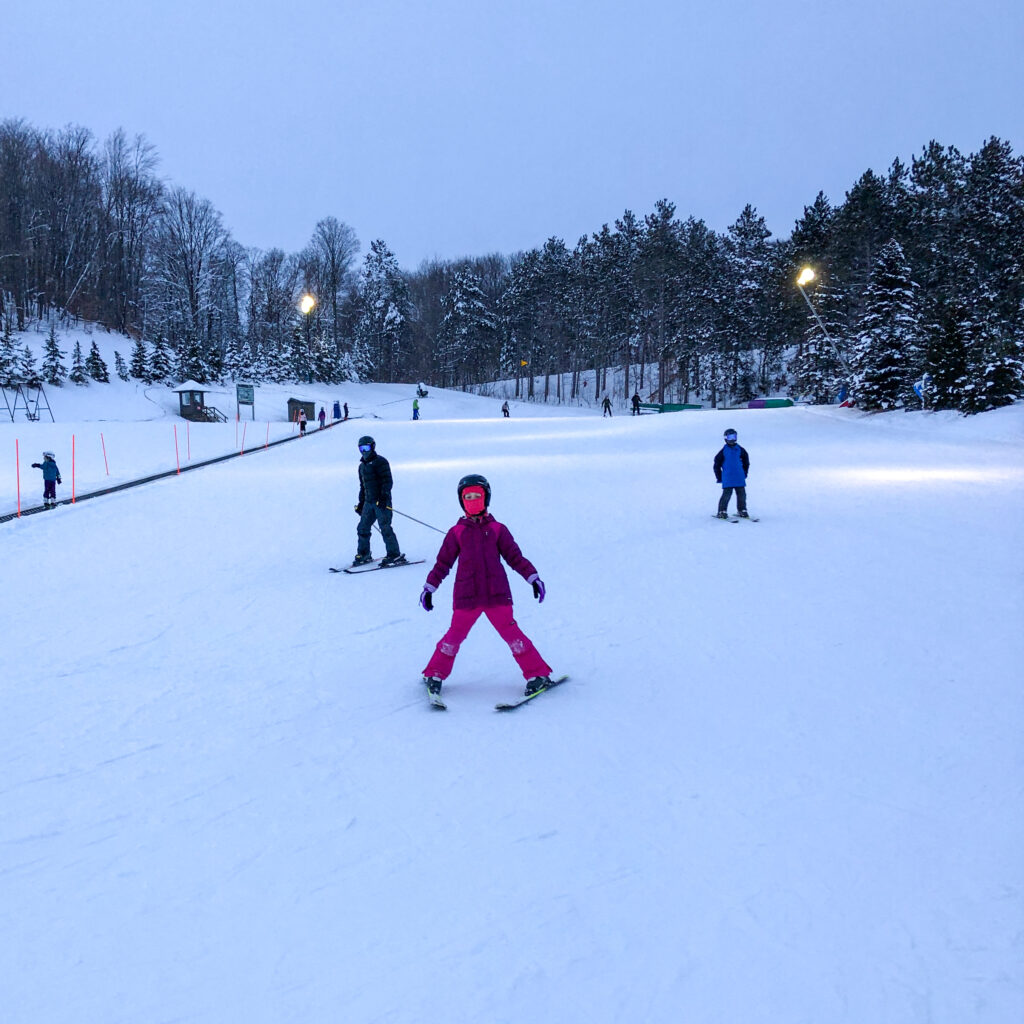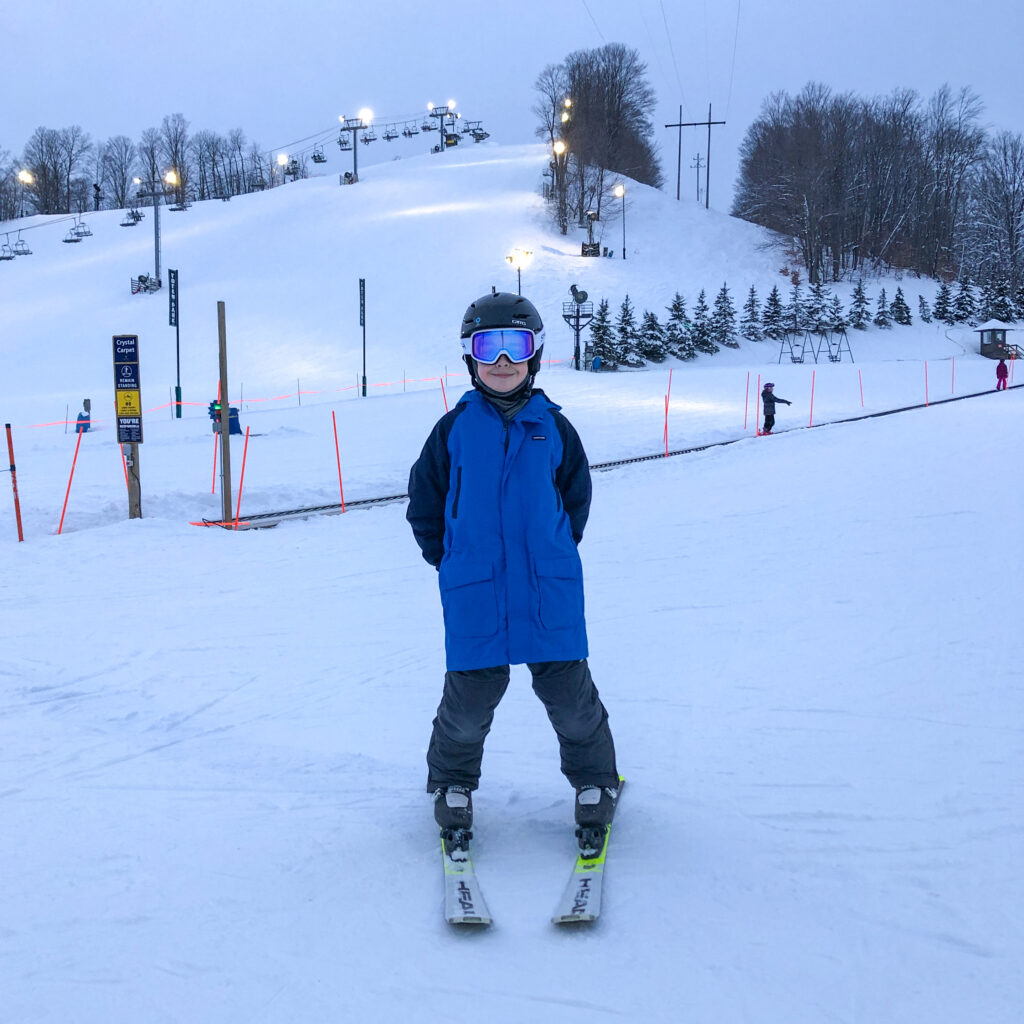 For good measure, here's a picture and video of some of the other hills. We might venture this way in a few years.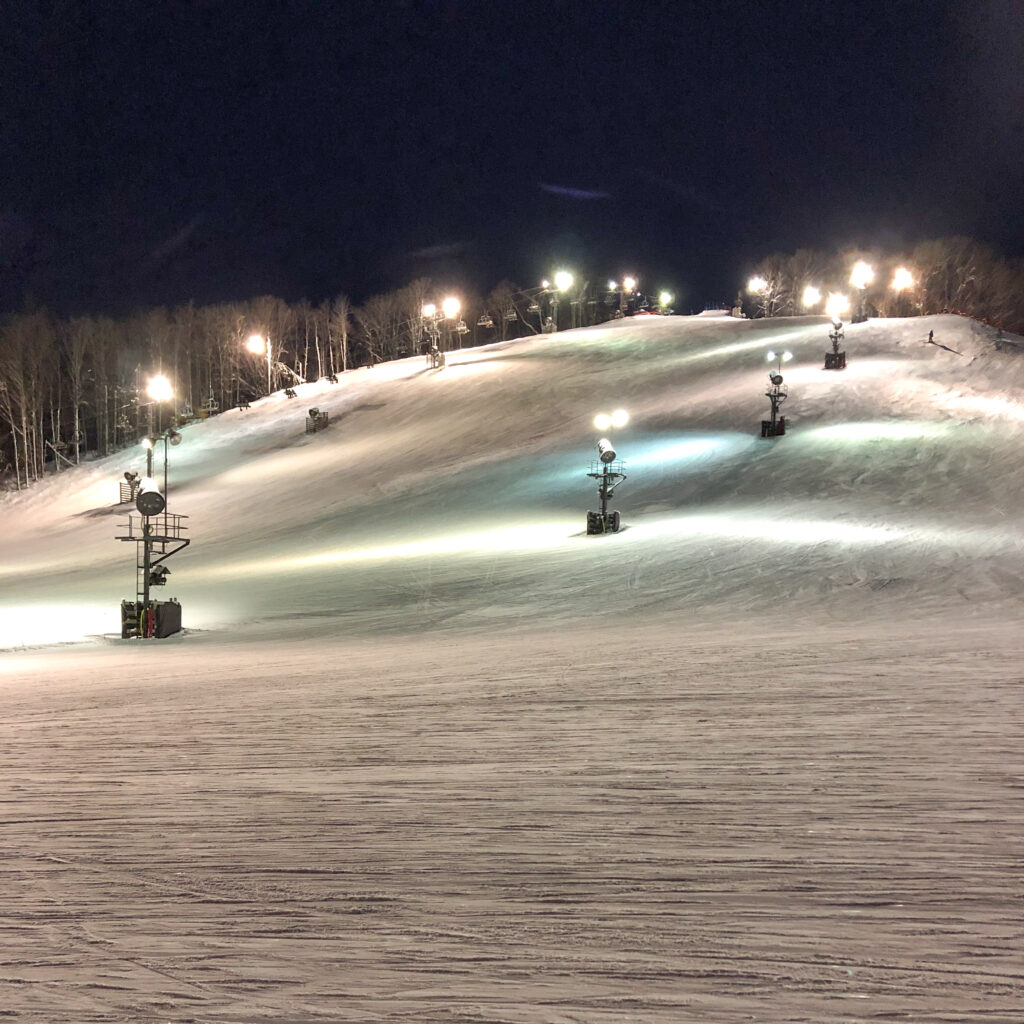 Let's end with a few helpful tips.
Moms, I've been told that "no one" wears a backpack while skiing. I asked because I had my mom backpack ready to go, packed with snacks, a water bottle, extra gloves and a first aid kit. As it turns out, they were right. Our room was very close to the slopes, so I was comfortable leaving my backpack behind. (But I did sneak a granola bar in my pocket. Because we all know how fast a hangry kid can ruin things.)
Since mom bags aren't a thing, wear a jacket with lots of pockets, preferably ones that zip closed. You can stash a few important things in there, like your phone, id, credit card, room key, and secret snacks.
Our room was equipped with a kitchenette, making small meals and snacks easy. I packed yogurt, smoothies, cheese sticks, and small cans of pop for easy breakfasts and snacking.
If you end up renting equipment, and lockers are available, rent the largest locker you can. You'll need it to store your winter boots while skiing, and four pairs of Bogs definitely do not fit in a small locker.
Mountain Market is a lovely little store with a good variety of groceries, food, clothing and souvenirs. It's a fun place to browse and easy to pick up a quick, healthy dinner. They also stock local foods I love, such as chocolate covered cherries from Cherry Hut.
We love the pizza from Betsie River Pizza (on property). We ordered pizza our first night there and stored the leftovers in our fridge for the next day.
If you're staying at the Inn, ask for a room that overlooks the courtyard. This is a game-changer for our tween and teens.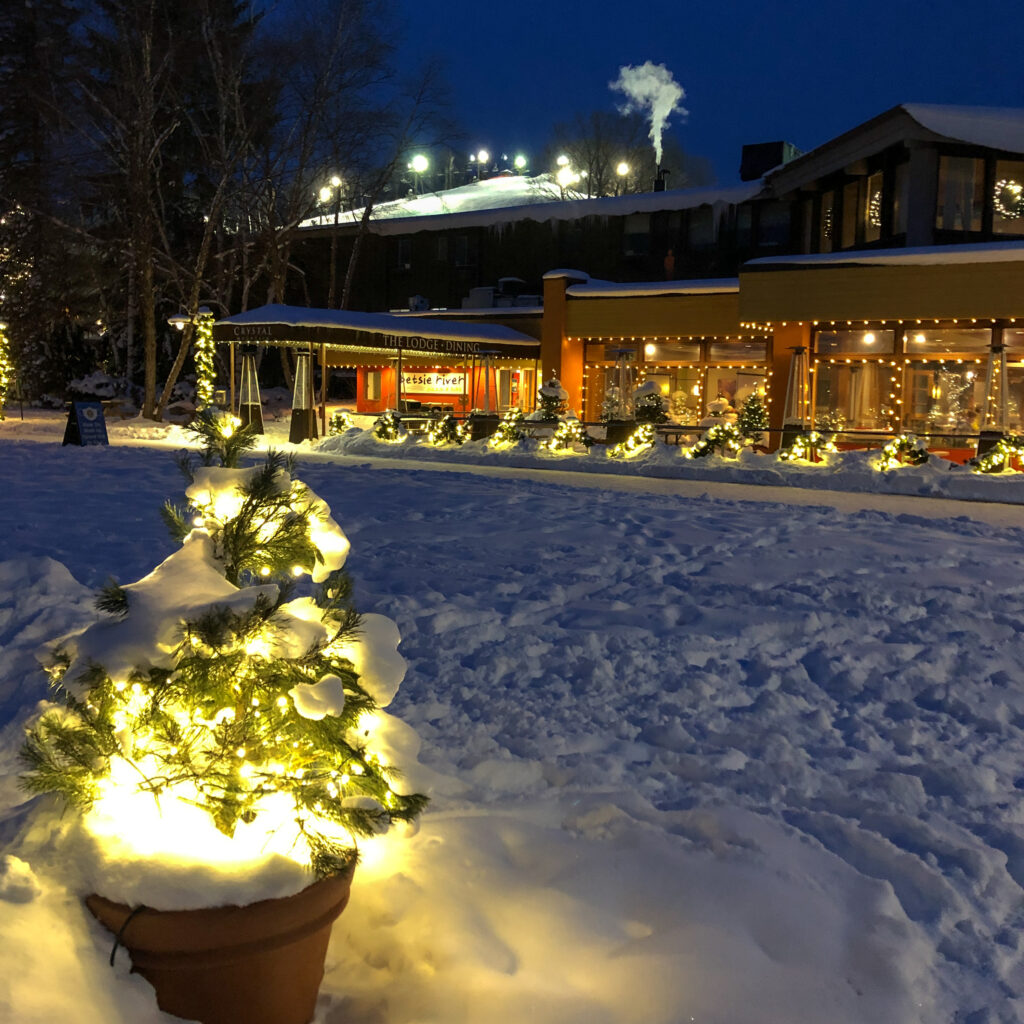 All in all, it was a great trip and I'm really glad we went. I've even considered trying one more time this season, but I don't know. That seems like a stretch. Maybe once a year is our jam. We'll see.
Check us out on Instagram for more pics and stories. We're @wildandpreciousfamily.
Megan
---
---