Our First Aid Kit
Our first aid kit has seen lots and lots of use, and not just by our family. Over the years it's helped friends and fellow travelers all across the globe. It's the first thing I reach for when packing and I never leave without it. I've even given quite a few as gifts. 🙂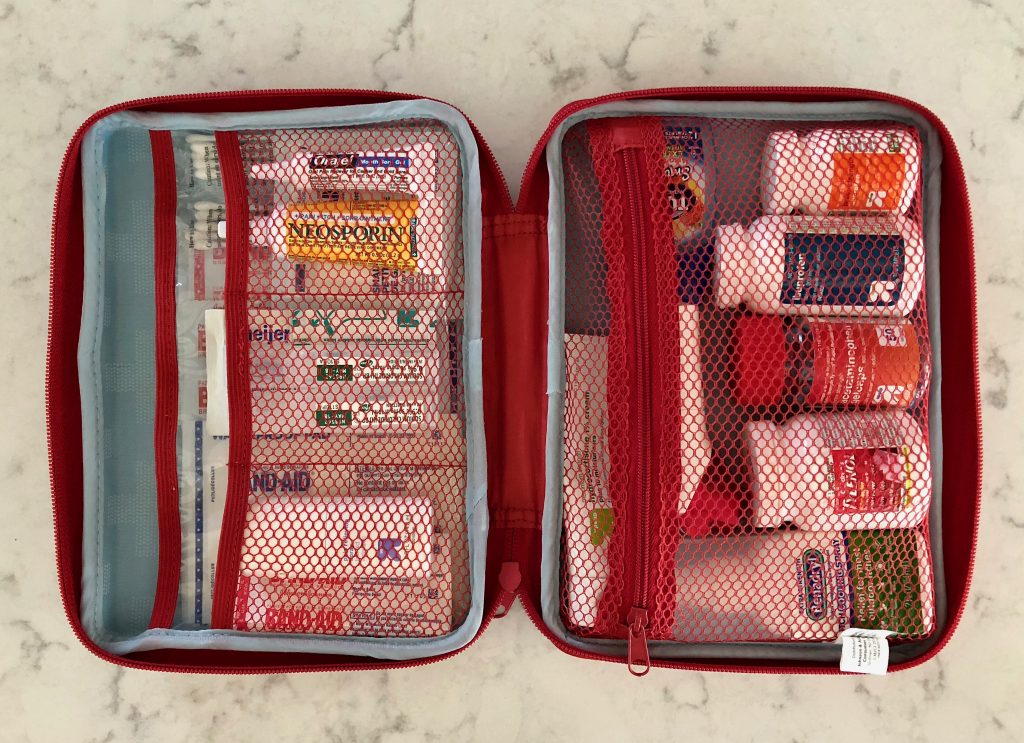 Here's what's in our first aid kit:
* Band-Aids. I like Flexible Fabric. I keep an assortment of sizes handy, from butterfly bandages to large, waterproof bandages (hello, scraped knee).
* Individually wrapped gauze in small and medium sizes.
* Individually wrapped alcohol wipes. (Also good for removing Sharpie stains.)
* Single use saline solution. (I picked this up in Australia. Haven't seen it in the States.)
* Neosporin with pain, itch, and scar ointment. (Seriously, this is so good. I reach for it often.)
* Benadryl spray. This is heavily used as well, usually for bug bites.
* Pain relief spray. I use this for really nasty scrapes or road rashes.
* Hydrocortisone cream.
* Orajel.
* Acetaminophen in adult and junior strength.
* Ibuprofen in adult and junior strength.
* Loratadine tablets for ages 6+.
* Tums.
* Latex gloves.
* An inhaler (with specific directions from our pediatrician, since we don't need it often and I want to be sure I use it right).
* A thermometer when traveling overnight (not pictured).
* Lollipops (also not pictured).
As for the actual bag I store it all in, my favorite is from Target. It's usually available in early summer and comes free with the purchase of three signed items (Band-Aids, Neosporin, etc.) I like it because it has lots of interior pockets for organizing, has a soft shell which helps prevent things from being crushed, and the exterior is easily wipeable. It's also not too big or bulky.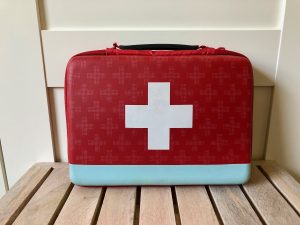 This may seem excessive, but I'm not kidding you, this has saved the day on more than one occasion. Nothing takes the fun out of a day faster than a headache or skinned knee. It's so much better to just be prepared than to stop everything and find supplies. Especially if you have to find supplies in a foreign country with a huge language barrier. (Been there.)
Bonus use – this particular first aid bag is also great for storing electrical adapters or small electronics and their chargers.
Do you travel with a first aid kit? If so, what's in it? I'd love to know.
---
---