Rainbow Week
It's January in Michigan, which means it's cold and grey, and the sun sets before six. Add the fact we've been home for ten months now, and our family needed a pick-me-up.
If you follow me on Instagram, you'll know I gave myself several options.
🍋 Make the lemony-iest lemon bars in the world
🧁 Make a huge, three-tier cake with 800 million sprinkles
✨ Decorate the house overnight (more is more)
🏠 Plan the most extra porch drop of all time for friends
❄️ Meet besties for sledding + hot chocolate
Somehow I landed on decorating the house overnight and somehow I decided rainbow was the theme. Then I realized I could split the rainbow into days of the week and do something special each day. That led to Rainbow Week. Welcome to my brain.
The idea is simple – Monday is red, Tuesday is orange, Wednesday is yellow, Thursday is green, and Friday is blue. We celebrated each day with a small treat in that day's color. I decorated the house Sunday night after the kids were in bed and had a red snack and treat waiting for them when they woke up Monday morning.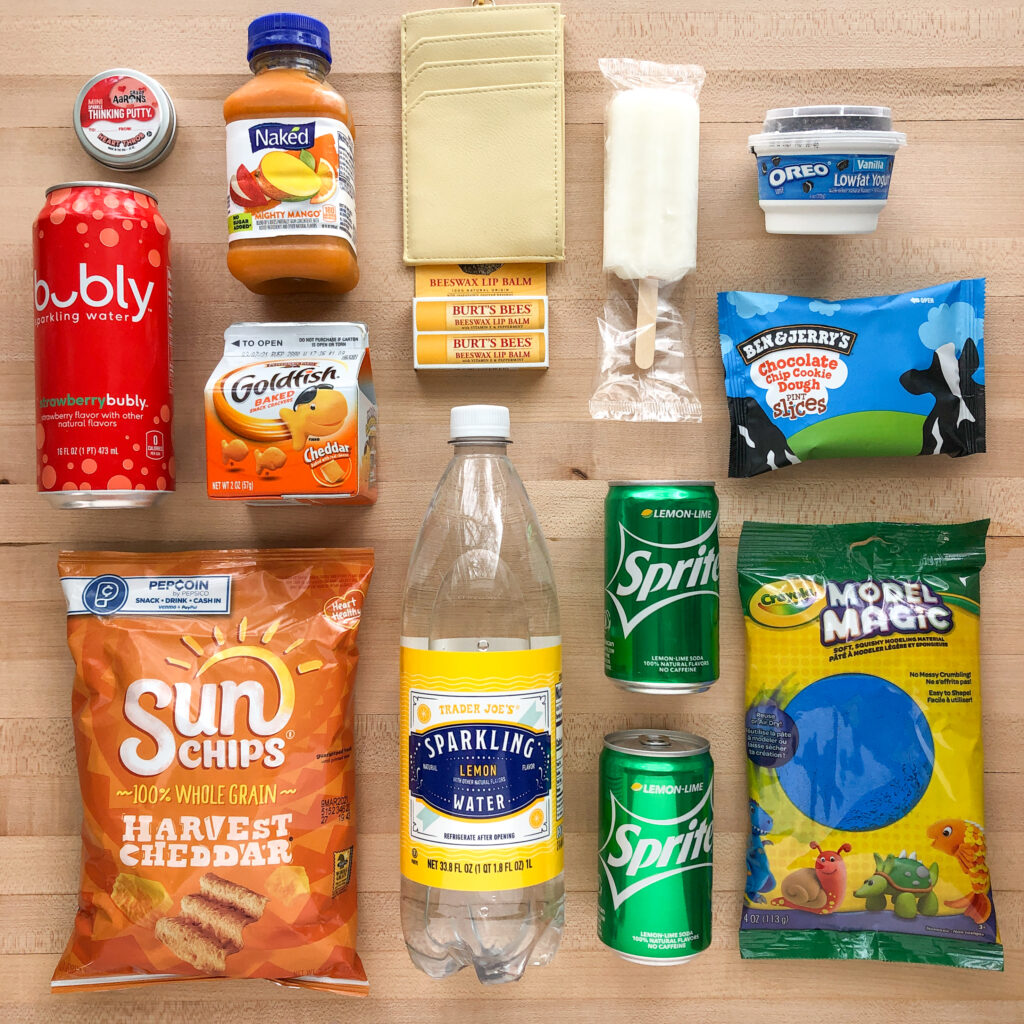 For decorations I used what I had – two rainbow garlands and rainbow-color balloons. I hung one garland on the stairwell railing and the other in the kitchen. We blew up the balloons and let them lay loose on the living room floor. I also made a quick sign announcing the week and hung it where the kids would see it.
The beauty of Rainbow Week is the flexibility – you can go as big or as small as you want. And it definitely doesn't have to be expensive. There aren't any expectations – it's all fun and a surprise.
Here's a list of everything I bought. It's all from Target (big surprise). If you buy food, don't worry so much about the color of the actual food. Think about the packaging, too. I tried to stick with edibles or things they actually needed, just to avoid bringing more clutter into the house.
Monday
Strawberry Buble
Aaron's Thinking Putty (I found a small tin in the Valentine's Day section).
Tuesday
Mango smoothie
Small can of Sunkist
Goldfish for my son
Sunchips for my daughter
Wednesday
Simply Lemonade
Burt's Bees chapstick for my son
A small purse for my daughter
Thursday
Small can of Sprite
Skinnypop popcorn
Lime Outshine popsicles
Friday
Blueberry Buble
Oreo yogurt
Salt & vinegar Pringles
Ben & Jerry's pint slices
Crayola Model Magic (blue)
There are so, so many options outside of what I used. Now that I have my "Rainbow Week" glasses on, I can't help but see new ideas. You could work clothes or books into the mix, or even little notes in school lunches. It can be anything you feel like making it.
My kids loved Rainbow Week, and I loved setting their little treats out each night. Maybe we'll do it again next January. Scratch that – I'll definitely do it again next January because my kids don't forget anything and they'll for sure remind me. #rainbowweek2022
---
---