My Best Homeschool Tips, Free Resources, and Simple Schedule
Well, guys. Here we are. What a crazy, unprecedented time. Lots of schools are closed and parents are scrambling for a plan. We homeschooled for a year from 2018 – 2019, and I fell back into that routine last Monday.
I'd like to note right up front that is this only a guide. What works for me and my family does not have to work for you. We're in trying times, and it's important to stay happy and healthy. This is a huge, new adventure we're all embarking on, and I want to make it as easy, fun, and productive as possible for all of us.
We can do this!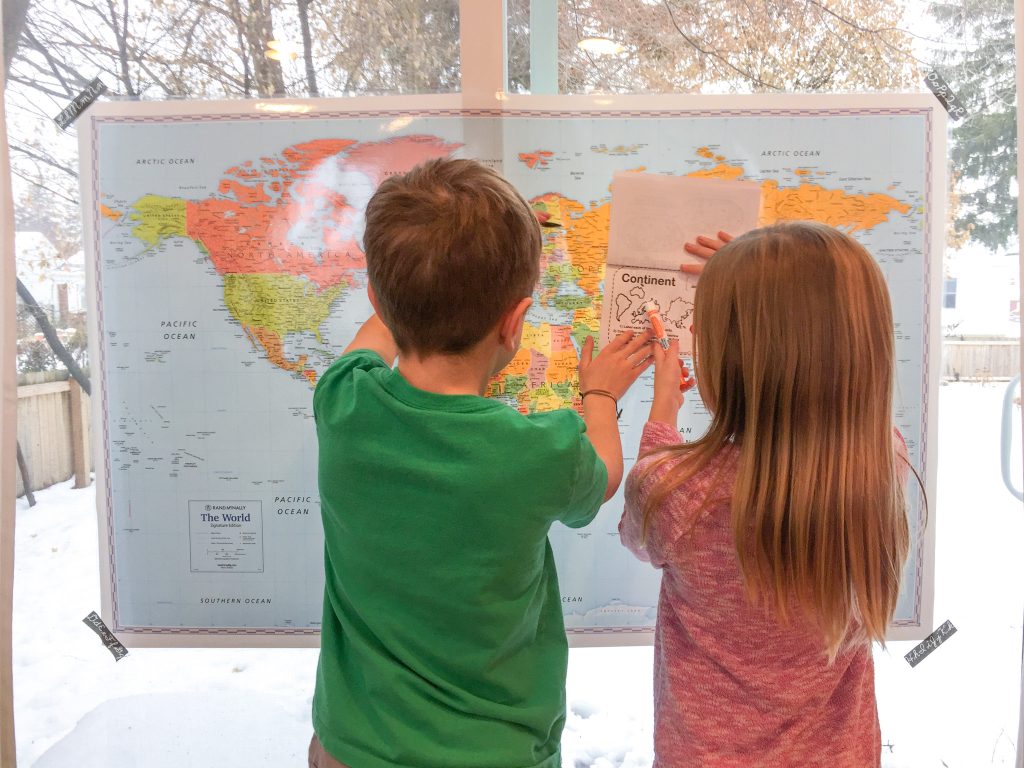 Tips
Establish a Routine. We meet at the table to start our day at 9:30. I hold our kids to this. It's nice to kick off our day in an easy, familiar way. (Don't we all need something familiar right now?) Even if we go our own way after that, at least we kicked off the day together.
Plan. Use my weekly schedule below to plan your week or use a schedule of your own. Whatever you do, spend some time planning. It will pay off during the week. Make sure you have things printed, materials ready, websites bookmarked. When you're done, thank your child's teacher, because they've been doing this all along.
Print a monthly calendar and give one to each kid. Disney Family has an awesome free printable here. Review the calendar each morning, look at upcoming events, add new events. This helps kids learn the day and date, anticipate what's ahead, and learn a little time management (for example, sending birthday cards early).
Work some chores into your plan. The kids have jobs at school, make sure they have jobs at home. If you're lucky the novelty of it all will have them doing chores without complaint. At the end of our day the kids have a ten minute cleanup. They are required to put away their stuff (we have a homeschool cabinet, but you can designate any area you want to store their stuff) and do one household chore (sweep, dust, take out recycling, refill hand soap, whatever). Here's a list of chores for kids, sorted by age group.
Simple Weekly Schedule
Use this simple weekly schedule to get you started. Print and fill in with work from school or the resources below. See a video of how I set up our schedule here.
Print a schedule here.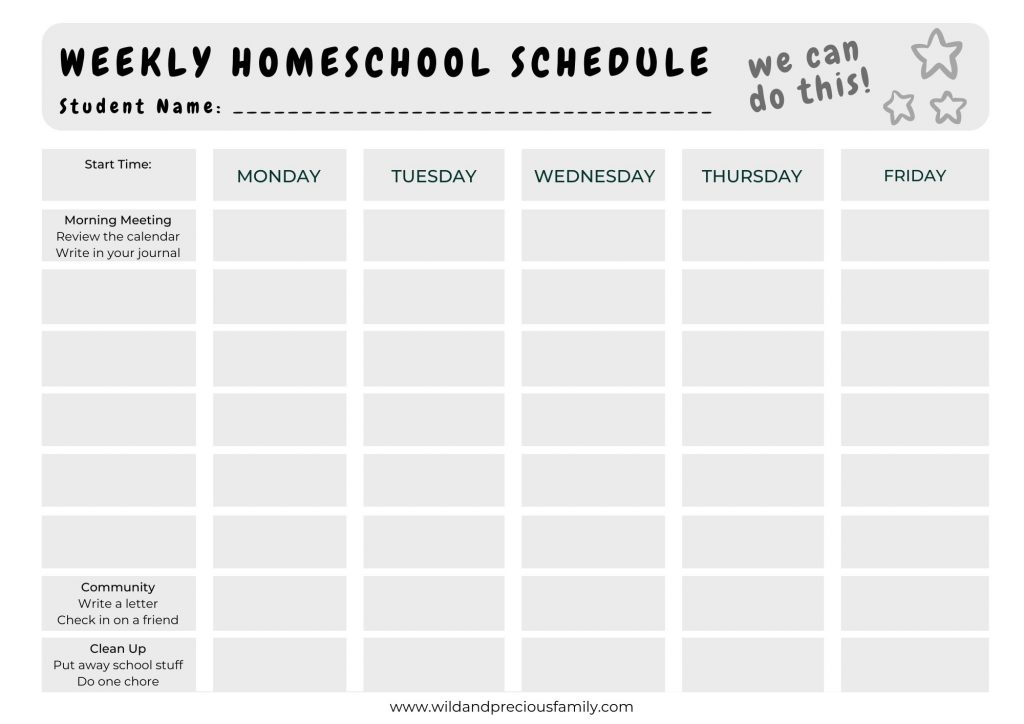 A teacher friend of mine found that a checklist works better for her kids. It gives them some control over their day yet still holds them accountable for a few tasks. If a schedule isn't your jam, try a checklist out. See a video of how I set up our checklist here.
Print a checklist here.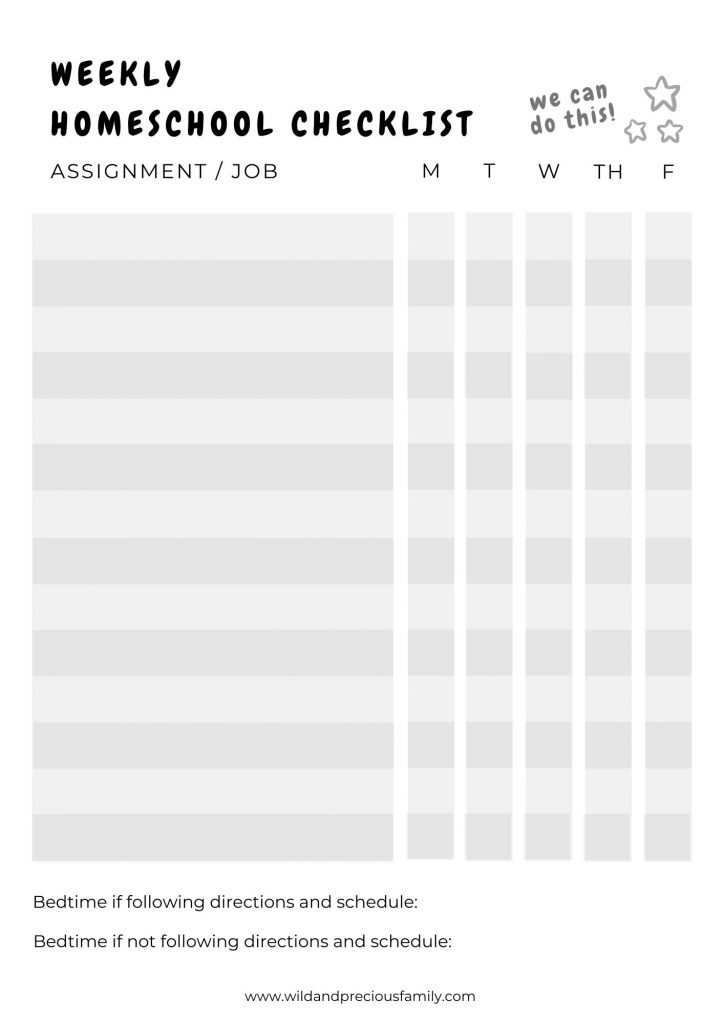 Favorite Resources
Khan Academy. This is a great resource and covers so many subject areas. It's sorted by grade level and subject. They have sample schedules, complete with links, writing prompts, and podcast suggestions.
Khan Academy – Pixar in a Box. Lessons and videos covering lots of topics such as storytelling, color, geometry and coding. This information is such a gift – the kids love it and think it's so cool that it's straight from Disney and Pixar.
Khan Academy – Imagineering in a Box. How artists, designers, and engineers create theme parks.
Teachers Pay Teachers. You're going to love this – it's lesson plans and activities from teachers around our country. You can search by grade, subject, and price. Always look through the free stuff first. There's some really good stuff in there. I'd also recommend looking closely at the previews before you purchase anything. Sometimes I just like the way a person designed a lesson better than others. I really like morning work from The Literacy Loft. I buy morning work by the month. It's usually about $4.
Brain Quest Workbooks. Exercises, activities and games in several subjects. You buy them by grade level. They're available on Amazon here. (Not free, sorry, but a good resource if you're okay with making a purchase.)
BrainPOP. My kids use this in school. They are offering free subscriptions in the event of school closures.
PBS Learning Media. I will be using this for social studies, specifically to help my daughter with her state report.
National Geographic Kids. My kids love the Wiggly Water science experiment, and it requires only one supply (a comb).
Art for Kids Hub. This is so great for art class or just online, non-gaming fun.
Additional Free Resources
As additional resources pop up all over Facebook and Instagram, I add them here for easy access.
BrainPOP – Coronavirus. A short video about Coronavirus, easy for kids to understand. Covers hand washing. It's a great place to start.
How to See Germs Spread, a YouTube video by Mark Rober. This video is excellent – I highly recommend. He does a great job of visually demonstrating how easy it is to spread germs, and how proper hand washing is a great defense against getting sick.
Lunch Doodles with Mo Willems. Fun drawing videos by beloved children's author Mo Willems.
Dave Pilkey at Home. Join Dave Pilkey each Friday as he draws or reads to kids. Hosted by the Library of Congress.
Free Address Book Printable from Scattered Squirrel. Perfect for getting your kids started on their own address book. You'll be surprised how much they like it.
Sixteen Things to Do While Sheltering In Place by Momocular. I love this post, especially the Morse Code idea.
Scholastic Learn From Home. Free projects sorted by grade level.
Free Audio Books via Audible. Free streaming of stories from your laptop, desktop, phone or tablet.
Disney Parks Blog – Draw Mickey at Home. Tutorials from a Disney cast member on how to draw Mickey.
The Very Hungry Caterpillar, read by Eric Carle.
NASA Kids Club. Games and activities about space.
Audubon for Kids. Learn how to identify birds, draw birds, build a bird feeder, and more.
Virtual Tours of 12 Famous Museums. Southern Living compiled a list of 12 museums around the world offering online tours.
OPEN – Online Physical Education Network. Ideas for staying active while at home.
Coloring Pages & Activities from Goldfish Swim School.
Cassie Stephens: My Favorite Lessons for Home-Based Art Education. Our school art teacher passed this along – it looks really fun.
Art with Emily Meyer. Daily art lesson by a teacher in Indiana.
Art with Mati & Dada. Art history videos for kids. Learn about Matisse, DaVinci, VanGogh and more.
51 Recipes To Cook with Your Kids. From the New York Times.
21 Day "Home for the Count" Kid Challenge from our good friends at Grand Rapids Kids.
Circle Time. Yoga, cooking, and singalongs for kids 0 – 6.
Amazing Educational Resources – a huge spreadsheet listing all the free online resources available.
50 Fun Activities for Kids from Good Housekeeping.
50 Plus Indoor Activities for Kids from Hello, Wonderful. Easy indoor activities using simple household items.
94 Fun Things to Do at Home from Apartment Therapy. This is geared more towards adults, but it's still a fun list of things to do.
3 Weeks of Maker Stations. STEM challenges using household basics.
Also, don't discount the value of using this time to teach kids household basics – how to make a simple meal, how to complete a few household chores thoroughly and well, and finally, my favorite, how to write, address, post and mail a real letter. We spend a lot of time on that last part, and I plan to do the same this time around.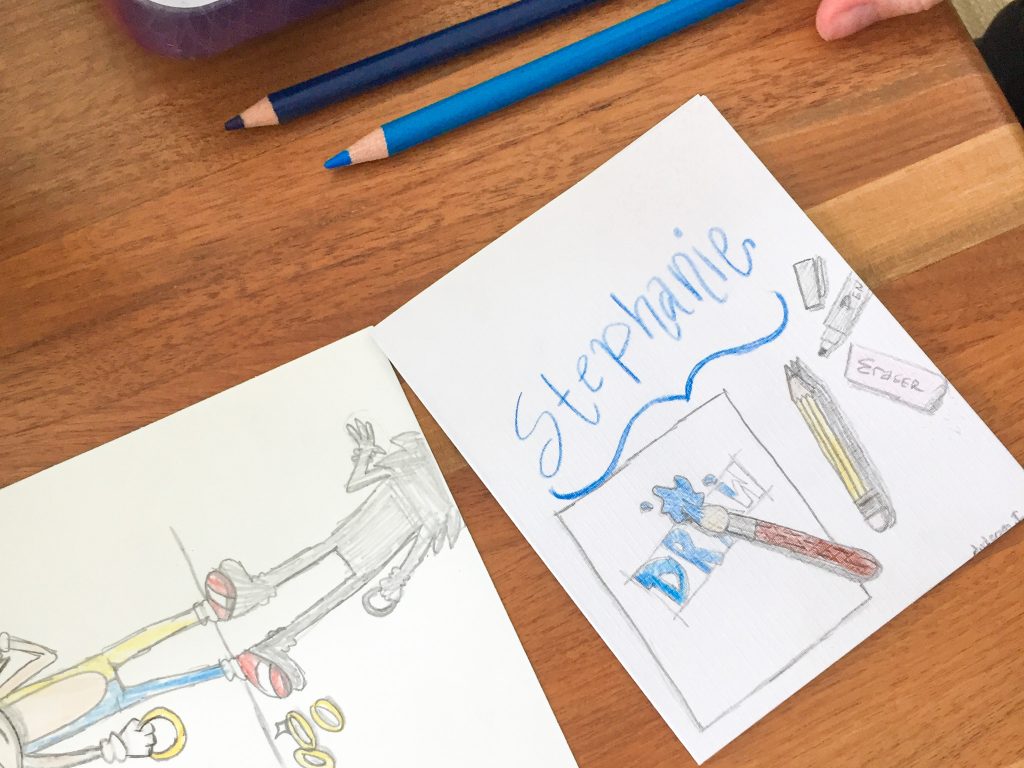 Finally, the true beauty of this time is the bigger lesson it holds – the strength and bravery in watching a community come together for each other. What we're all going through is unprecedented in our lifetime. Start a journal, write down what your days are like and what you did with your time. What a cool record to have when this is all a distant memory.
---
---