Week 9 – Butterflies, Basquiat & Boredom
Whew.
This week we are tackling the doldrums of late winter – mud, grey skies, and barely any sunshine. It's not always fun and I hear "I'm bored" a lot. Sigh. We are ready for spring. And Italy.
Luckily we have great places to visit and often take our show on the road. Frederik Meijer Gardens has tons of butterflies right now and even more wonderful volunteers, happy to talk to the kids and teach them about whatever's going on. I love that.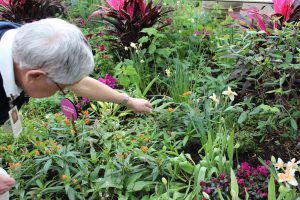 This is Mr. Don. He was so kind with the kids and full of great information. We listened to him for quite a while.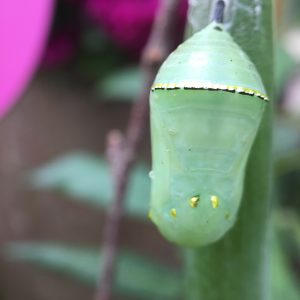 Isn't this monarch chrysalis AMAZING? I can't get over the gold. I felt like I was invading its personal space taking the picture, but I just couldn't help myself. I'm like that. Sorry, monarch. But I am going to plant some milkweed for you this summer. (And you should, too. Did you know it's the only plant a monarch will eat?)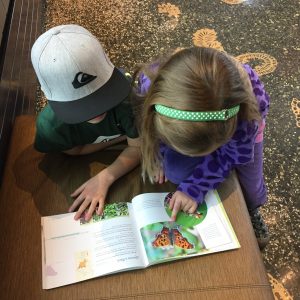 Because I had it extra together that day (not really), I brought along our book on butterflies. We read it in the hallway and made a few connections with what we saw.
We also started construction on our bathroom this week and all the racket at home has really messed us up. On the other hand, our contractor is super awesome and has let the kids "help" here and there, learning to set tile and do a little demo. He taught the kids what a brick set pattern is, why it's strong, and later S spotted a brick set pattern in the pavers on a walkway.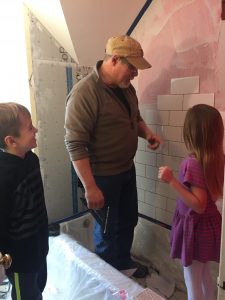 Friday we had our second art class with our friend and art teacher, Mrs. Murray. She prepared a lesson on my favorite artist, Basquiat. As I listened to her talk to the kids about Basquiat, his childhood, his friends and his influences, I teared up a little. I have a soft spot in my heart for people who are great with kids, especially when they're so attentive and fully present. Combine that with happy kids and my favorite artist, and my cup was full. They worked on mixed media paintings and had a good ole time. Here's S's handiwork: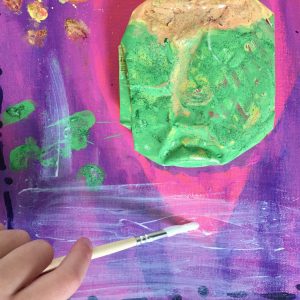 xo, M
---
---