Week 8 – Recycling, Presentations & Giant Holes
Well, we're eight weeks into our travel / homeschool journey.
We started our week with a field trip to the Kent County Recycling & Education Center. They offer free tours and activities every Monday from 1:00 – 5:00. I've been meaning to go for a while, and finally we made it. Lauren and Rebecca were our guides, and they did a wonderful job showing us around and sharing fun facts. We're learning about energy right now in science, and there were definitely some connections here in our learning.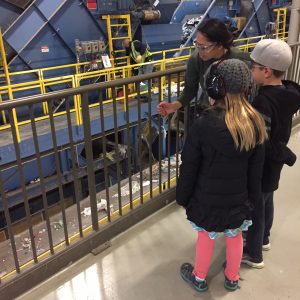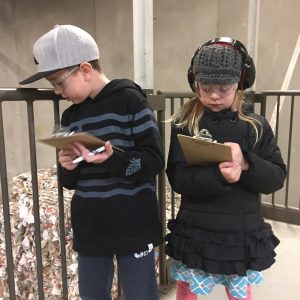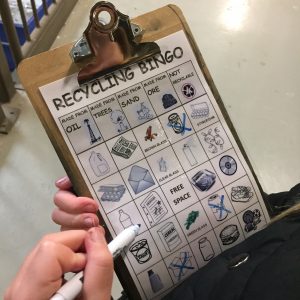 The kids were especially interested in the craft and games available afterwards. Everything was made from recycled materials! We spent quite a while there exploring and playing. When we came home, the kids scoured our recycling bin for things to make their own games. S may or may not have used brand new tin foil to make balls, which isn't exactly the point, but I'm glad her little mind was working and busy. Not to mention the fact she's played with her game all week.
Fun field trips aside, we've hit a few bumps in the road with school. Mostly I'm having a hard time keeping A challenged. I'm using notes from his teacher as my starting point and then searching online for grade-level appropriate materials. He blows right through them and says he "already knows everything." Which is either true or he wants to finish early so he can get back to Minecraft or digging a giant hole in the backyard. (More on the hole later.) SIGH. A few good teacher friends gave me some ideas, so I've adjusted my lesson plans and I think we're on the road to recovery.
In other school news, we're still writing letters to friends and family almost every morning. This has become a favorite part of our day, especially when we get letters back. Thank you to everyone who has been writing the kids – it is so fun to receive "real mail" and such a good way to stay in touch. All your letters are real treasures to the kids (and to me).
Back to the hole. We've had a few days of intermittent sunshine lately, and each day it shone, the kids ran straight outside to play. For reasons I'll never understand, they like to dig. Every spring / summer we seem to have a huge hole in our yard for one reason or another. A few summers ago they dug a hole big enough to put a kiddie pool in. They lounged around that bad boy for two whole days and then moved on to who knows what.
This year the hole doesn't have a theme, other than being huge and deep. I did ask them to move the hole from the exact middle of the yard to the garden, so that's a win. Currently A can jump in the hole and disappear. They have a whole perimeter set up so pesky things like our dog and little kids can't come in and disturb their process.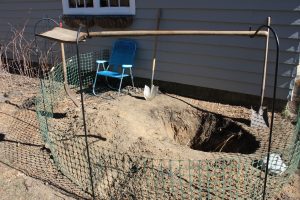 We ended our school week with presentations on our trip to Arizona. A prepared a slide show, while S presented on paper with text and drawings. Both spent time picking their topic, developing a rough outline, and working from rough to final draft. They presented to our neighborhood friends. It was sweet and lovely, and they did a great job.
Finally, and this is so, SO fun – we made a spontaneous trip to Mackinaw City to see the blue ice. It was unbelievable. We wrote a whole post about it here.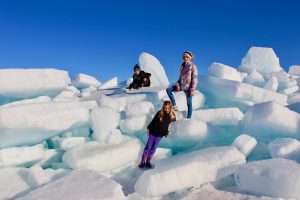 Cheers to another good week!
xo, M
Super important P.S. – Our feature image is a mural by one of my favorite artists, Ouizi. Her mural is on the way to the recycling center and I just had to stop for a picture.
---
---