Blue Ice!
Guys.
We took a spontaneous trip to Mackinaw City yesterday to see the blue ice. Have you heard about it? You can read CNN coverage of it here. It's rare and beautiful, and we just couldn't miss it.
I was pretty proud of myself for getting us together so quickly. I packed my camera, a ton of snacks, our Bogs and we left. Lest you wonder what was the most important thing to pack, it was the snacks. I think I'd rather walk barefoot on ice for two hours rather than be without snacks on a long road trip.
Our trip north was fairly painless, and we arrived mid afternoon. We parked at Michilimackinac State Park and walked (ran) to the shoreline. The ice was spectacular. It's not as blue as some pictures online, but it is there. A few people I talked to said the blue ice was closer to shore earlier in the week, making it easier to photograph.
Nonetheless, the bridge, the straits and the ice were majestic.
If you look closely, under the chunks of ice, you can catch glimmers of the blue.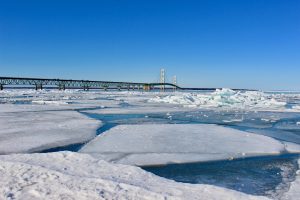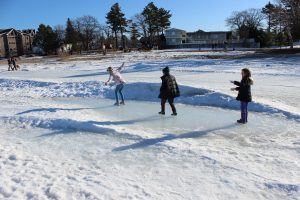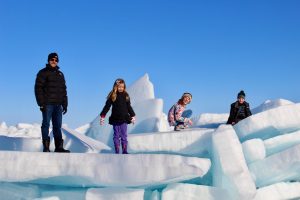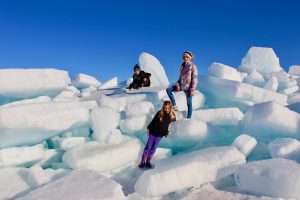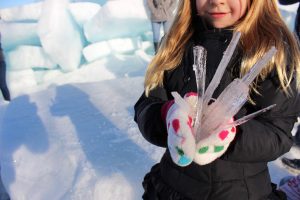 The way the ice was formed / came apart was fascinating. You could just touch it and it would fall to the ground in long, thin strips.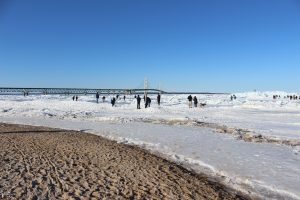 For reference, here is the shore / ice / and bridge in one shot. Lots of people wandered out far on the ice to explore, but I wouldn't recommend it. Parts of the ice were thin and two people fell through to their waist.
We ended our trip as all trips to Mackinaw City should – with pasties and fudge. Here's to spontaneity, exploration, and all things delicious.
xo, M
---
---