The Ups and Downs of Switzerland
Well, we've been abroad now for six days. In those six days we've been to four countries. Today marks day four in Switzerland.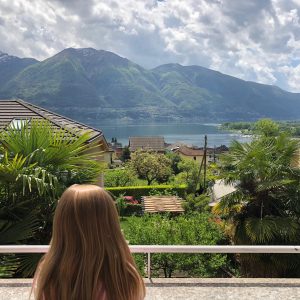 I'm not even going to lie, we've had a few rough days. Our first two days were fine, thanks to F's aunt and uncle who so graciously picked us up and had us as guests in their home. They were lovely and wonderful hosts.
HOWEVER, for whatever reason, we decided two days was plenty to get over jet lag, the time change, the language barrier, and the driving differences and RENT A CAR TO DRIVE TO SWITZERLAND. You know, another country. No biggie, right?
It turns out most rental cars in Italy are manual transmission, i.e. a stick. Guess who doesn't drive a stick? F. Guess who hasn't driven a stick in 15 years? Me. Guess who is now driving a stick in Italy where there appear to be no traffic laws? Me. Guess who had to DRIVE A STICK IN THE ALPS? Me.
Other things that weren't exactly perfect on our maiden rental car voyage:
Both kids hopped in the car without going to the bathroom first, with no water and no snacks. And momma wasn't stopping. Momma couldn't stop.
We had absolutely no euros for all the toll booths. Thank you, carte lane.
Google Maps had a really fun time directing us in circles and through narrow alleys in downtown Milan. Note: we were not supposed to be in Milan. Our hour and a half trip took four hours.
Our Airbnb only has two hour street parking. Yay.
Also, our Airbnb (and pretty much all Swiss roads) may as well be Lombard Street in San Francisco. Yay.
On day two in Switzerland we enjoyed:
No pool in our Airbnb that was supposed to have a pool. (We later figured out this was due to a language barrier.)
No groceries due to Visa not being accepted in the grocery store.
Lots of rain but no raincoats.
On day three we walked 45 minutes through a thunderstorm to swim at a local pool, Lido Locarno. We were clearly a huge mess. The kids were wearing swimsuits and coverups while the rest of Switzerland was walking around in long pants and coats. We had no idea how to use the lockers so we had all our belongings with us on the pool deck. Whatever. We made it to the pool and enjoyed it thoroughly.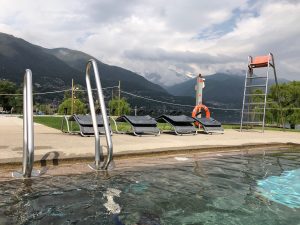 Luckily, things seem to have turned a corner. Today we slept in and leisurely walked down to a park we love. We had cappuccino and gelato and all was well. It rained and this time we had our rain coats. We hung out for a while, walked to the grocery store, made dinner, worked on our Italian, took showers and went to bed early. A normal day and really good for our homesick hearts.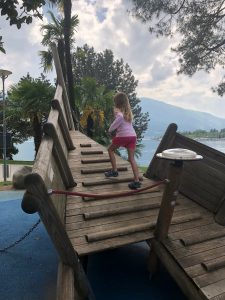 Now let's talk more about the grocery store. It might have been the hardest part of our day. I spent a good twenty minutes trying to figure out what brand was decent for hair conditioner. (Update: I still don't know, so I bought the bottle with the best packaging.) S wanted spaghetti for dinner, and we picked a jar by asking a kind Italian gentleman to help us. We pointed and gestured with thumbs up or thumbs down. (Update: we had it for dinner and it was very good.) Overall, we figured it out and made it through.
Also, what is this? Do we like it? It seems we do.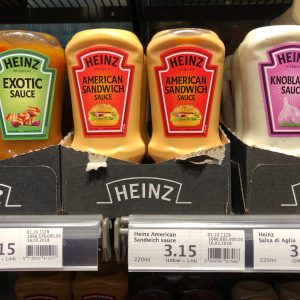 In Switzerland (and Italy), you have to bring your own bag, which I thoroughly support. And we did bring our own bag. Actually, we brought two of them. However, while I was off searching for mystery hair conditioner, the kids were with F and just putting whatever in our cart. I know this because as we were checking out we discovered a huge can of canned ravioli, a huge jar of Nutella, and two huge jars of pickles. I kept asking "what is THAT?" F kept shrugging. I reminded him we have to CARRY ALL OF THIS HOME UPHILL. He shrugged. And that's how I ended up walking home (uphill) with jars of pickles in my raincoat pockets.
xo, M
For more pics and quips, follow us on Instagram @wildandpreciousfamily
---
---