Travel: Athens
After a few weeks in Switzerland and Italy, we made it to Greece. Our first stop was Athens. On our agenda – food and the Acropolis, in that order. We knew there were other (amazing) things to see, but we didn't have a plan. We're those kind of people. We're slow-moving, do-what-our-mood-feels-like kind of people.
This is us, eating all the food. Specifically, Greek salad, fried cheese, roasted chicken, and spaghetti. (One guess who ordered that.)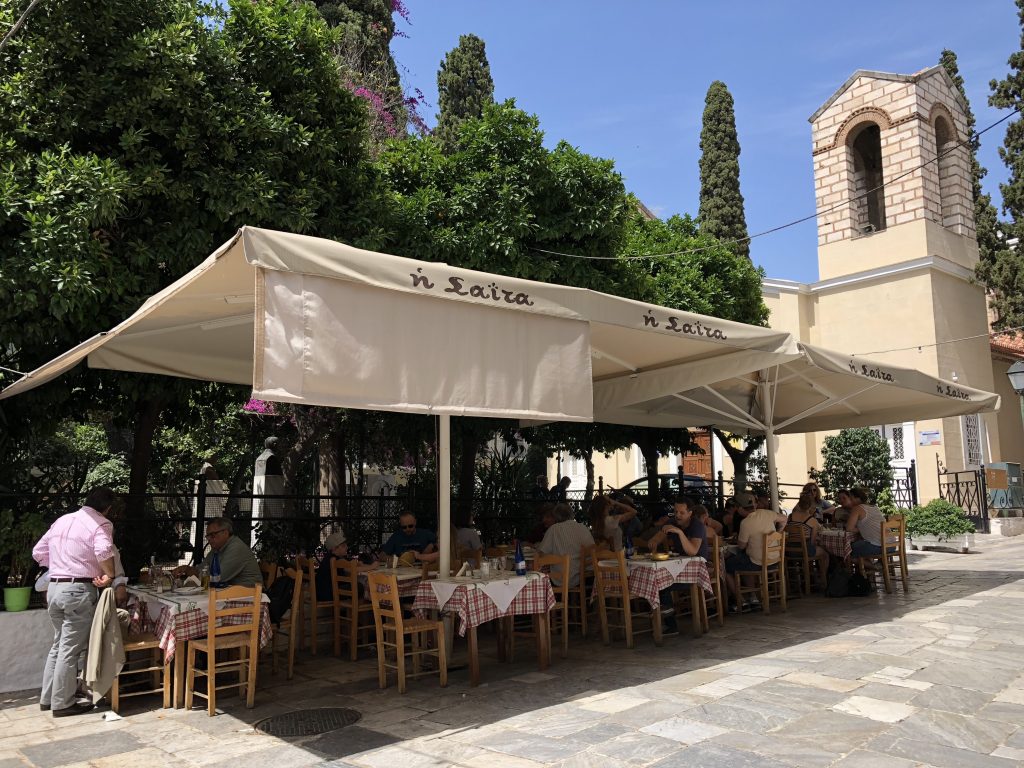 On our first full day we took a double-decker bus tour thinking it would be a good way to a) relax a bit after a long travel day and b) get a feel for the city. Only half of that turned out to be true – we did get a good feel for the city, but we definitely did not relax. We started the tour on the top deck, scorched ourselves, moved to the bottom deck where the kids melted into heaps and played games on our phones until the end of the tour, 45 minutes later. I'm okay with all of that, though. They saw things, maybe learned a few things, and we all just dealt with it. Meltdowns happen (in this case, literal meltdowns), even in Athens.
We spent the rest of the afternoon in the National Garden. We passed the garden on the bus tour, and it looked like a fun, shady place for the kids to run and explore. It was also near our Airbnb, so we could retreat to air conditioning easily if necessary.
I know this picture is so green, but I promise I didn't mess with it.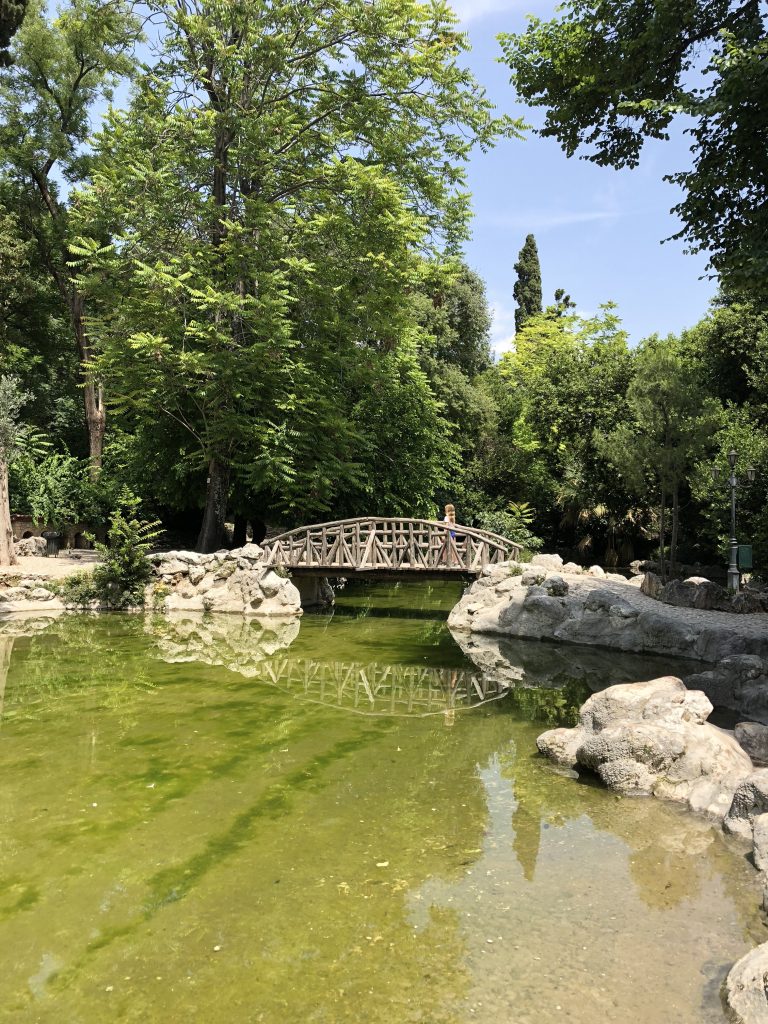 Easily the best part of the garden was the turtles. I'm not sure why there was a pond chock-full of turtles, but there was and they were hilarious. They spent all their time either leisurely swimming or climbing on top of each other, vying for the best spot in the sun. Inevitably they'd topple, and the kids would roar with laughter. If you follow us on Instagram (@wildandpreciousfamily), you can see the video there.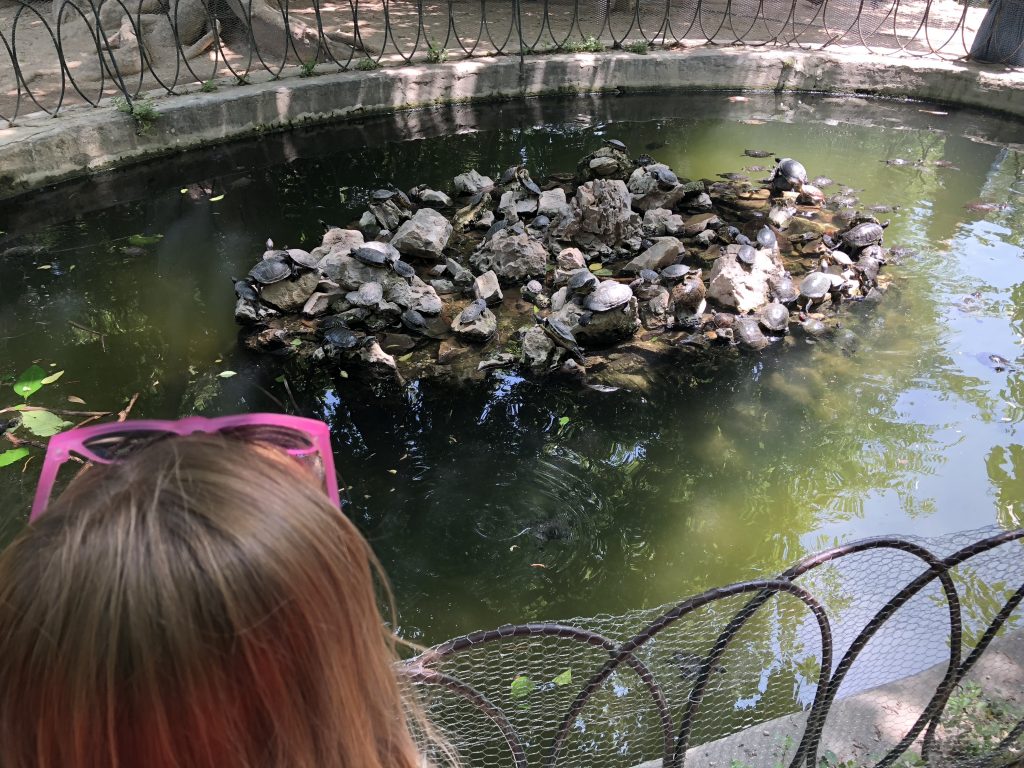 Near the National Gardens is the Tomb of the Unknown Soldier. It's a memorial dedicated to Greek soldiers killed during war. It's guarded 24 hours a day by the Evzones of the Presidential Guard.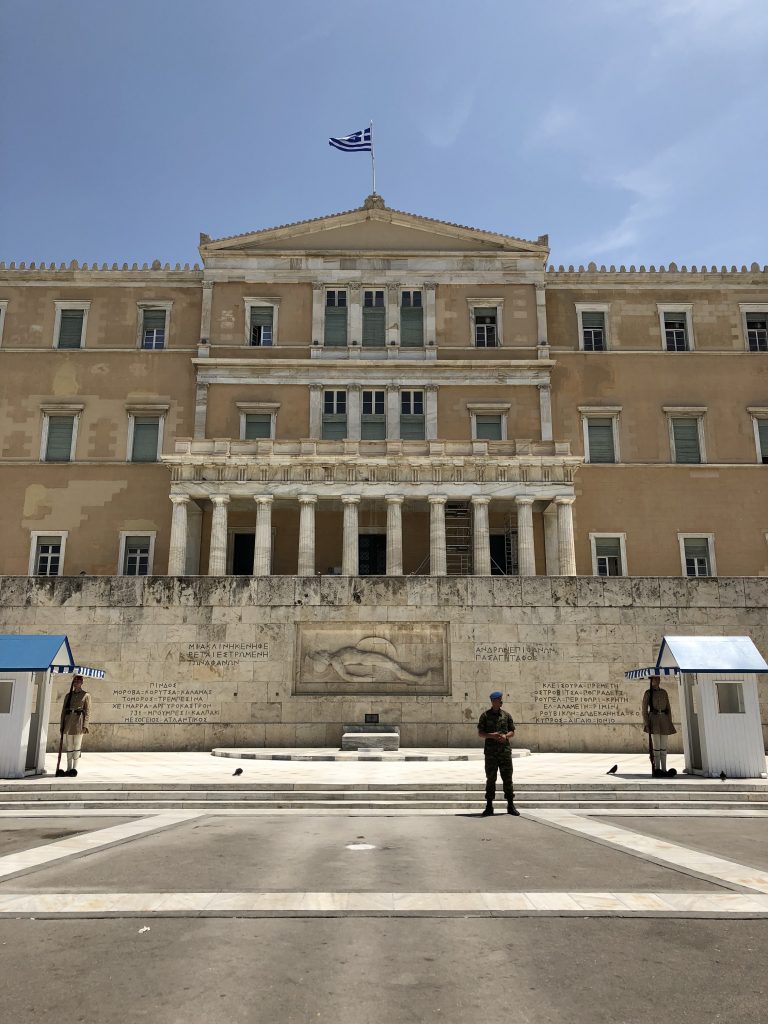 On our second (and last) full day we went to the Acropolis. Here's my best piece of advice for visiting the Acropolis. Go early, preferably right when they open. Wear comfortable shoes with really good grip. The path up to the Acropolis is paved in rock (mostly marble, I think) and it's been worn smooth over the years. It's super, super slippery, even when it's dry. Bring a sun hat and lots of water. There's little to no shade up there and it gets HOT.
I'd also recommend doing your homework before you go, reading up on the parts that interest you so you can spend your time appreciating them in person. The crowds make it hard to read the signs, and sometimes certain people aren't really up for reading in the blazing heat. #justsayin #mykids
The Parthenon, a former temple dedicated to Athena. Construction began in 447 B.C.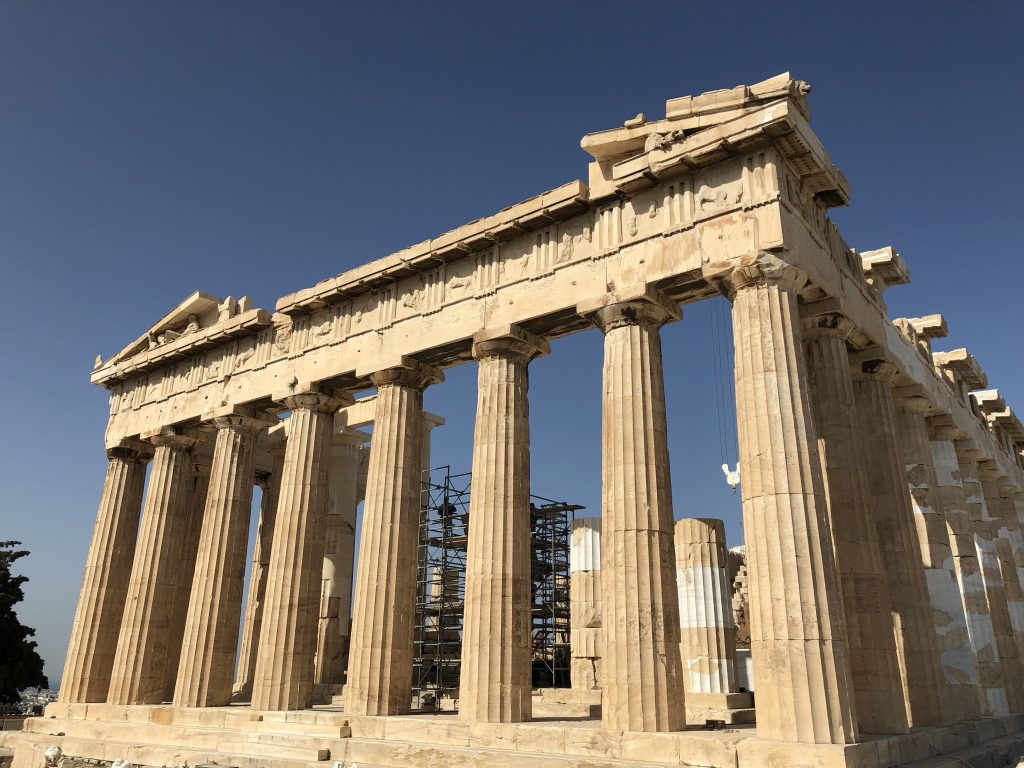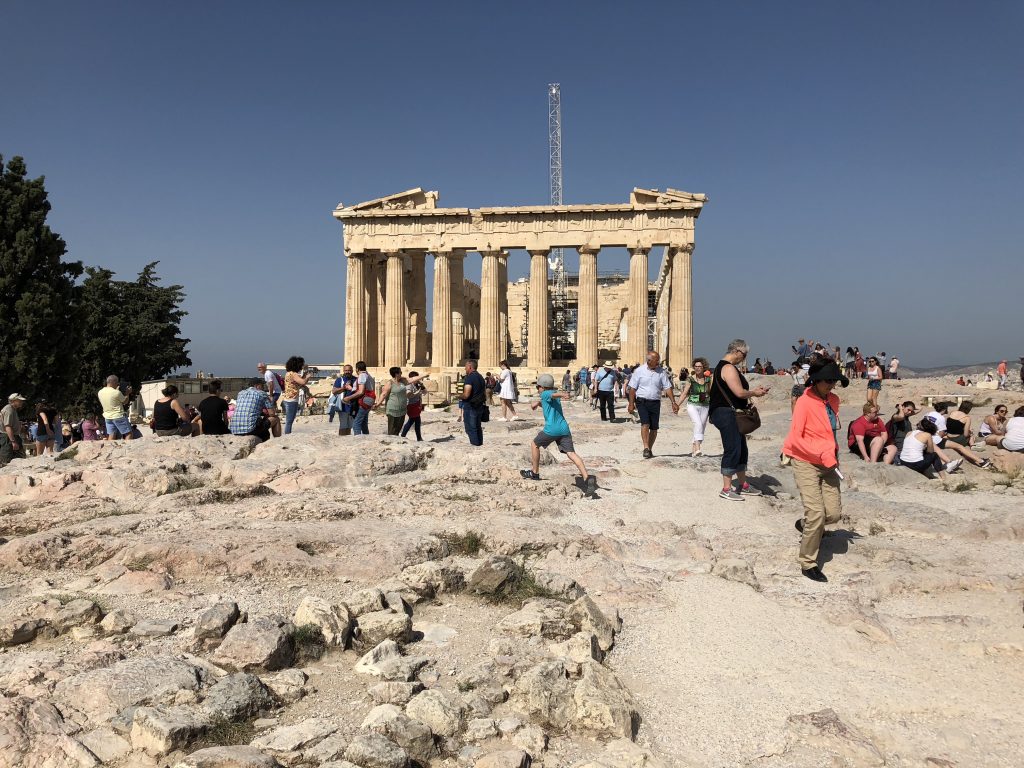 Odeon of Herodes Atticus, built in 161 A.D. and restored in 1950.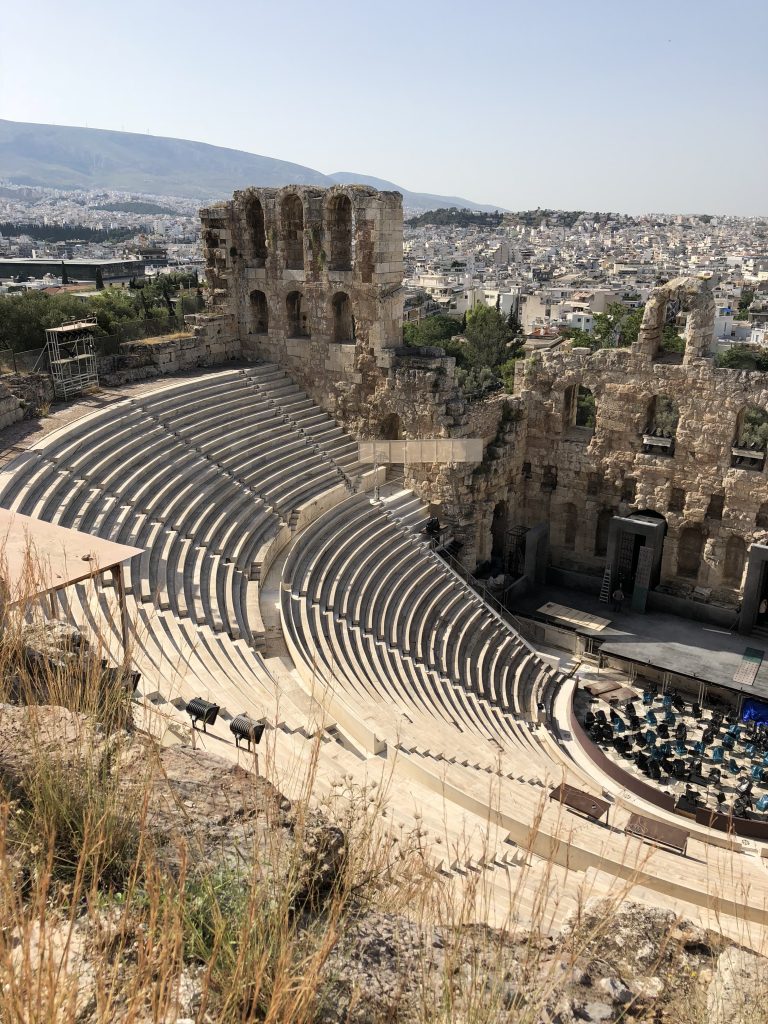 This is the Erechtheion, a temple dedicated to both Athena and Poseidon.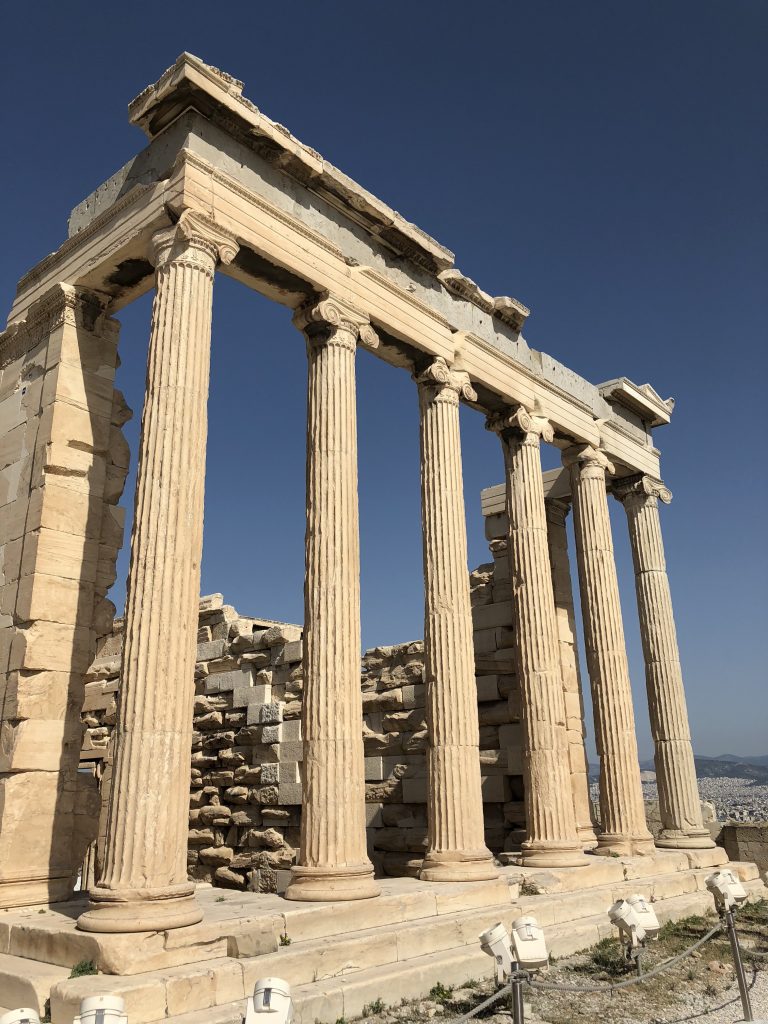 The women spoke to me and told me to keep it together. #momstrong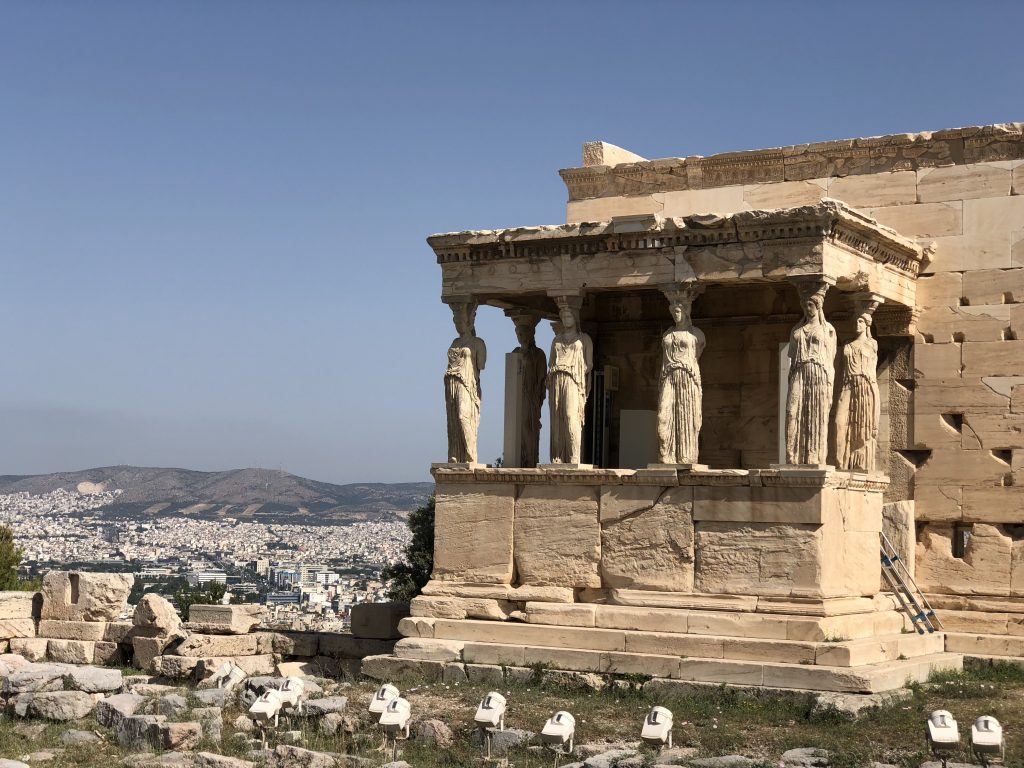 Honestly, the best part of the Acropolis was the Acropolis Museum. It's a new facility, full of artifacts from the Acropolis and plenty of information to accompany it all. It also houses a restaurant with beautiful views of the Acropolis. It's a great place to take a break from the heat and crowds and still learn about ancient Greece.
The Acropolis Museum also offers free family programs. We checked out a backpack and went on a scavenger hunt, finding statues of Athena and matching the appropriate sticker to the map. The kids were excited and engaged, and had a ton of fun.
Our final stop in Athens was Panathenaic Stadium. I'm embarrassed to say this, but I didn't even know this existed. And it might be my favorite place in Athens. There's something very cool about it – kind of a sense of pride and community. It hosted the opening and closing ceremonies of the first modern Olympics in 1896. It was used again as a venue in 2004.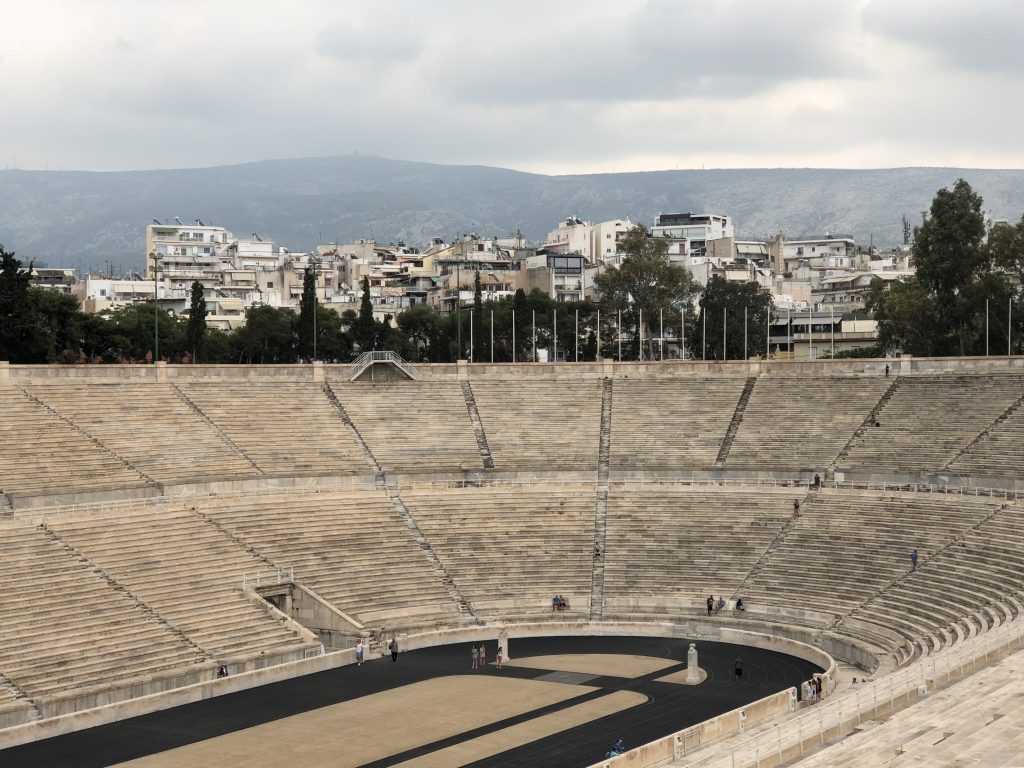 That dot in the top row is A.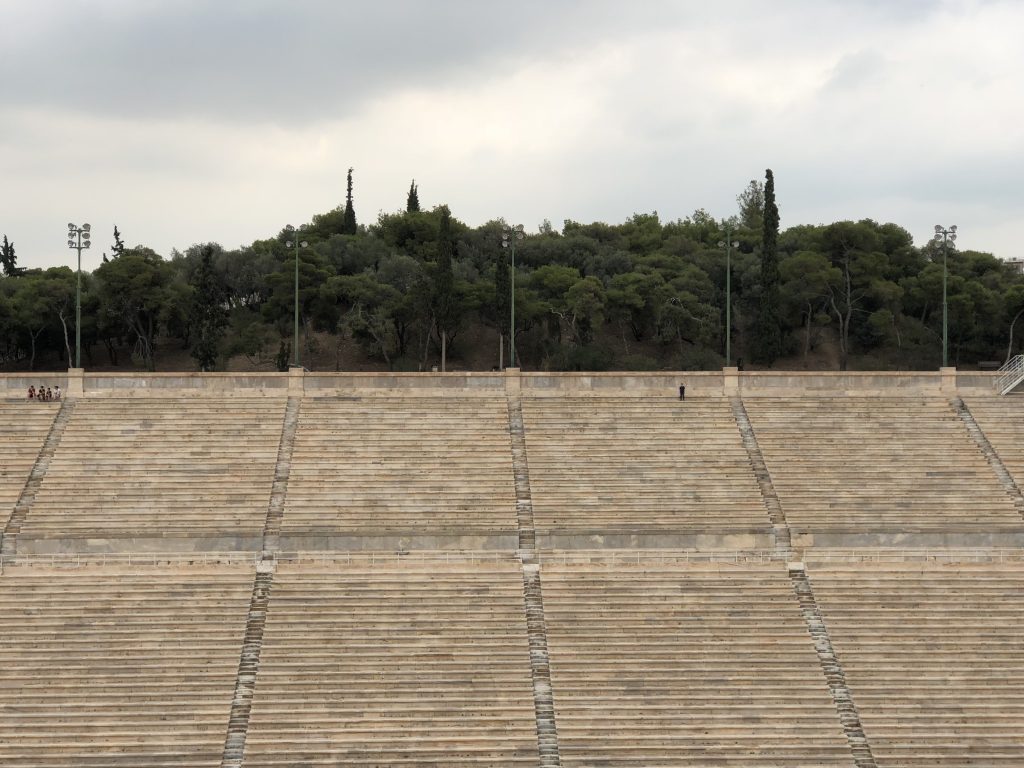 Look how steep the first few steps are!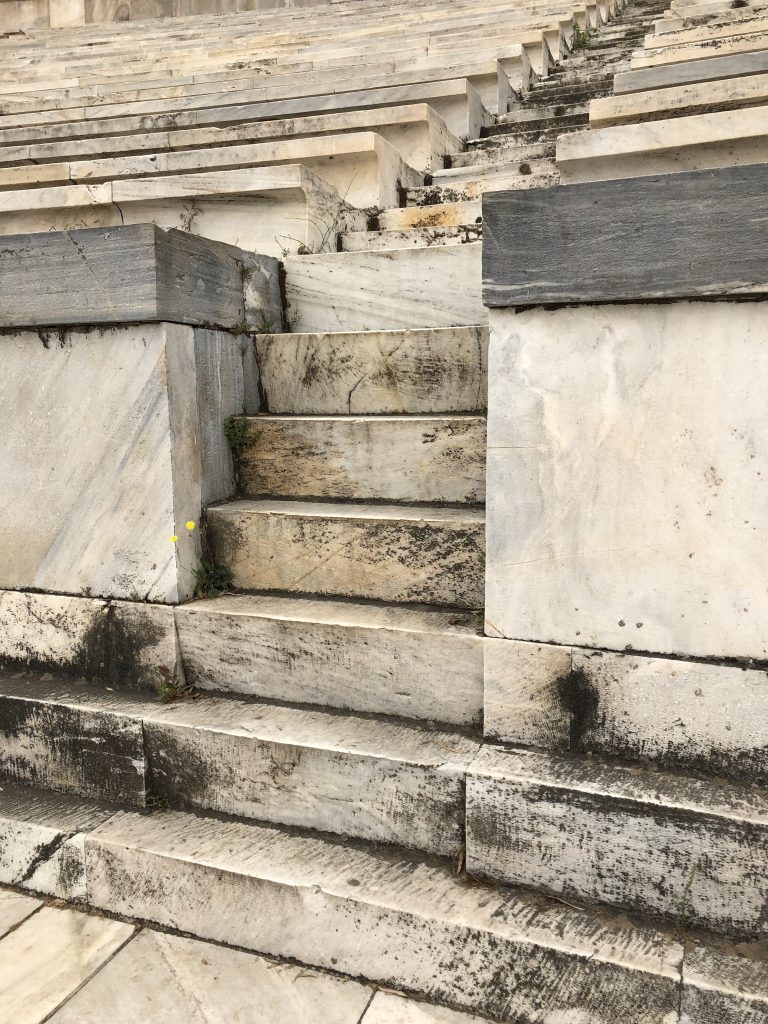 A tunnel leads you to a small museum and gift shop. It houses many of the torches used in the Olympic Games.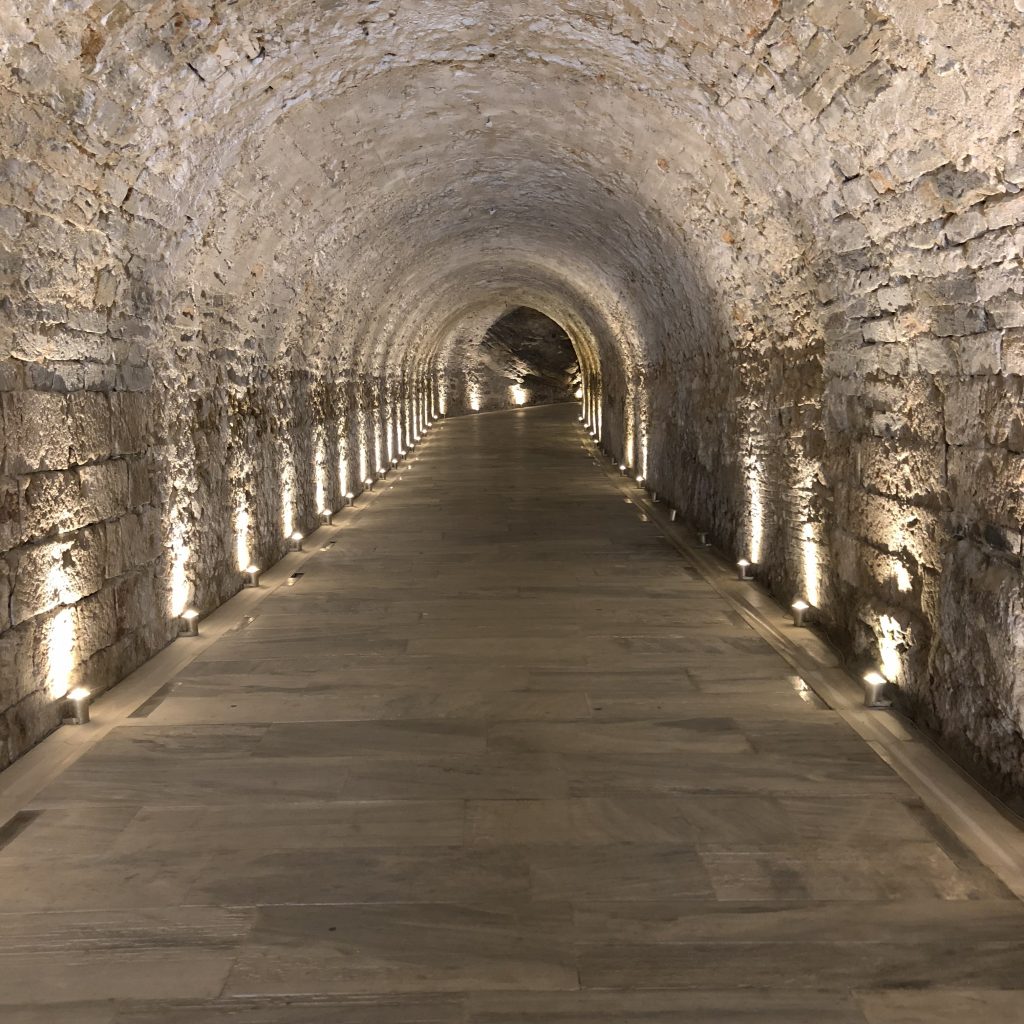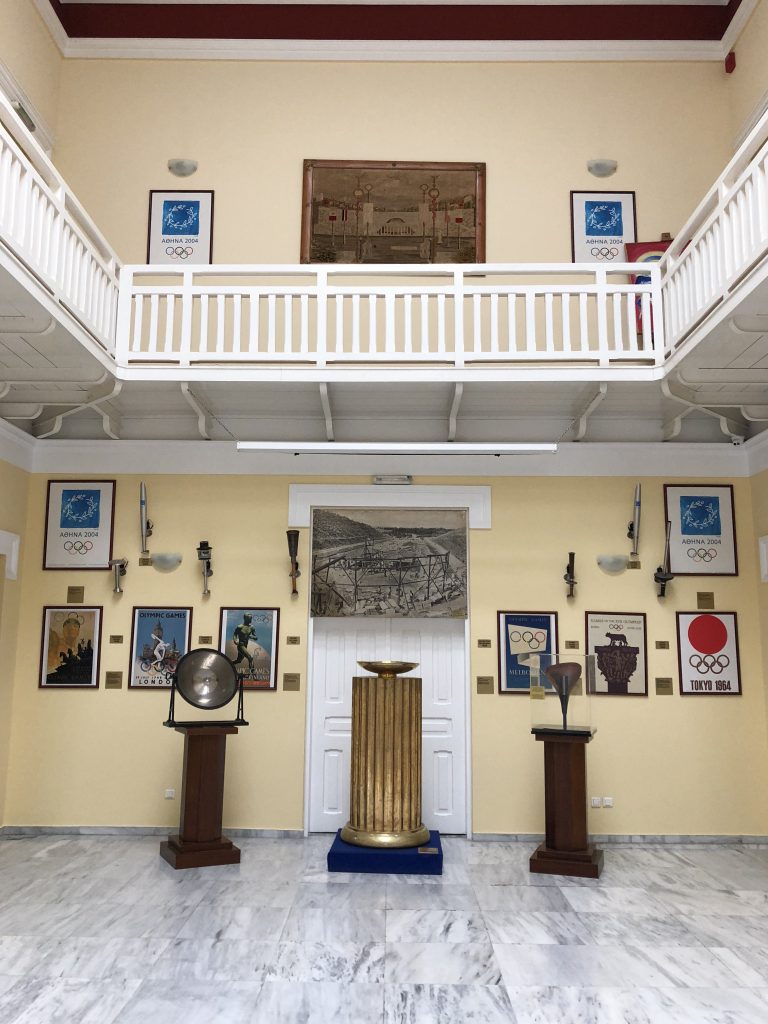 This was another place I could have spent a lot more time in. The kids were free to run around and we were free to sit. There were so many cool details to marvel at. And I like that the kids experienced something they can relate to, and remember during the next Olympic Games.
Athens, you were wonderful. Thank you for your amazing stories, friendly people, and delicious salads. I wish we could flush toilet paper, but we can work on that later.
xoxo, us
P.S. – Follow us on Instagram for more pictures and videos. We're @wildandpreciousfamily
---
---