Travel: Wild, Precious Santorini
You guys, Santorini was a dream. It really was. Someone asked me why we picked Santorini as the Greek island we'd start with, and the answer is, I don't really know. I'd heard other islands were more family-friendly, but something told me to just start by visiting Santorini first.
Depending on who you talk to, Santorini can either have a reputation for being a romantic, couples-only island or just fine for families. It seems most of the people at home (in the United States) viewed it as a honeymoon destination, while people we talked to in Athens raved about going there on holiday with their family. I can see it going either way.
We chose to stay in Perissa mainly due to its black sand beach, but also because reviews said the area was laid-back and quiet. I'm so glad we did. Perissa was a welcome change of pace from the heat and crowds of Athens. We were ready for some major downtime.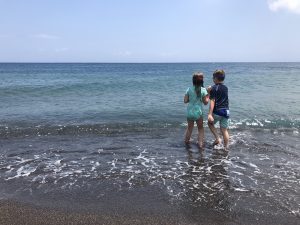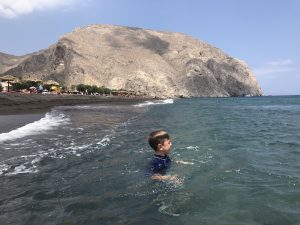 Eventually we left our post on the beach and rented a car for the day to explore. Driving in Greece is better than in Italy, but still a bit scary. The roads are narrow, tour buses huge, and cliffs steep. Still, it was a good way to see the island and not be bound by a bus schedule.
Our first stop was the ancient settlement of Akrotiri. It was destroyed in the volcanic eruption of 1627 BC and buried in volcanic ash. Excavations began in 1967. Some believe it could be the lost civilization of Atlantis, which fascinated our son. The dig site is covered and has a marked path to follow, making it easy and comfortable to explore.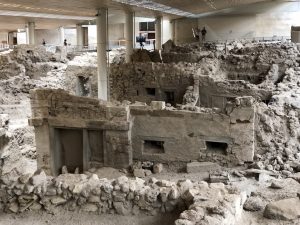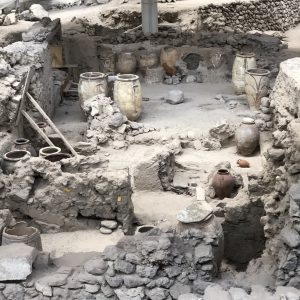 It really is hard to wrap your head around how old this place is. For whatever reason, the jugs really stood out to me. Probably because I could relate them back to life today.
After Akrotiri, we made our way to Oia to meet my sister and her husband for lunch. As luck would have it, they were in Santorini at the same time as us. Driving to Oia was pretty much a disaster. My husband loves Google Maps, so he let that guide us. I swear we were on a mule path most of the time. And eventually I realized Google Maps was saying each Greek letter individually instead of the entire word. I've never heard directions so long in my life. But we made it, and all was well.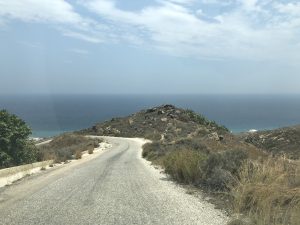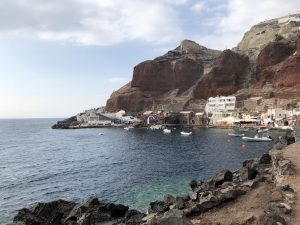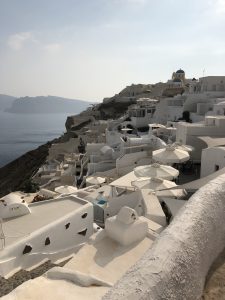 Finally, I'm going to talk about the most important part, our Airbnb. It was fabulous. Gorgeous. Comfortable, clean, and quiet. Steps from the beach. And stylish. The homeowners built it with traditional Santorini architecture in mind. We appreciated that, because we're on a journey to see real parts of the world, not just an endless vacation. We'll take customs and authenticity any day of the week. (Although not flushing toilet paper is a tricky habit to give up.)
Despite what all this traveling may seem like, we're homebodies at heart. And after being on the road for weeks and weeks and weeks, we were SO HAPPY to land in a beautiful place like this.
Best of all, the homeowners were wonderful, welcoming people. We spent a few nights on our porch drinking wine while our kids played. Those were definitely my happiest moments, and really the moments this whole journey has been about. Living real life with real people in all parts of the world. It was lovely, and my heart is still full.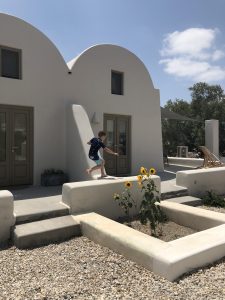 So – would I go again? Yes. I would go to Perissa again, if only to stay in this guesthouse and visit with the owners again. Seriously, they were that lovely. It is the ultimate place to relax, spend endless hours at the beach, and eat good food. It wasn't overcrowded, it wasn't too hot, and the prices were reasonable. I can't speak for the busy season, though. We were there in May, which I'd consider a shoulder season.
I probably would not go to Fira or Oia again. They were just way too busy, and that is not our speed.
Perissa, you are precious in our hearts and we can't wait to see you again.
---
---