Travel: Capsule Wardrobes for Families
Have you heard of capsule wardrobes? They're kind of hard to ignore these days. In a way, I've kind of had a capsule wardrobe for most of my adult life because I prefer quality over quantity, and because I usually have the smallest closets in the world. (Our current master bedroom closet boasts 12″ of hanging rod space per person. I think my studio apartment in Brooklyn even had more closet space. #truestory)
In the past couple of years, Tsh Oxenreider really brought capsule wardrobes to the forefront of my mind. She gave them a name and a clear purpose, two things I didn't really have before. And with our upcoming year of travel, I thought it was time to put some thought and planning into a capsule wardrobe for our family.
Pros of a capsule wardrobe:
They keep your load light.
They improve your pictures. You'll coordinate with each other and maybe even your background.
It's easy to get dressed.
Cons:
They can be tricky to plan.
You may have to get used to wearing items more than once.
You'll definitely have to do laundry.
Still on board? Here are a few steps to help plan your new wardrobe.
Step One – evaluate what you have. Thin out what is in bad shape, poor quality, outgrown, or stained. Donate or recycle as necessary.
Step Two – think about what you need and what you will use. If you're traveling, where are you going? What is the climate? Does the weather change drastically from day to night? Does it rain?
Step Three – choose a color palette for your family. I prefer to consider the destinations we'll be in, but you can also just stick to neutrals. I took things one step farther and assigned a palette to each kid. It makes things easier when shopping and I knew they'd always coordinate.
Step Four – go shopping. Look for good quality, multi-use items in solid colors. Avoid small patterns – they photograph weird. I also avoided logos (don't want to date my pictures) but was okay with larger images or patterns. For example, my son had a blue shirt with an airplane on it. It was in our palette, a good brand that holds up well (Hanna Andersson), and spoke to our adventures.
Here's what I packed my kids for five weeks of international traveling:
One hoodie.
One rain jacket / light coat.
One tank top (daughter only).
One sundress (daughter only).
Three plain tee shirts.
One "fun" tee shirt (airplane, flowers).
Three pair of shorts.
One pair of nice shorts for my son.
Two pair of long pants (leggings or joggers).
Two pair of pajamas – one warm, one cold.
Two pair of socks.
Seven pair of underwear.
Two bathing suits.
One pair of Keens – good for walking in wet or dry conditions.
Flip flops – because they love them, don't take up much room, and are easy-on, easy-off for walks to the pool or around the neighborhood. (Or if the hotel is questionable and you don't want their feet hitting the floor.)
Here are a few of my favorite sources for high-quality, functional clothes and shoes.
While you're shopping, don't forget to check out the thrift stores. With a bit of luck and patience, you can find great pieces. On our last trip, three pieces in my daughter's wardrobe came from thrift stores.
Now that you have your capsule wardrobe together, you still have a little bit of thinking to do on the road. Where will you be that day? What will the colors of your surroundings be? What clothes will complement that best?
Here's a good example of clothing choices. My daughter stands out amidst the background of a castle (Castelgrande!!) and mountains. (I love you, Switzerland.)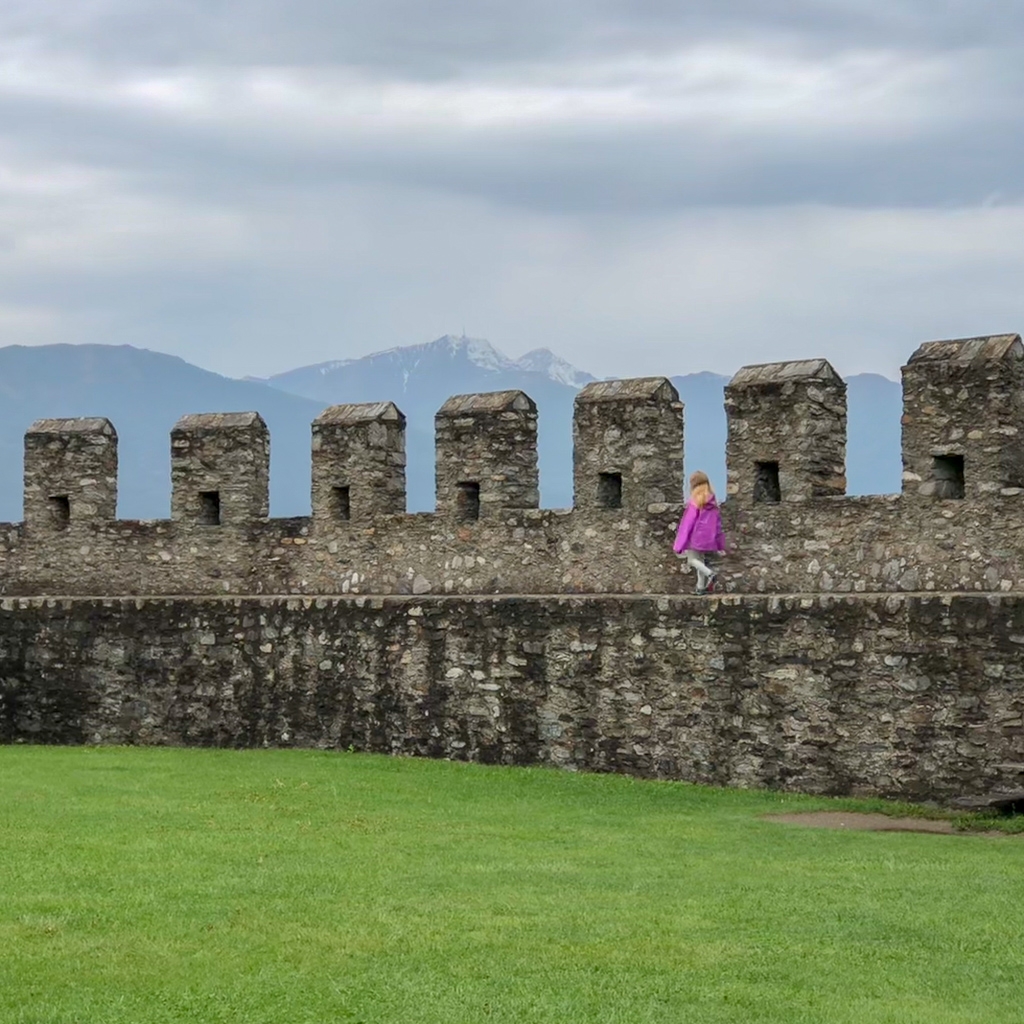 Here's another good example of clothing choices. My son and daughter complement the sea (the Aegean!!), but don't blend in. There's enough color and texture to help them stand out.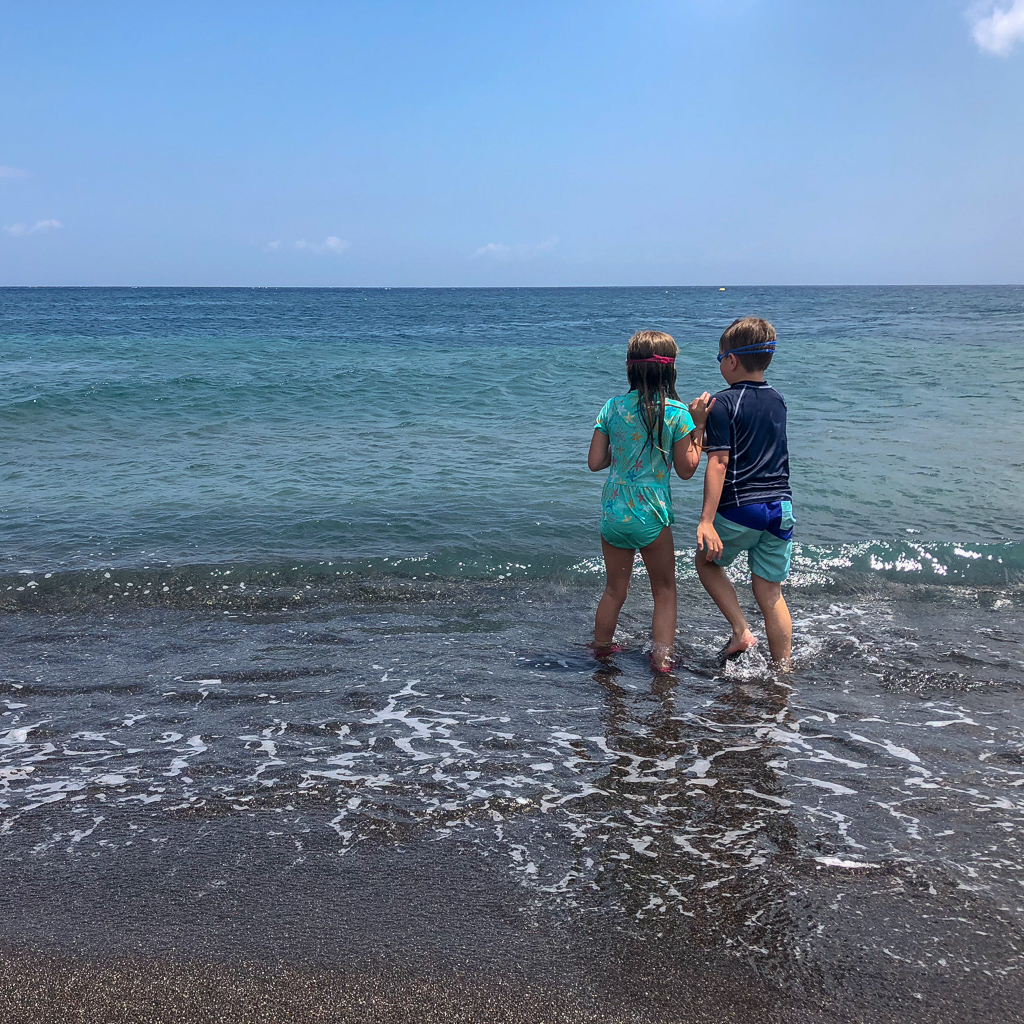 Here's an example of bad planning on my end. My daughter basically blends into Panathenaic Stadium in Athens, Greece. Everything is grey, grey, grey. (By the way, you should definitely go there. Read more about Greece on our post here.)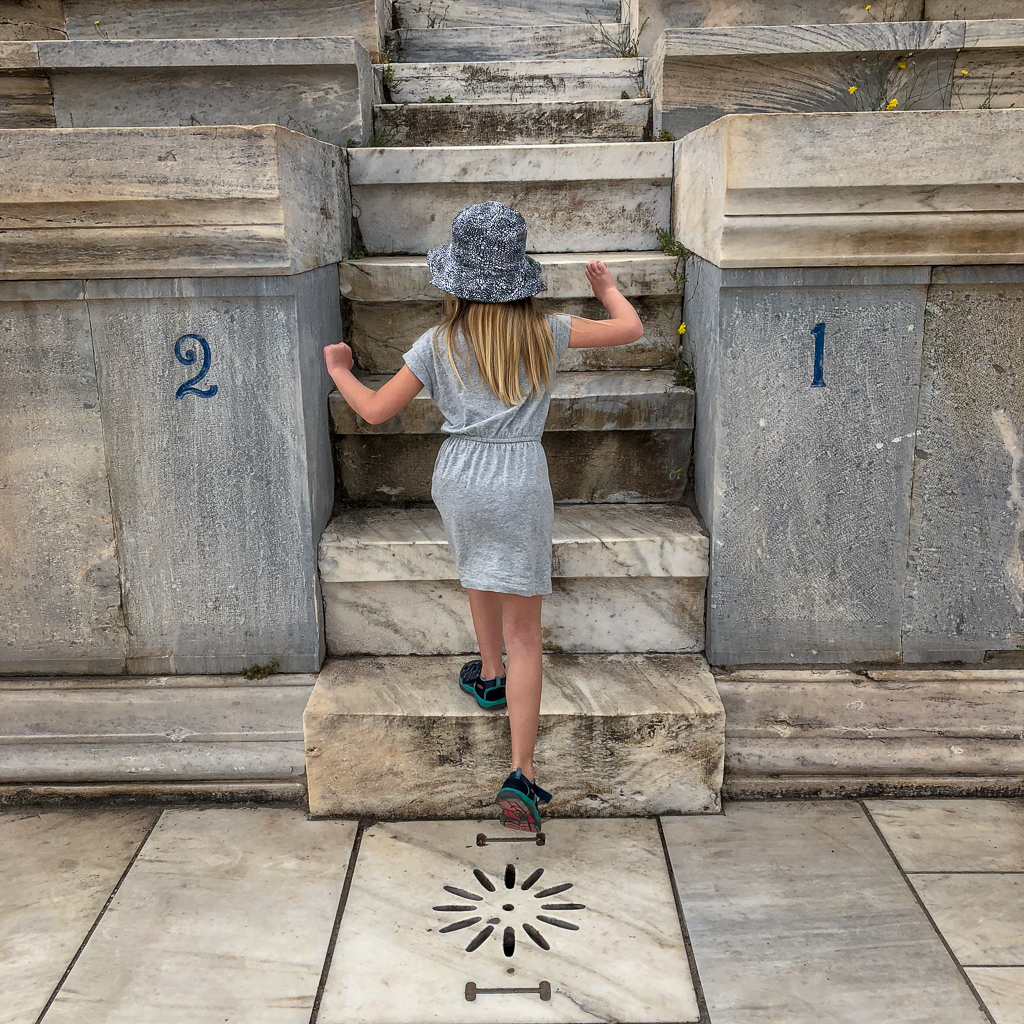 So, did that help? I'd love to hear your thoughts. Comment below!
Don't forget to follow us on Instagram @wildandpreciousfamily.
🙂 Megan
---
---