Travel: Family Fun at Michigan State
We're home for spring break this year, living our very best staycation life. And while we're a bunch of homebodies, we do love a good day trip. Sometimes it can be overwhelming to find something new to do, especially something kid-friendly and budget-friendly, but with a little research and creativity it's totally possible.
We've been taking our kids to Michigan State for years. It's about an hour and fifteen minutes from Grand Rapids, long enough to feel like we went somewhere but close enough that the kids don't complain about a long car ride (much). It's also my alma mater, so I'm familiar with campus and it's easy to get around. As an added bonus, all these visits over the years have made the kids comfortable in a college setting, which I hope will translate later into an easier high school to college experience.
On this trip, we specifically went on a Tuesday to visit Beaumont Tower, an iconic part of Michigan State's campus. Beaumont Tower is open for tours and a carillon performance each Tuesday from noon – 12:30. Hours can vary; please check the College of Music website before you go.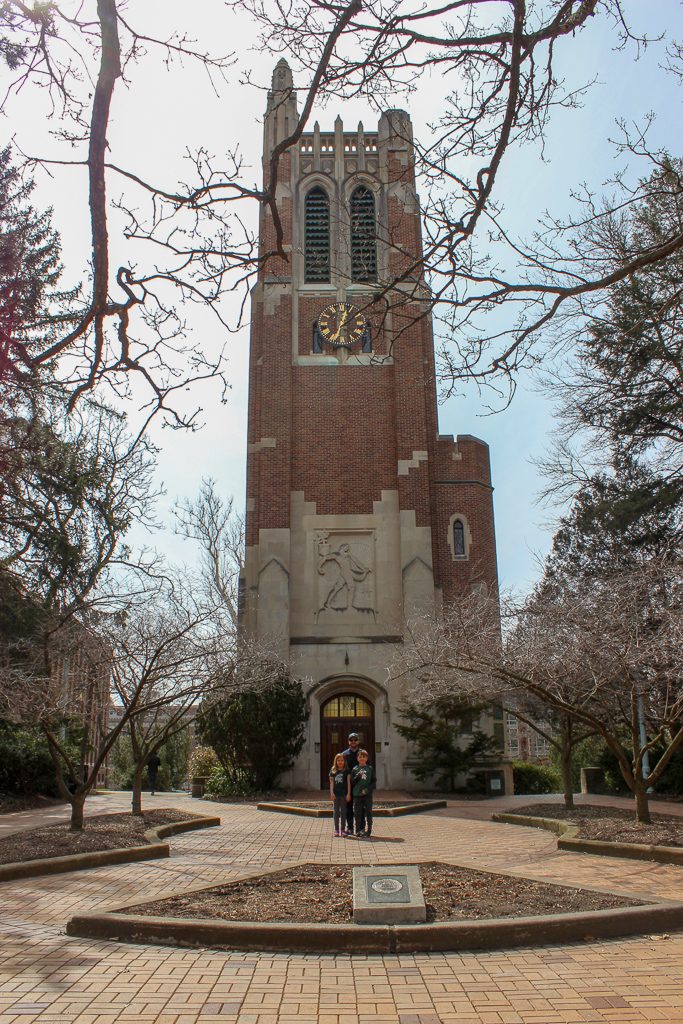 From the base of Beaumont Tower, it is 73 steps up to the carillon chamber. The steps are small and wind tightly. While it is fun to climb, the tower is definitely not stroller-friendly.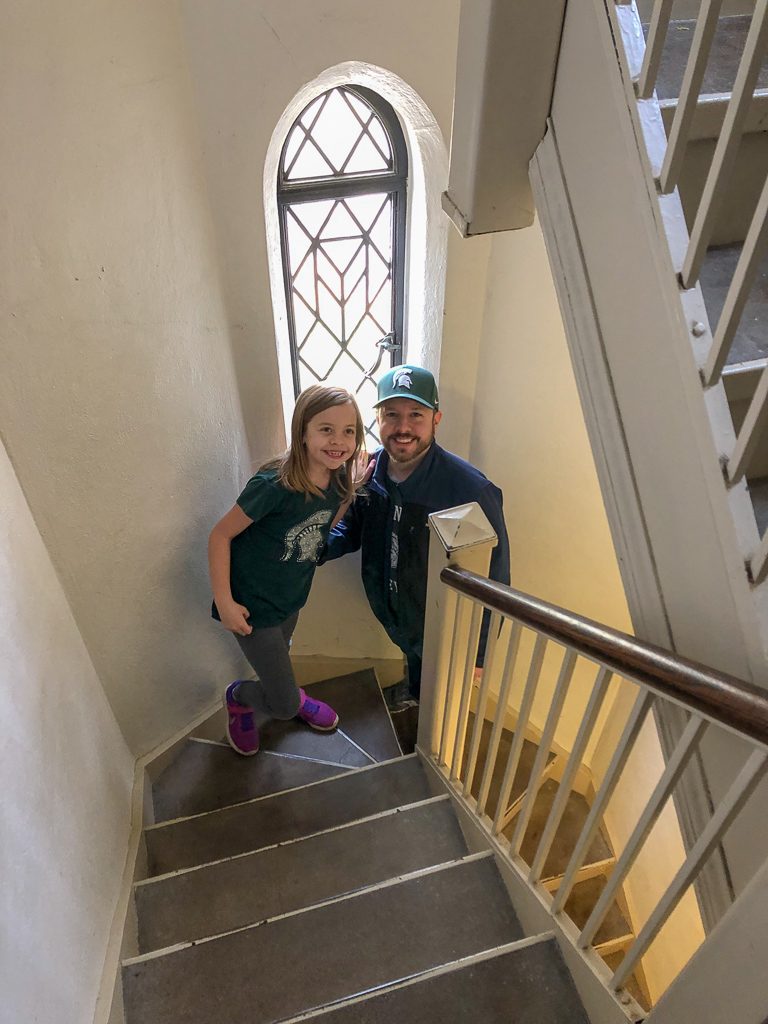 Inside the carillon chamber, you'll find the clavier (keyboard) that plays the carillon (bells). Dr. Ray McLellan, University Carrillonneur (pictured below) gave a brief history of the tower and then performed a short concert. During our visit he played the fight song, a few Disney songs, and a few pop songs. The Disney songs were my favorite. My daughter is shy and not one to talk or even crack a smile, but I know she enjoyed hearing "Once Upon a Dream." (If you'd like to hear an excerpt from that performance, see our Instagram highlights. I've archived pictures and the performance under "MSU Day Trip.")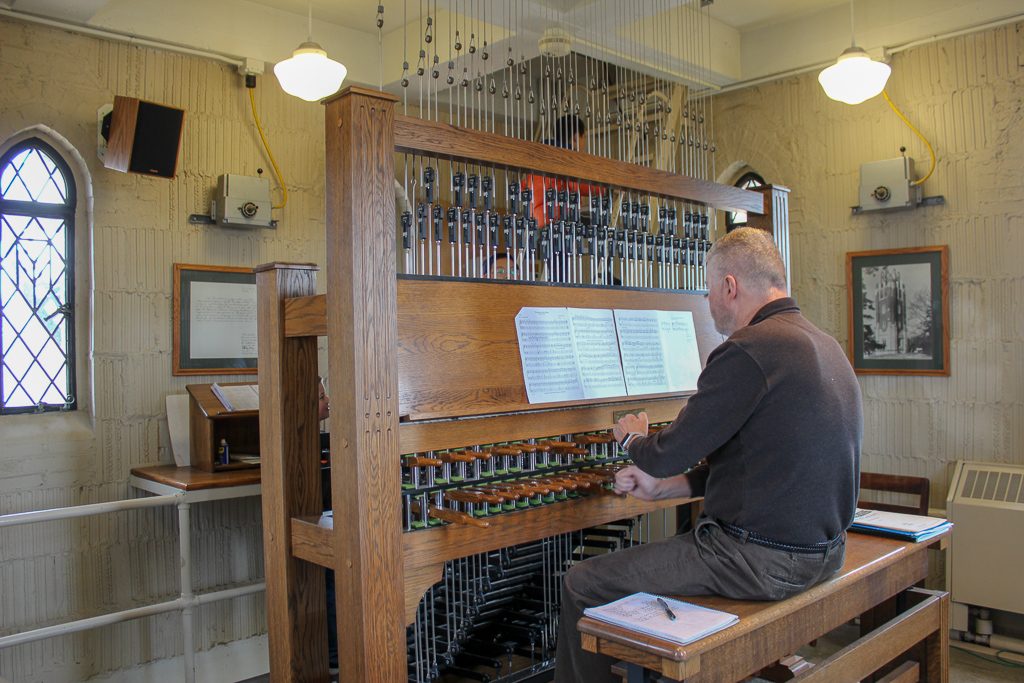 After our tour of Beaumont, it was time for lunch. Our original plan was to stop in the International Center for food, but we happened upon this food truck and things changed, definitely for the better. Check out the Eat at State food truck menu, prices, and locations here. We ordered a cheeseburger and a Cuban. Both were amazing.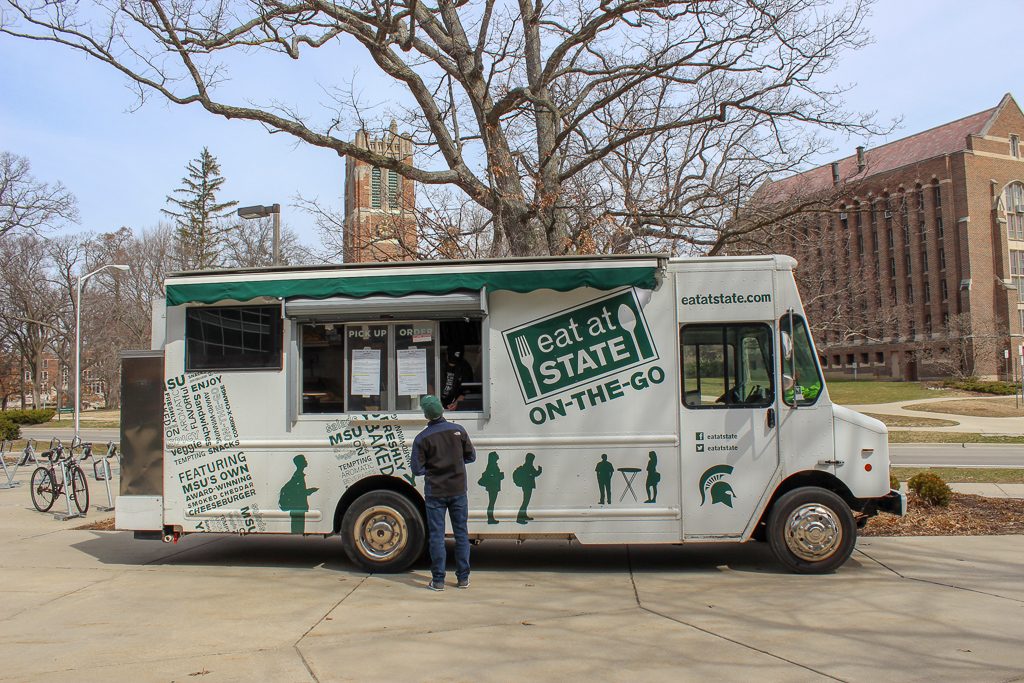 As we ate, we walked towards the International Center, home of Crossroads Food Court (our original lunch plans) and the Spartan Bookstore. This is a mandatory stop on all of our visits. It's so fun to stock up on Michigan State gear here. No worries, budget-friendly mamas. It doesn't have to be an expensive stop. On our last visit my daughter picked out a tin of Spartan mints. Other fun, inexpensive items include foam fingers, notebooks, small basketballs, and pom poms.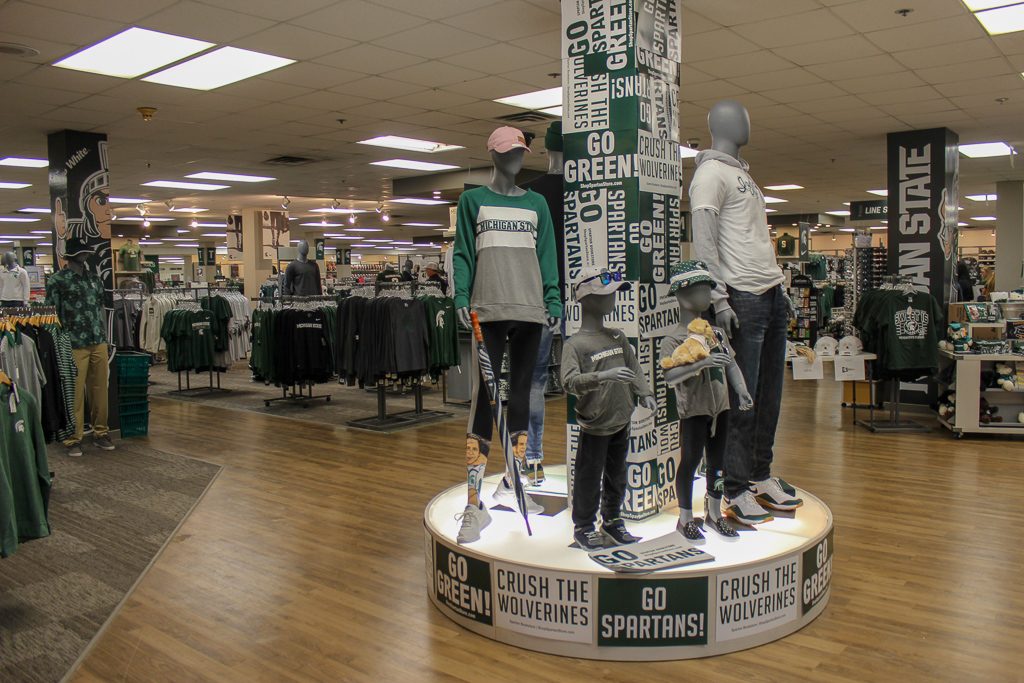 At this point our kids were getting tired, so we wrapped up our visit with a stroll past Sparty, and then back to the Union where our car was parked.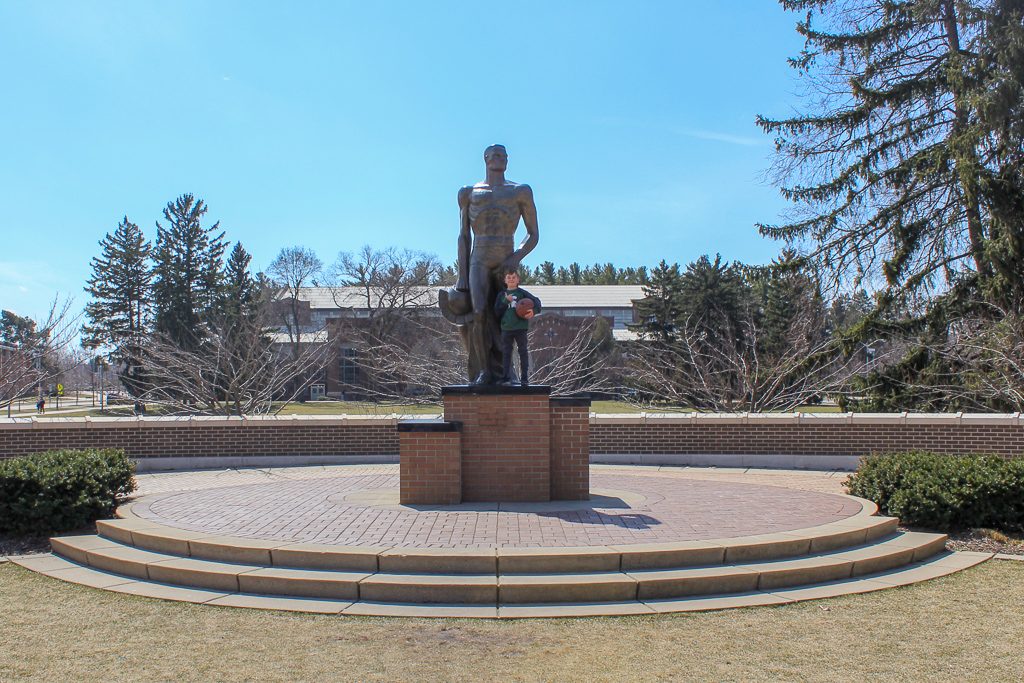 Speaking of the Union, we like to start and end our day there. There are good parking options – meters or a ramp – and better yet, there are bathrooms. Clean, open to the public bathrooms. Inside you'll also find easy food options (pizza, sandwiches, tacos), a small convenience store, the Spartan Spirit Shop, Spartan Lanes (yes, bowling), and best of all, the MSU Dairy Store. Hello, ice cream! You'll also find a huge, bronze Sparty inside, perfect for photo ops.
On our way out we rolled by two more family-friendly places worth checking out. (And by "we" I mean me. The kids stayed in the car with my husband while I jumped out for a quick look and pictures.)
The Michigan 4-H Children's Garden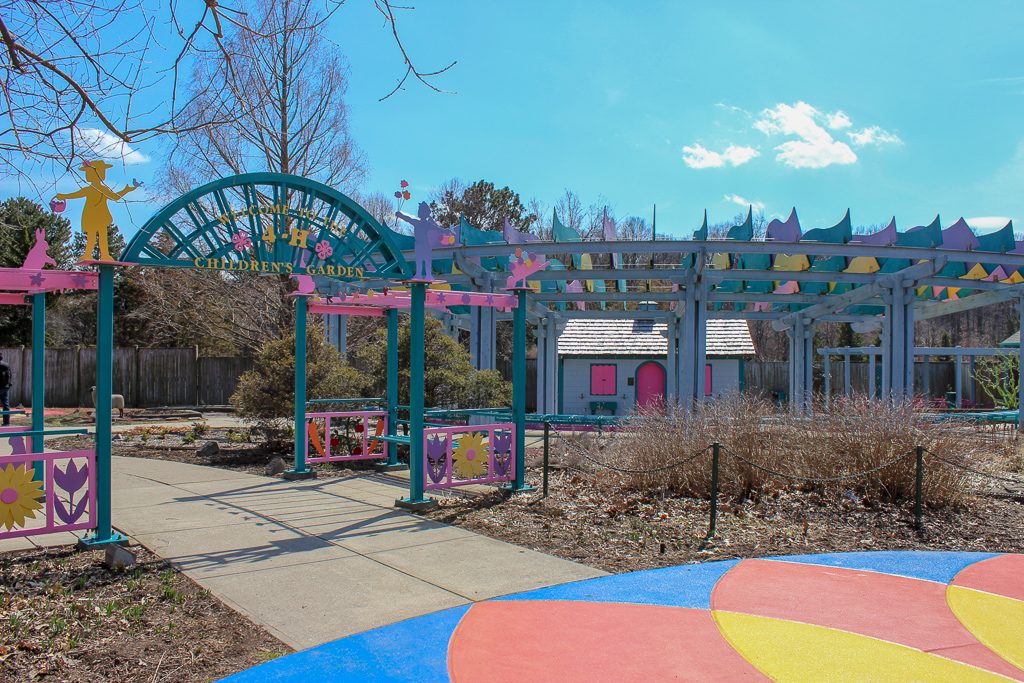 Gilbert Pavilion / The Tom Izzo Basketball Hall of History.It is a little tricky to find information online about this, but it exists and it's awesome. And free. The Hall of History is open to the public Monday – Friday 10:00 am – 5:00 pm, except game days. Inside you'll find the basketball floor from the 2000 NCAA men's basketball championship, a display of all the NBA / WNBA teams Michigan State players have played for, trophies, uniforms, videos and more. It's a fun stop for basketball fans.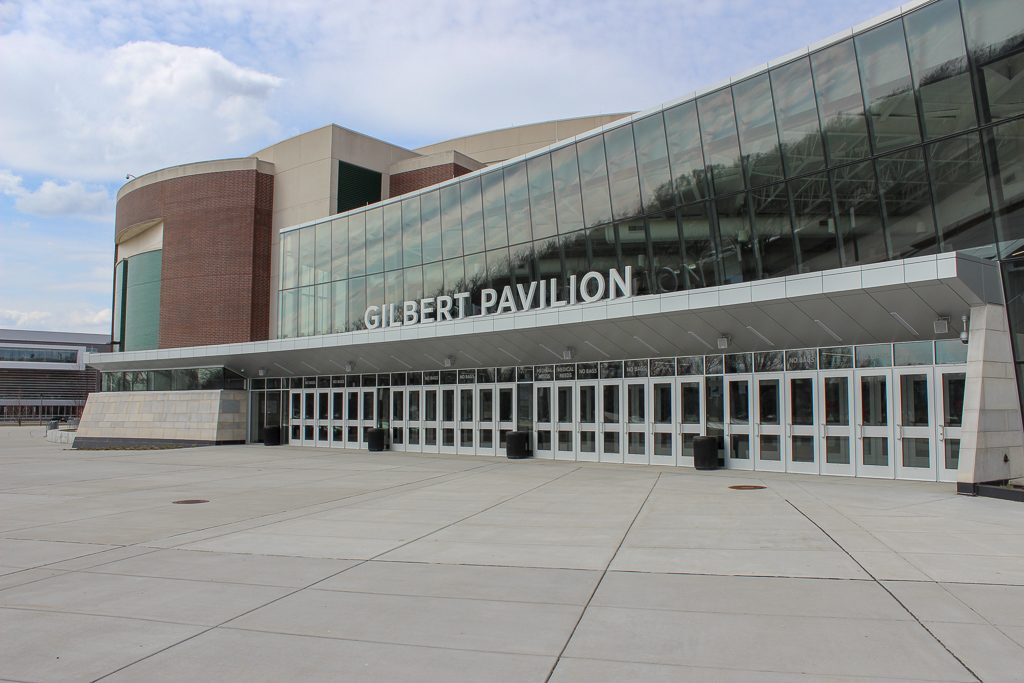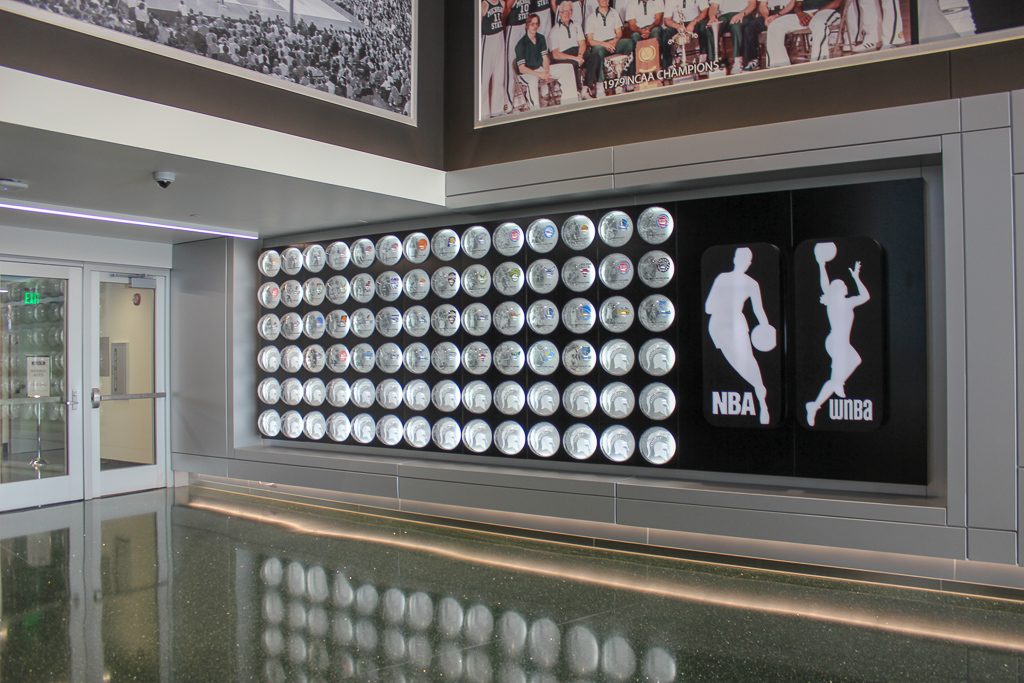 I hope this helps you plan a fun day on campus with your kids. Even if you don't live in Michigan, do a little research and check out a college campus near you. I bet you'll be surprised at the family fun you can find!
Go Green!
xo, Megan
---
---