DIY Neighborhood Day Camp
I don't know about you, but I'm full of ideas. They swim around in my head day and night. Some see the light of day, some don't. Some are good, most are not. And some live a long, healthy, fun life. Like Alger Heights Day Camp.
It all started in 2010. Spring Hill set up their day camp on the grounds of a neighborhood school. It was full of inflatables and huge, colorful, fun things to do. Naturally our kids wanted to go, but registration was full. I thought "no biggie, we can make our own day camp." So we did. Neighborhood moms to the rescue.
The basic idea was simple – each mom would host an activity for an hour at her house. At the end of the hour we'd rotate. Somewhere in the middle we'd break for lunch at a neighborhood restaurant. Since we all shared a backyard we were able to move kids around and manage naps. Easy. Done. The kids were thrilled.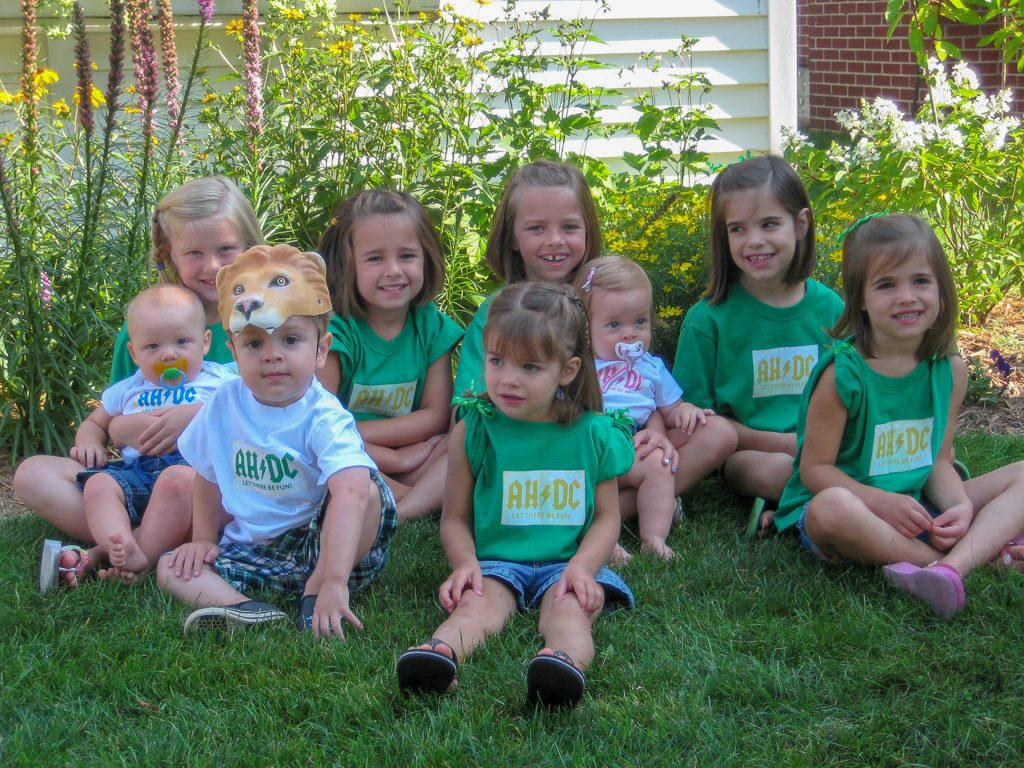 Since then things have morphed into a little more of a production. We've added more activities and lots of new neighbors. Some of our first campers are now old enough to be counselors, so we've added those roles as well. We pretty much make things up year to year, but it's become a standing tradition for our street and something our kids really look forward to.
If you're interested in organizing your own neighborhood day camp, read on. Full disclosure – this is all totally made up. As much as our kids are sure Alger Heights Day Camp is a real thing, it's really just a bunch of moms coordinating via group text (or sometimes at our kitchen table over margaritas).
The basic structure of our day goes like this:
Opening Ceremonies
Service Project
Activities & Lunch
Closing Ceremonies & Awards
After Party
Opening Ceremonies
We start day camp around 9:00 or 10:00 with opening ceremonies. Campers arrive in their camp shirt (more on that later) and their donation for the service project (more on that later, too). Opening ceremonies are usually held in my backyard. Sometimes in my next door neighbor's yard because she has better grass and flowers (I like nice pictures). The kids decorate the night before with sidewalk chalk, signs on the fence, signs on the garage, or sometimes even an arch over the fence gate. It really all depends on what we have on hand and what the kids are in the mood for.
We begin by welcoming our campers and thanking them for coming to day camp. This is kinda funny since we know them all, but the kids are convinced this camp is real so we try to play the part. We introduce ourselves, talk about our plans for the day, and break into groups. Each group has a counselor, a junior counselor, and a few littles. The groups aren't necessary for each activity, but it helps for things like scavenger hunts and making sure the counselors know who they're responsible for.
Service Project
Our service project also begins at opening ceremonies. Campers are asked to bring a donation to a local organization as their "fee" for attending camp. The last two years we've asked for a donation to Kids Food Basket. A friend (and neighbor) who works there stops by to collect the items and tell the kids about the organization and how their donation helps. Other years we've asked for a school supply for D.A. Blodgett – St. John's annual backpack drive or weeded the flower beds at our neighborhood fire station. It's really important to us that the kids help their community.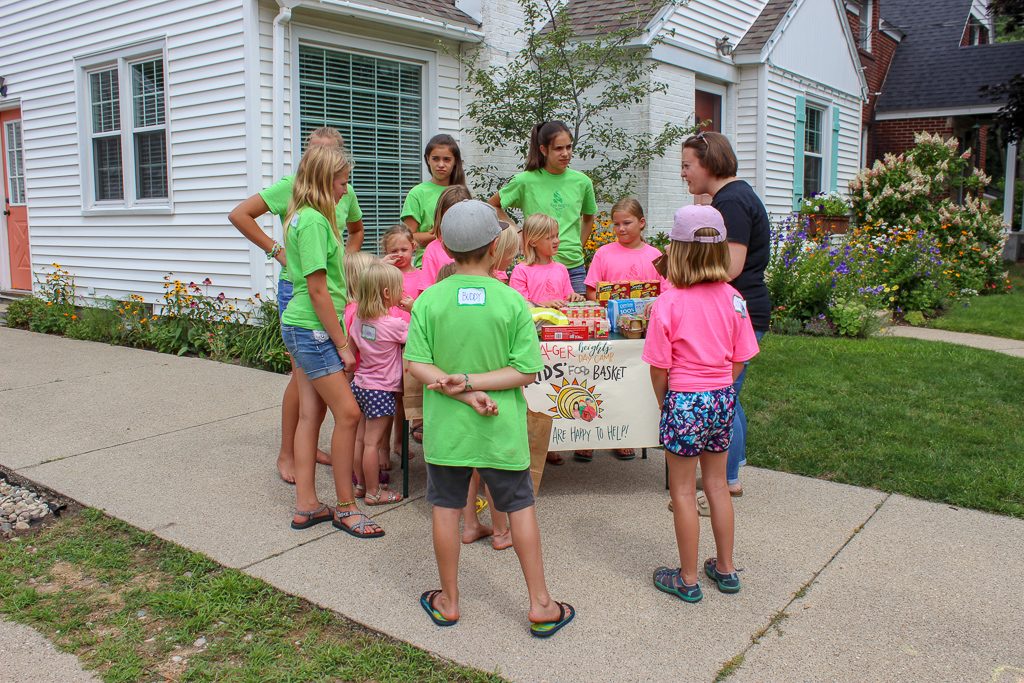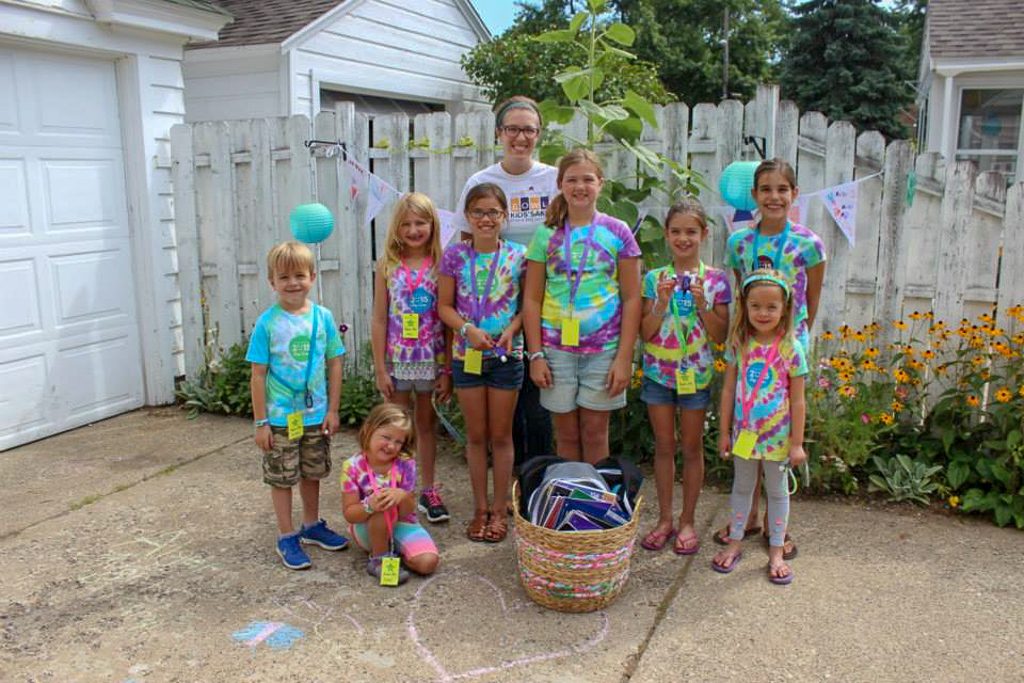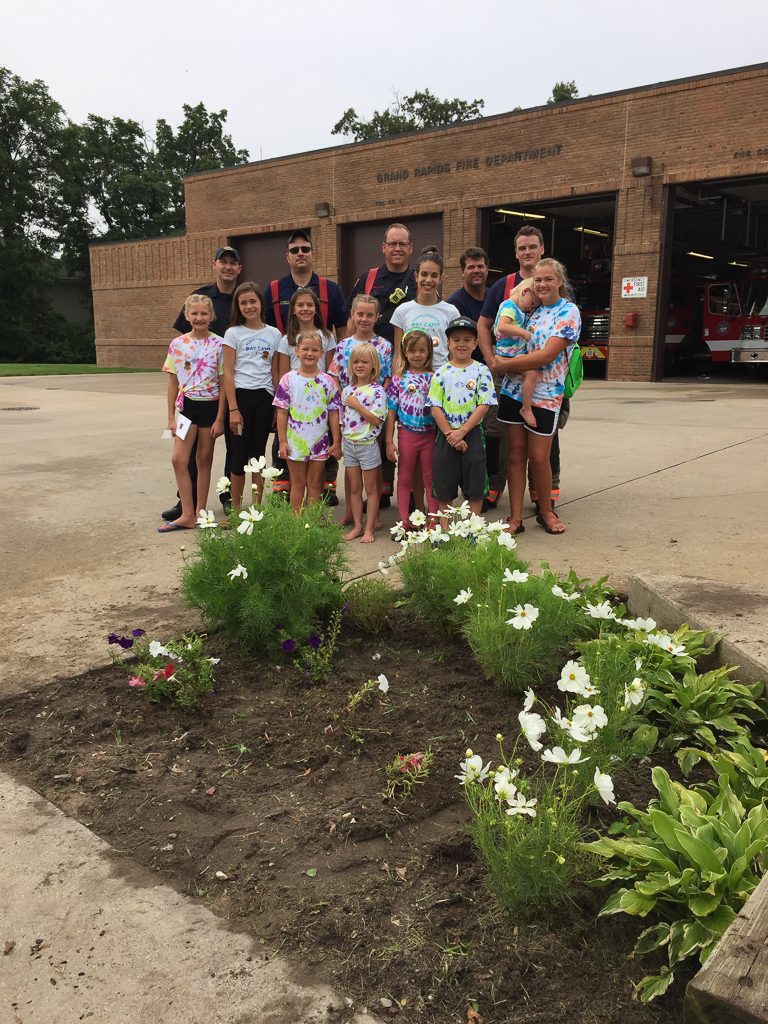 Activities
Each participating parent hosts an activity as their contribution to day camp. They are responsible for organizing their activity and buying all the supplies. We are really flexible about what this activity is – our only goal is to have fun and spread the workload evenly. Usually parents tailor this to their interests or skill set – some host a craft, some host lunch, some host a scavenger hunt or backyard fun. One of our neighbors owns a local pizza place and brings home pizza for the after party. Last year we had a progressive craft – the kids painted pots, potted succulents, and made macrame plant holders.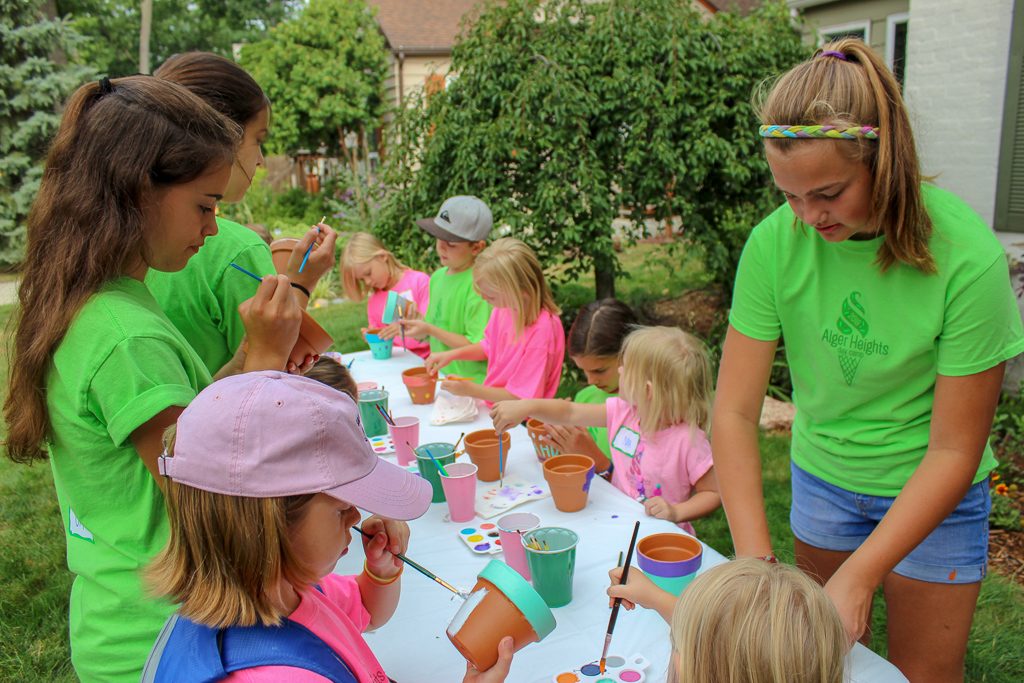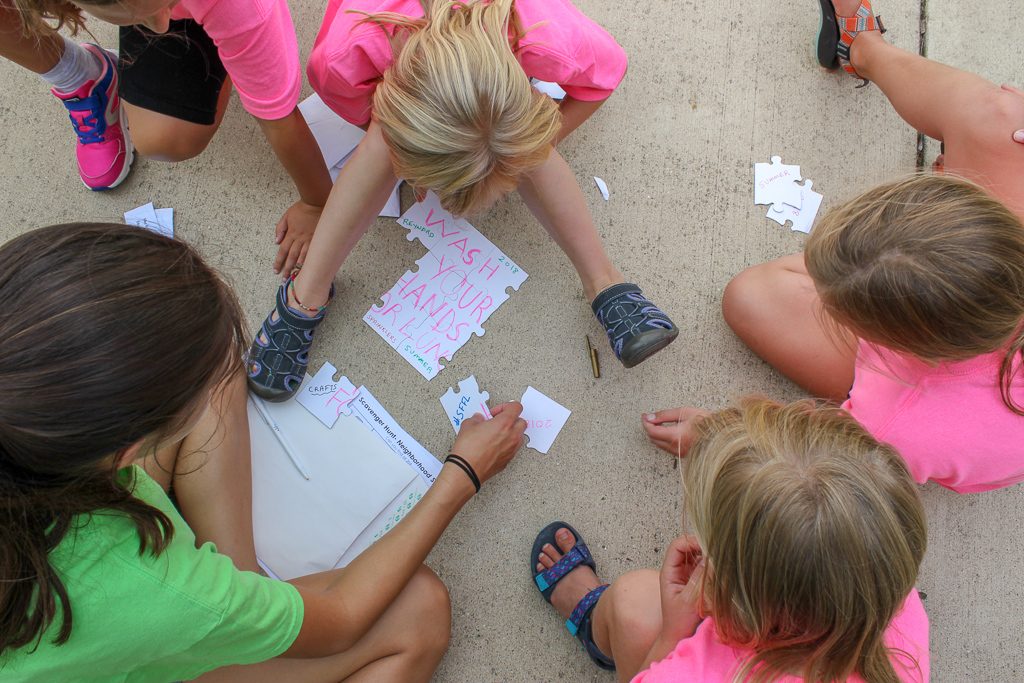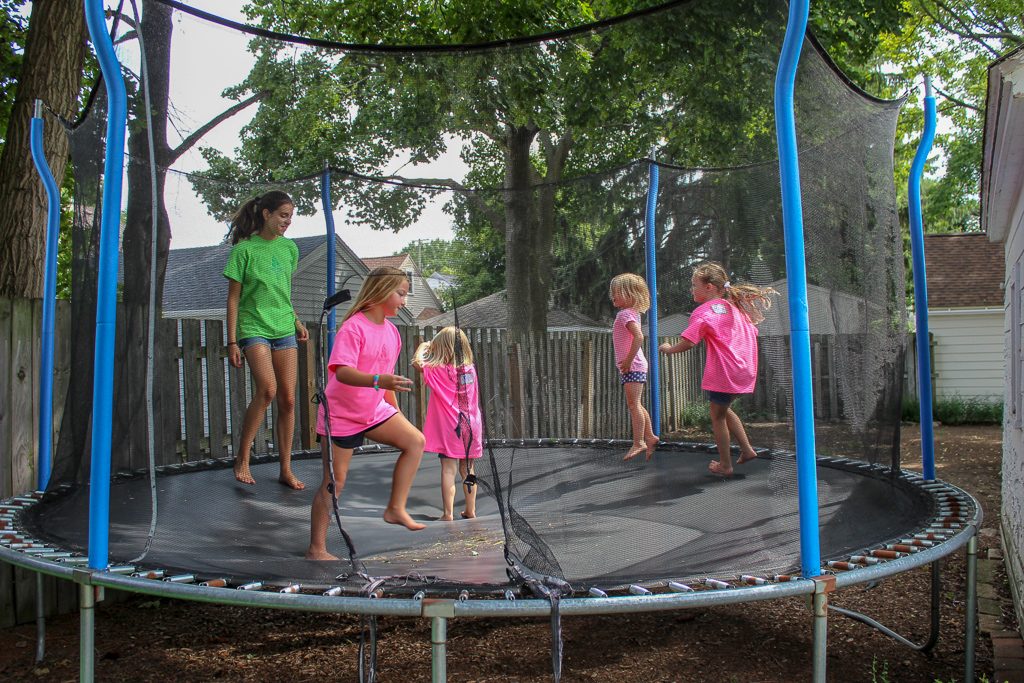 Closing Ceremonies & Awards
At the end of the day, we all meet back in my neighbor's backyard for closing ceremonies and an after party. We give each kid an award for a positive trait they demonstrated during the day. Per usual, we make all these up based on very measurable qualities like Most Spirited, Most Energetic, or Most Helpful. The main goal here is to close the day out on a high note and make sure the kids are proud of themselves.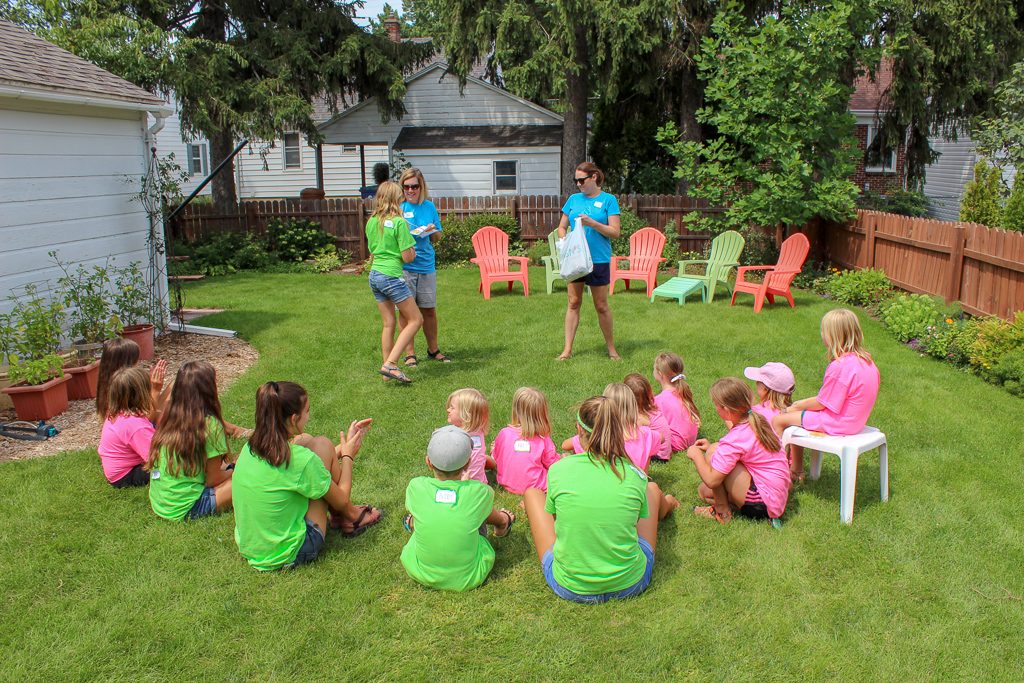 Finally, it's time for the after party. We eat, play, and talk about camp. Since the after party tends to start around 4:30 or 5:00, this is a great way for parents who work outside of the home during the day to hear about camp and hang out with neighbors.
A note about the shirts.
If you haven't noticed already, we also have matching day camp shirts. Sometimes there's a theme – for example, one year the kids were very into digging so we had a shirt with a shovel, a tree, and a house on it. One year a neighbor dubbed us all "street friends" and we rolled with that. Sometimes there's not a theme and the entire design is some random idea that grew in my brain. My very patient husband (who's also an art director) takes these crazy ideas / sketches and brings them to life. They turn into iron-ons and our shirt for the year.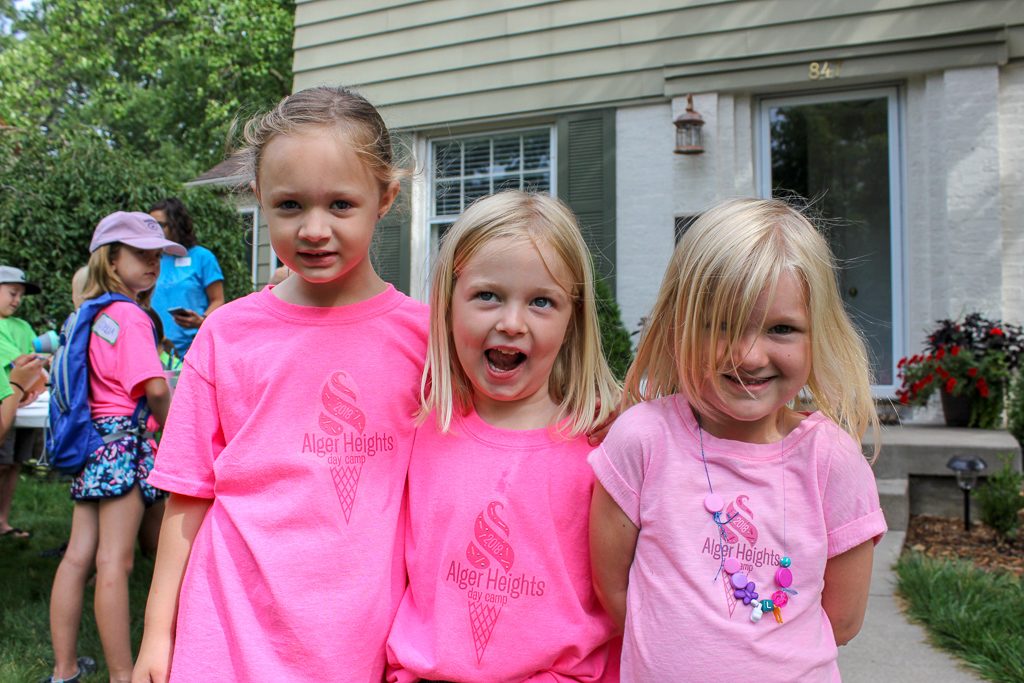 If you'd like to make shirts, here are my best tips:
If you're going to tie-dye, ask participating families to drop off a white, pre-washed, cotton tee shirt a week prior to day camp. This will allow you time to dye the shirts, let them sit overnight, wash in individual loads and dry. If you choose to iron a graphic on over the tie-dye, you'll have time for that too.
If you're not going to tie-dye, you can collect money from each family for their shirt. I prefer to buy Gildan shirts from Joann or Michaels. They are usually $2 – $3 each on sale. This allows you to pick a color scheme or color code by counselor, camper, parent, etc.
For toddler shirts I prefer Cat & Jack from Target. They're a little more money, but they're easy to find and come in a wide range of colors.
If you can avoid it, do not use pocket tees. It's hard to iron-on over a pocket.
If you choose to iron a logo or graphic on, I highly prefer Avery brand. Read the label carefully – you'll need specific iron-on paper for the color shirt you're using. (Take a look at the first picture. I clearly didn't know this then. Hello, huge white rectangles.)
Other Tips & Resources
Be sure to tap into this wonderful, free resource – your neighbors! Even if they don't have kids, your neighbors may want to participate in the fun. There's something nostalgic about seeing happy kids in matching shirts running around the neighborhood. Some of our older, empty-nest neighbors have hidden prizes for scavenger hunts or organized driveway games. The kids loved it!
I love the Target dollar aisle. Keep an eye out for random supplies like bubbles for the after party, sidewalk chalk for decorating, or awards for the awards ceremony. You can order bulk dollar supplies online by searching "Bullseye Playground" on the Target website or the Target app.
Don't forget about Pinterest – they have lots of activity ideas and printable awards.
Planning is your best friend. Pick a date early and start thinking about what activity you're going to host. Buy the supplies and do a test run. If you need to print instructions, do that. If you need to have a sample ready, make one. The more you're prepared the better.
This year, AHDC will celebrate its 10th anniversary. I kind of can't believe it. I'm so proud of what it's become. But mostly I'm proud of all the neighborhood moms and dads who've scraped this together year after year, giving our kids the best summer memories. #sffl
If you organize a #diydaycamp for your kids, tell me all about it! Email me, leave a comment, or tag me in a post. We're @wildandpreciousfamily.
xo, Megan
---
---