The Cutest (and almost free!) Acorn Necklaces
Last week I volunteered to host a party for my daughter's fourth grade class. Sometimes I say these things without thinking them through. Well, that's not true. I have big ideas, say them out loud (and with gusto!) and then sigh when I have to start following through with them.
The truth is that I love it. Kids, crafting, organizing parties.
Anyways, my daughter and I picked up acorns on a recent walk. She was busy for hours painting them, so I thought that was a good place to start for a group craft. I found these cuties on Pinterest and put my own spin on them. Thank you, WhiMSy Love!
To make acorn necklaces you'll need:
Acorns – tops and bottoms
Yarn or some kind of thicker string (not ribbon, not embroidery floss)
Paint – I used acrylic
Paintbrushes
A black Sharpie
Hot glue gun
Pony beads (optional, but good for keeping kids busy)
First you'll need to find the acorns. We pick them up on walks around our neighborhood. Make sure to pick up more than you need in case you bring home any gross ones.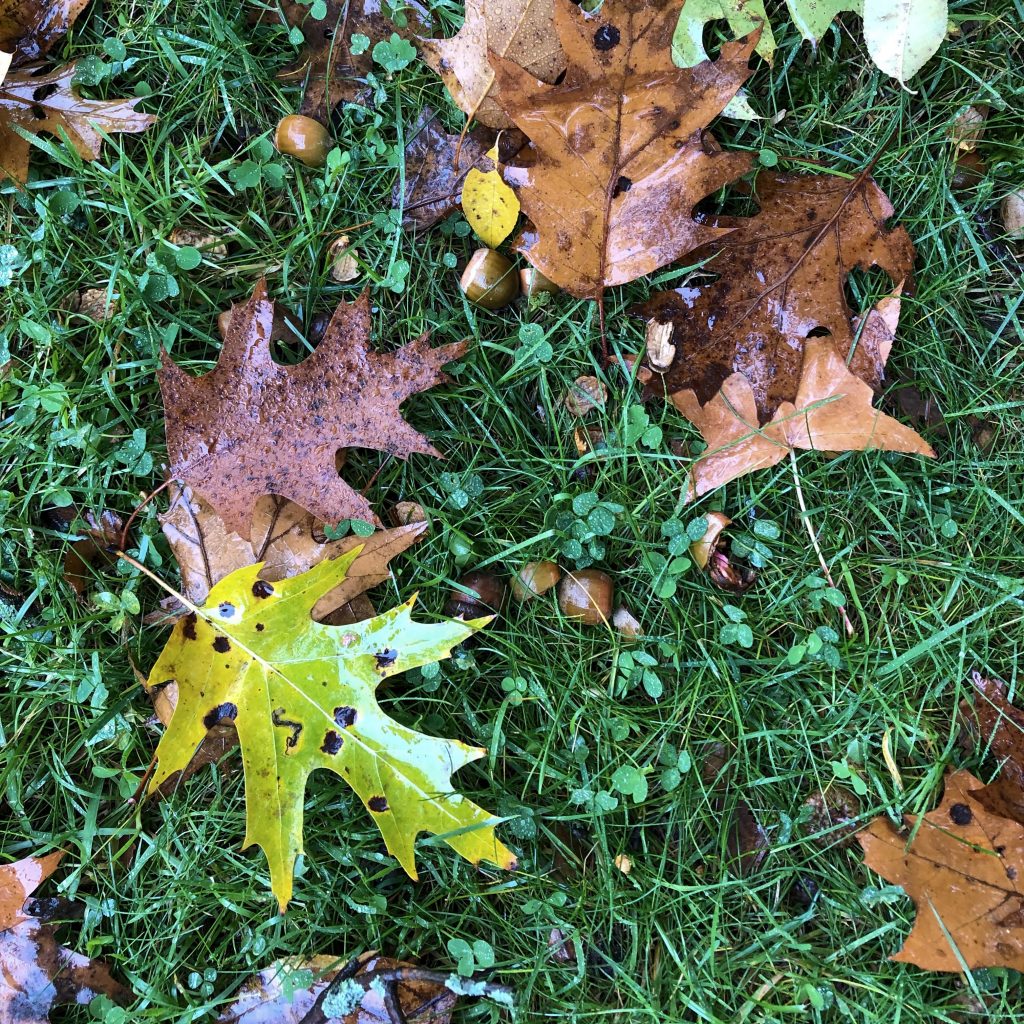 Next you'll need to clean any dirt, leaves or large debris from the acorns. Throw away any that are cracked, have holes in them or have started to rot. Line a baking sheet with foil and bake in a 200 degree oven for at least 2 hours. Keep an eye on them. This will eliminate any extra "friends" from crashing your craft later on. (Ew.)
After you've baked your acorns, let them cool thoroughly.
Now it's time to paint them. Separate the tops from bottoms and paint them (or not, if you prefer the natural look). It took three coats of acrylic paint to get a solid color. I also found that dipping them was fun, but it took overnight to dry and I had to come up with a fancy drying contraption like this.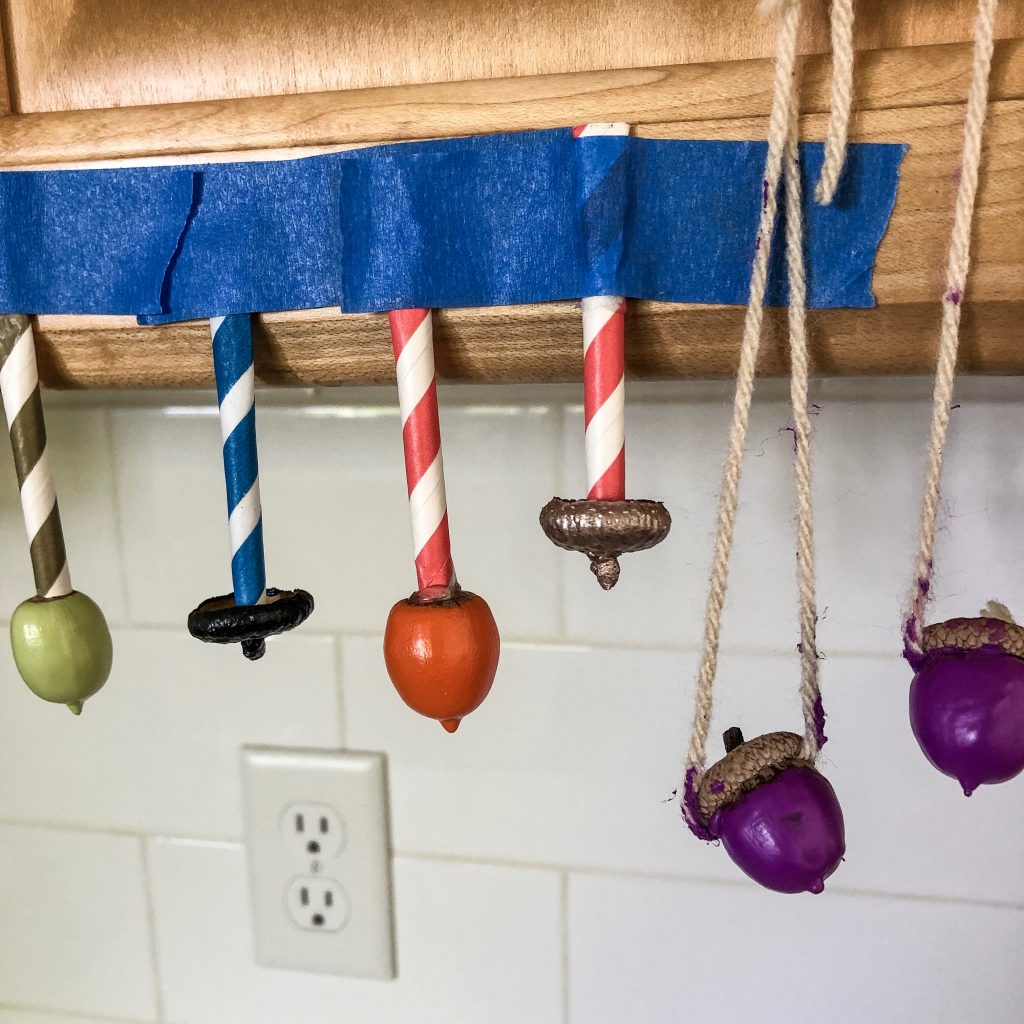 To achieve this fancy look, hot glue acorns tops and bottom to a straw and hang from your kitchen cabinets upside down. Put a paper plate underneath to catch drips. Thrill your husband with your highly convenient idea.
Next is the trickiest part – hot gluing the tops, bottoms, and string together. I'd show you, but in the interest of my personal safety I will not try to take a picture while holding an acorn, string, hot glue gun and camera. But this is how you do it.
Put a small dab of hot glue on top of an acorn bottom. Lay a cut piece of yarn over the hot glue, then press the acorn top down over it all. Do not burn your fingers and try to shake hot acorn pieces off your hands. They will just stick to other places of your hand and burn those as well.
Nevermind. I could hear my friend J telling me that was too complicated, so I took pictures.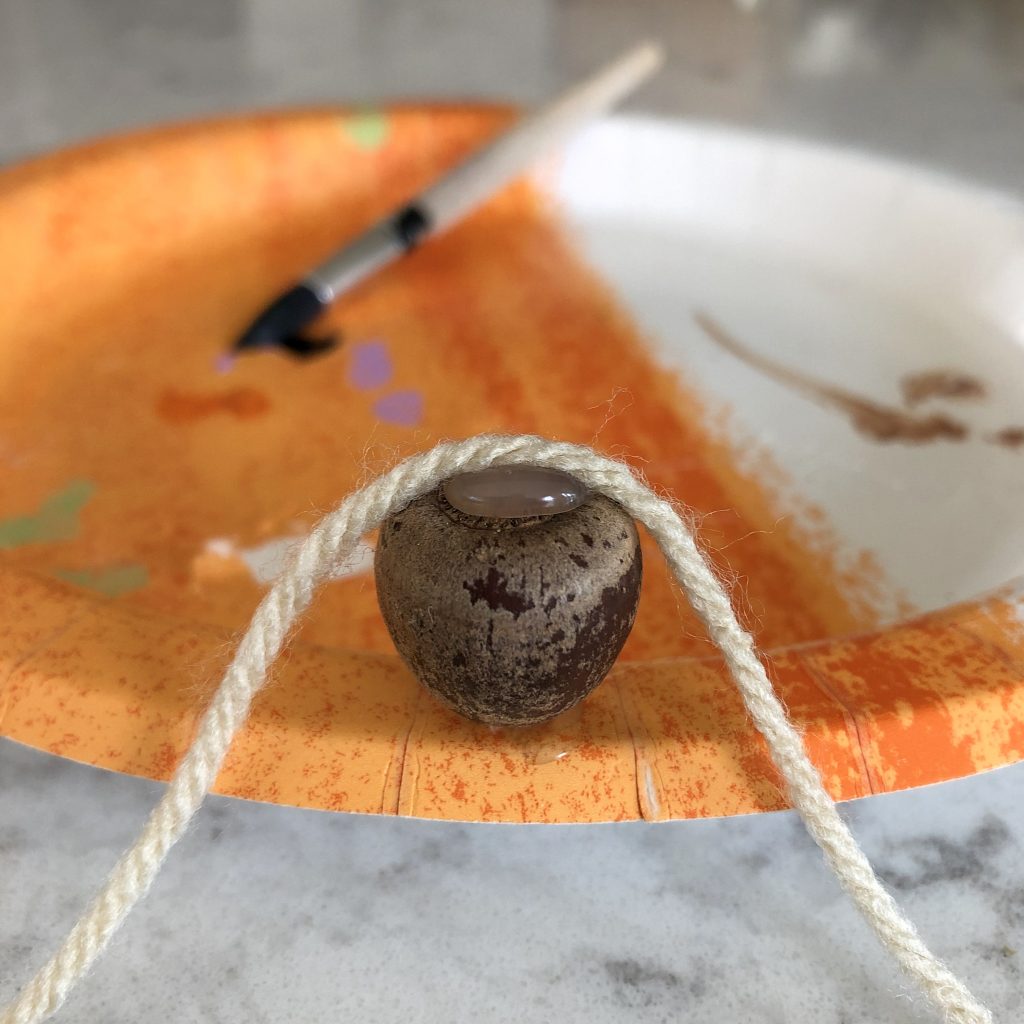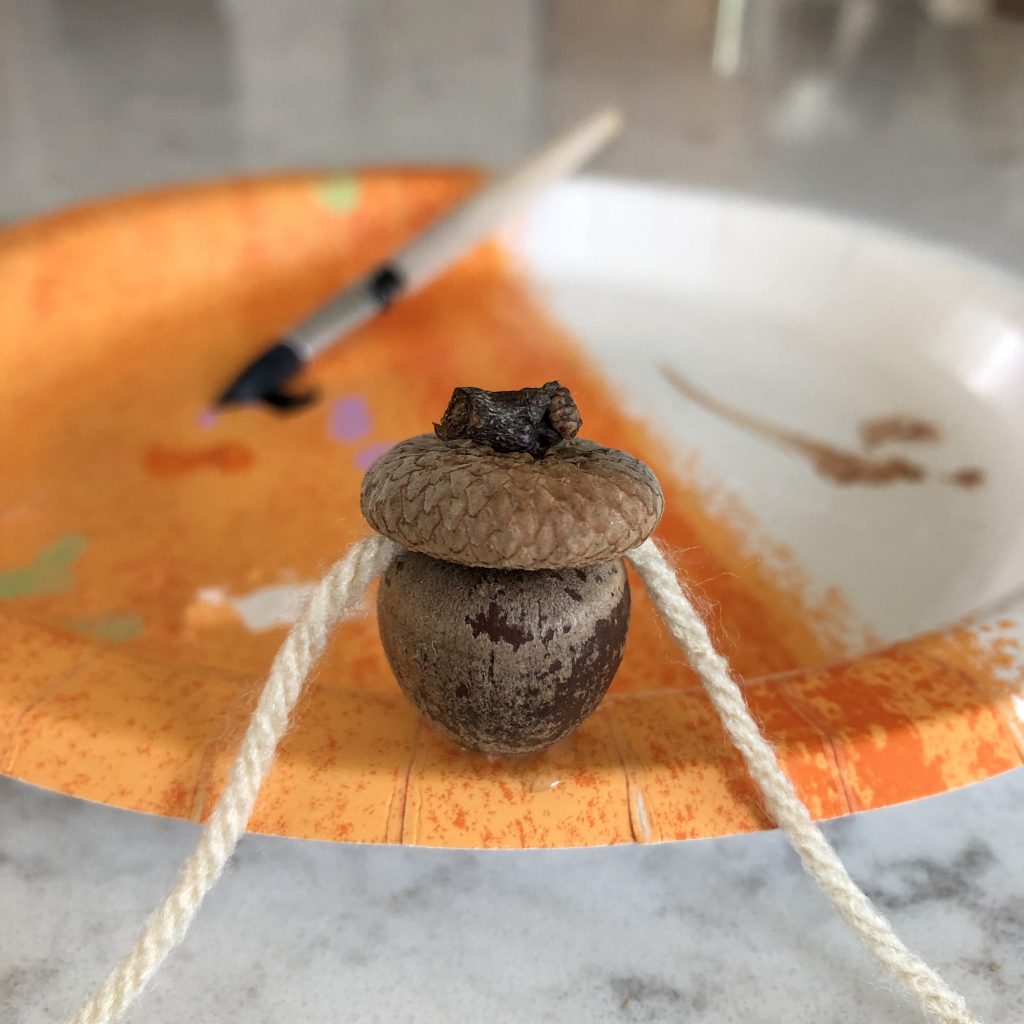 Finally, add faces and pony beads if you so desire. Pony beads are fun for bigger kids, but a choking hazard for the littles, so be careful.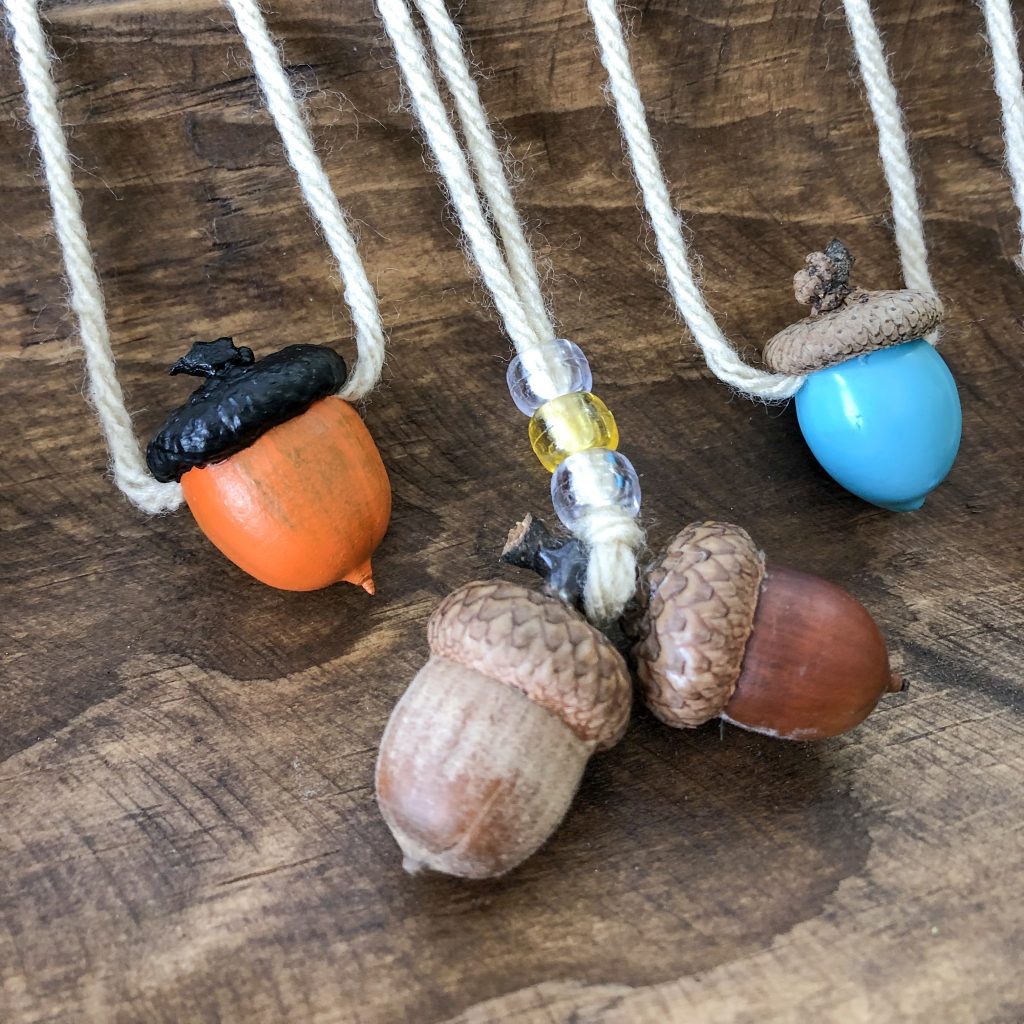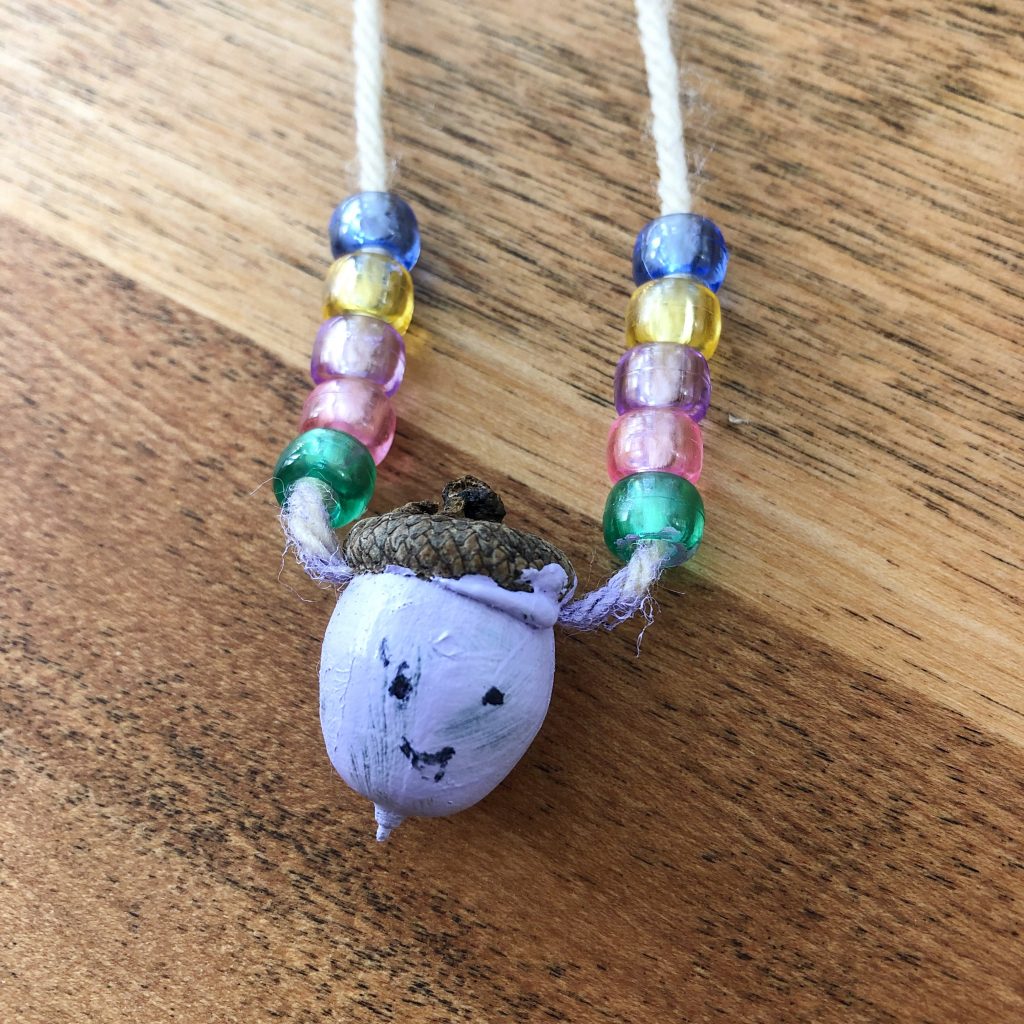 Acorn necklaces make great party activities, party favors, holiday gifts, or snow day activities. (Make sure to collect extra acorns just in case!)
xo, M
---
---